Adorable
By
Shopper

(Bellmore, NY) - May 9, 2014
I ordered this for my son's 1st Birthday and can't wait to have him wear it! Good quality material and big enough to cover his birthday outfit!

Bib
By
Valentina N.

(Glendale , CA) - March 18, 2014 (
See all reviews by this customer
)
I love it

Awesome First Birthday Bib!
By
Kari B.

(Pasadena, MD) - March 14, 2014 (
See all reviews by this customer
)
This was perfect for my daughter's first birthday party while she had her birthday cake. The quality is remarkable, it was shipped fast, and it washed up perfectly (even after lots of bright pink cake iciing!).

I use Personalization Mall.com for all my personalized needs, and would highly recommend them.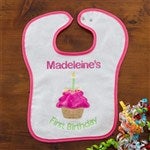 Cute as can be
By
Shopper

(Follansbee, WV) - September 13, 2013
A little pricey but soooo adorable.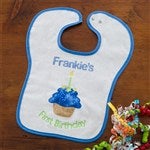 Loved it!
By
Denise M.

(Parker, CO) - September 7, 2013 (
See all reviews by this customer
)
I received the bib very quickly and the quality of the bid and the embroidery are very high. I have bought other items through your site and I haven't been let down yet.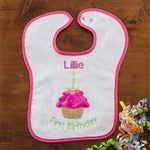 Personalized Birthday Bib
By
Shirley M.

(Brunswick, OH) - June 16, 2013 (
See all reviews by this customer
)
This is the 2nd time I have purchased this item. Now each of my daughters have a beautiful 1st birthday bib for the rest of their lives. They each used them on their birthday, I washed them and they came out in the exact same condition I bought it. Such a great keepsake!

Beautiful Purchase
By
Shopper

(Grayson, GA) - March 17, 2013
I selected this color to match my granddaughter's outfit , and it is perfect! The quality of the bib is superb. I am very satisfied with my purchase and will not hesitate to purchase future items.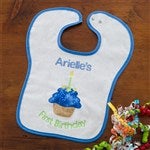 nice gift for the occasion
By
Jennifer H.

(Canada) - January 20, 2013 (
See all reviews by this customer
)
Good quality, it's a nice gift to mark the occasion of a first birthday, and it's also useful. I like that this bib style has snaps at the back vs. the string ties that are on some of the other bibs sold at this website (eg the first Christmas bib). It's a bigger style too. And of course pictures were taken of the baby wearing this bib at his birthday. And I imagine it will get used more than a party hat that says "first birthday" on it.

so cute
By
Shopper

(Casper, WY) - February 11, 2012
Such a great keepsake for first birthday. Durable bib and stitching is perfect.

Perfect gift for a cute baby
By
Virginia L.

(Reston, VA) - February 11, 2012 (
See all reviews by this customer
)
The personalized bib was just perfect for my nephew to wear while eating his first birthday cake!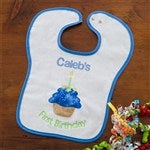 Simply Perfect!
By
Shopper

(Upper Darby, PA) - February 1, 2012
Ordered this bib for my grandson's first birthday and its beautiful. No squiniting here! The letters are big, bold and the colors are bright great job:) love it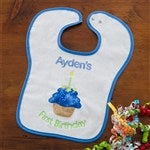 so sweet
By
Angela M. L.

(Saratoga Springs, NY) - January 23, 2012 (
See all reviews by this customer
)
I ordered the birthday bib for my precious granddaughter who will be 1 in Feb.--it was delivered within days and even prettier than in the pics. Thank you! Another great buy from personalizationmall.com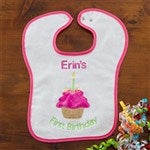 Perfect
By
Shopper

(LYNDHURST, NJ) - September 19, 2011
The bib was so cute and I can not wait to use for her 1st Birthday

Perfect gift.
By
Shopper

(Tioga, PA) - September 14, 2011
I am very impressed with the quality of this bib. The embroidery is first rate and the colors are vivid. I would definitely order this again.

First Birthday Bib a success
By
Philip M.

(Woodstock, IL) - August 29, 2011 (
See all reviews by this customer
)
This came out perfect! It was just what we hoped for.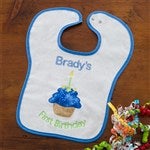 Personalized First Birthday Bib For Girls
By
Eugene J.

(Arlington, TX) - July 29, 2011 (
See all reviews by this customer
)
The bib was thorougly enjoyed both by the immediate family, and the maternal grandparents - who may post a picture of this grandchild with her bib on Facebook! From what we heard (we had the product shipped directly to granddaughter for her birthday because, unfortunately, we live in a different state) the qualllity of the bib was excellent. This is our second or third purchase from Personalization and it definitely won't be our last!!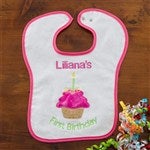 Happy Baby Bib
By
Jan C.

(Loganville, GA) - July 17, 2011 (
See all reviews by this customer
)
Ordered this for my granddaughter's 1st birthday. She was even having a cupcake-themed party, so it was perfect! It was made well, had good coverage. Especially good when she got into her "own hands-on" cake! Loved it and plan on ordering one when my next grandchild turns one!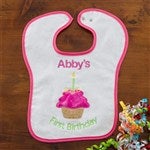 1 Year Old Bib
By
Shopper

(Pikeville, KY) - June 17, 2011
This personalized bib was a big hit at my grandson's 1st birthday party - especially with his mom.
Personalization Mall always comes up with excellent items and always gets it right the first time. I've ordered here many times and have always been very pleased.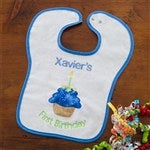 Adorable!
By
Shopper

(Paw Paw, MI) - May 7, 2011
The bib is great quality and appreciate the fact that it is made in U.S.A. (which is hard to find these days). It's the perfect size and so cute! This bib will become a 1st birthday tradition for all my grandchildren. Hope it will be available for a long time.