Great quality for gift
By
Sandra S.

(Loganville, GA) - December 21, 2013 (
See all reviews by this customer
)
The bamboo is strong and the special engraving was beautiful. The three pieces are the most common utensils. The price was great! The people I gave to now want to buy for gifts for other friends, teachers, etc. great item to offer, because you cannot find it anywhere else.

Personalized Utensils 3pc Set
By
Deborah T.

(Amherst, MA) - June 29, 2013 (
See all reviews by this customer
)
I placed my order on Monday afternoon and was thrilled when it arrived on Friday.
The utensils are high quality bamboo and the engraving stands out nicely. The bag is a nice presentation. The Bride was so excited to see her name!!
I had most of the shower guests ask where I ordered them.
I will keep this in mind for future gift giving.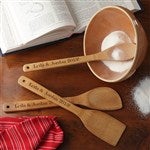 great gift
By
Shopper

(Elmont, NY) - April 3, 2013
great gift for someone who loves the kitchen. it was also wrapped very nicely to give it a great presentation as a gift. can't speak to the actual quality because i havne't used the spoons myself

Loved these!!
By
Shopper

(Baltimore, MD) - March 29, 2013
Bought these for a party, they were a hit. These are very beautiful and personalized names are carved very nice. Definitely would recommend.

wooden spoons
By
Shopper

(Foxboro, MA) - February 6, 2013
love them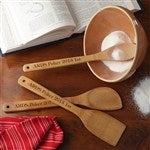 Unique shower gift
By
Shopper

(Washington, PA) - January 24, 2013
Loved these pieces because they are well made and I was looking for something different to give from other wedding shower gifts for the kitchen.

Wionderful Bridal Shower Gift
By
Selma E.

(Taylors, SC) - December 10, 2012 (
See all reviews by this customer
)
I ordered these for my granddaughter's bridal shower. Not only was I pleased, she was thrilled. All the other wives at the shower oohed and awwed as well. The 3 piece set was delivered in a gift pouch allowing the beauty of the utensils to show through. The names of the bride and groom are are etched into the wood and stained dark. The set is beautiful and very much worth the money.

Absolutely wonderful!!
By
Shopper

(Romulus, MI) - August 21, 2012
I bought these spoons as a wedding gift along with the personalized cutting board. I liked the cutting board, but these spoons were by far my favorite! They are of very high quality and just gorgeous. After seeing how great they turned out with the personalization, I just have to get myself a set of these spoons too!

Quality products
By
Gloria L.

(Riverside, CA) - August 13, 2012 (
See all reviews by this customer
)
These are for my best friend's daughter, getting married in a few months. These will be helpful tools in the kitchen, and you always know which are yours if you take them to a potluck! Really top notch, as usual, Personalization Mall! I may order some more for other people in my family!

Perfect!
By
Bonnie G.

(Fort Edward, NY) - July 14, 2012 (
See all reviews by this customer
)
Bought these as a package tie-on for a wedding gift. I am very impressed with the quality and the readability of the personalization. I would highly recommend this product. I own these similar utensils without the personalization and have for years, they aren't going to break, and will last forever!

High Quality Wedding Gift at Great Price
By
Erin P.

(Rochester, IN) - June 26, 2012 (
See all reviews by this customer
)
I purchased 2 sets of these for 2 bridal shower gifts and everyone absolutely loved them. The personalization really makes it a special gift. They are very sturdy spoons and even come it a cute drawstring bag to present them in. Definitely my new go-to bridal shower gift!

Love the spoons
By
Shopper

(Allen, TX) - May 7, 2012
These are very cute and perfect as a gift.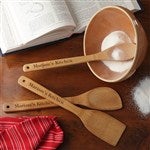 Fun way to cook.
By
Stephanie E.

(Fayetteville, GA) - March 27, 2012 (
See all reviews by this customer
)
I just happened upon this item while ordering a few other things, so I ordered it. I am very empressed with how they came out. It is such a joy cooking with these tools and thinking about my loved ones.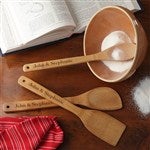 A WONDERFUL GIFT
By
Shopper

(Walnut Creek, CA) - March 16, 2012
I received a set of pesonalized spoons from a friend for Christmas. Not only were the bamboo spoons beautiful on their own, they were even more special because my friend had them pesonalized. And the the best part was the way they were packaged. They came in a sheer white cloth sack with a satin draw string which I felt made them even more personalized. I asked my friend for the web site because I also wanted to give the spoons as gifts.

Wood spoons good quality!
By
Shopper

(Sioux City, IA) - March 12, 2012
The engraving of niece's name + her fiance were exceptional!

Wooden cooking spoons
By
cynthia C.

(dallas, TX) - March 10, 2012 (
See all reviews by this customer
)
Bought three sets......one for each daughter, and one for a friend. They absolutely love them!

Personalized Utensils
By
Shopper

(Loganton, PA) - February 7, 2012
Great quality. Writing is easy to read and were definitely worth the money I paid for them. Considering buying another set.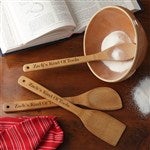 Great Wooden Spoons
By
Shopper

(Newberg, OR) - February 6, 2012
Again, you guys are all about quality products. You have never dissappointed, and make me look like a great gift giver.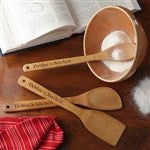 A Great Trio
By
Veronica J.

(Schuylkill Haven, PA) - December 13, 2011 (
See all reviews by this customer
)
These wooden cooking utensils are a very nice quality. I had them personalized with a name and a date to mark a very special occasion. They come packaged in a pretty drawstring gift bag too. I recommend them as great little gift for the special cook in your life.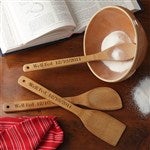 Great!
By
Shopper

(Sugar Land, TX) - December 11, 2011
Fantastic product. Paid extra for expedited shipping on 30 of these spoon sets and all items arrived on time in perfect condition.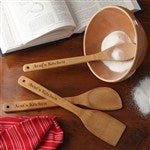 Amazing!!
They don't tell you that these come in a very cute and classy mesh bag with ribbons. I bought these as a gift for my Mom and Grandma and they are great!! They look amazing in person. I have been very impressed with the quality of Personalization Mall's items.

Best Gift
By
Andrea H.

(Rochester, NY) - December 6, 2011 (
See all reviews by this customer
)
We gave these to my mom, who cooks a lot, for her birthday and she just LOVED them. We were also super happy with the quality of the utensils and they cam in a nice white bag. BEST GIFT EVER for someone who spends lots of time in the kitchen!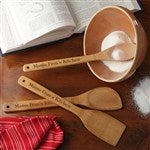 Great Gift
By
Shopper

(Atlanta, GA) - September 15, 2011
I purchased this cooking utensils set as part of a bridal shower gift. They really added that something special and was a unique personal touch. Everyone was asking where I got them from. The bride-to-be was also quite please and thought they were too nice to use. I also was quite pleased in how quickly they arrived. I was worried if I would get them in time for the shower, but they arrived right on time. I would definitely order these again.

Perfect addition to personalized cutting board
By
Linda M.

(Hendersonville, TN) - August 2, 2011 (
See all reviews by this customer
)
Great quality. Will purchase again as part of a wedding gift.

Nice Gift!
By
Shopper

(Wylie, TX) - July 28, 2011
This came very quick! I loved these spoons. They were very nicely done and came in a nice little bag. Great presentation!