Little girl delight
By
Shopper

(Bellefontaine, OH) - September 26, 2014
Last year the 3 great granddaughters received this doll and they take her everywhere. I bought this one for the 1 year old this year. It will be a tradition if We get any other little girls.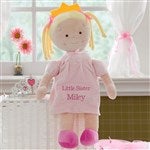 Think my granddaughter will love it.
By
Shopper

(Miami, FL) - July 18, 2014
I purchased this for a 1st birthday gift. I love it, its so soft and cuddly and believe she will treasure it for many years.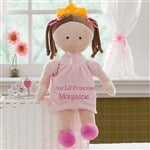 Made with Care!
By
connie V.

(pateros, WA) - July 13, 2014 (
See all reviews by this customer
)
This princess is made perfectly for a one year old: no eyes to come off, no body parts to swallow, no clothes to change--yea! Instead of princess (because the rage is for fairies now)I had FAIRY PRINCESS embroidered the dress! I also believe it will go through the wash machine. Well, we'll see when it gets dirty.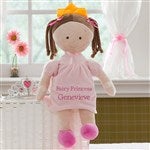 Love this!
By
Shopper

(Villa Hills, KY) - March 2, 2014
These dolls are adorable!

Exceeded my expectations!
By
Shopper

(Old Greenwich, CT) - February 17, 2014
I purchased this doll for a 1st birthday gift. Wow, it was such a hit. It is the perfect size and weight, and the workmanship and quality are terrific. The mom let me know that her daughter sleeps with it and has yet to put it down. I will definitely buy more if the occasion arises.

Love this doll!
By
Shopper

(Lake Geneva, WI) - February 10, 2014
The Embroidered Princess Doll (Brunette) that I purchased from you did exceed my expectations! She is darling and the embroidery is perfect! I have ordered other embroidered stuffed toys from other companies that are not nearly the quality that this Princess Doll is. Thank you for a beautiful product. I'm sure her new owner will love her for many years to come! I will also order others in the future!

Pretty baby doll!
By
Shopper

(Tullahoma, TN) - December 24, 2013
This doll was purchased for my granddaughters first Christmas. It is so soft that even though she's only two months old there will be do problems with her rolling over on it. Another huge selling point for me is that it is completely machine washable! Yay! I can't wait for her to be old enough to be able to play with it.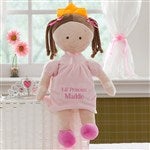 embroidered doll
By
Shopper

(las vegas, NV) - November 28, 2013
Wonderful gift, soft materials, cuddly sized, squeezably friendly, secure stitching, and the child loves it. Thank you.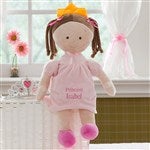 Cute!
By
Shopper

(Canada) - November 22, 2013
A cute gift for a young girl.

Lovely doll
By
Lois B.

(Rockville Centre, NY) - April 14, 2013 (
See all reviews by this customer
)
Purchased for one of my granddaughters to make certain it was what I expected. It was actually more adorable than expected and I know she will have it for years to come. Will buy another very soon.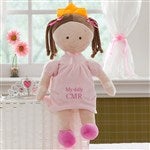 Wow. What a great doll.
By
Shopper

(Shelby Twp., MI. 48315, MI) - March 20, 2013
I bought this for my granddaughter. I know that she will love it. Itis even better than described. You won't be disappointed. Personalization is very nice.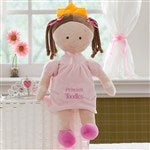 First Birthday
By
James Z.

(Menifee, CA) - March 15, 2013 (
See all reviews by this customer
)
My daughter and grand daughter both love this doll. My wife picked it out, she loved it also.

Nonna
By
Adeline F.

(Dresher, PA) - December 21, 2012 (
See all reviews by this customer
)
Was so happy when doll arrived can't wait to give it to my granddaughter.

Soft and Beautiful
By
Shopper

(missouri city, TX) - December 20, 2012
Very pretty doll and well made. Doll is very large sitting next to a 4 month old, one she will grow up with. Looks like its machine washable, all super soft parts.


Priceless
By
Mina M.

(Vancouver, WA) - December 16, 2012 (
See all reviews by this customer
)
My grandaughters are going to enjoy this for Christmas and for years to come. One has blonde hair and the other brunette. This doll is soft, cuddly, and well made for a child's small hands. I love the personalization which makes it extra special.

Sweet and Cuddly
By
Shopper

(Saint Clair Shores, MI) - August 10, 2012
Every product I've bought from Personalization Mall has been fantastic! I bought this doll for my daughter for this upcoming Christmas. It is very well made, a very good size and very soft and cuddly. I love that it can be personalized. Another great product from Personalization Mall!

Embroidered Princess Doll
By
Shopper

(Somerset , NJ) - June 30, 2012
Ordered this personalized princess doll online and received it within a couple of days. I was pleasantly surprised at the fine quality of this plush doll and I know my little one will spend many happy hours playing with her very own princess!

So adorable !!!
By
Kellie V.

(Goleta, CA) - May 21, 2012 (
See all reviews by this customer
)
This princess doll is precious. It even looks cuter in person. I bought it for my niece and had it shipped to their house, I didn't get a chance to see it until I went over there and it was sitting on a shelf by her crib. Perfect!!!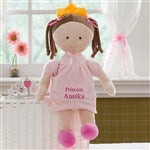 Big Sister Gift for Niece
By
Shopper

(Lowell, MA) - May 15, 2012
This was bigger than expected! I loved it and it is sooo soft. My niece is really going to love this as her big sister gift. The material of the doll is well made and the personlization is nice, big and clear right on the doll. I am going to be buying more of these in the future :)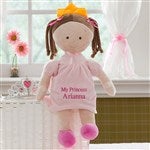 Princess Doll - Brunette
By
Shopper

(Dayton, OH) - April 29, 2012
I order this doll for my four month old niece. When I received this doll, I got so excited I wanted to order one for my other nieces. It is such a beautiful, quality product. I can't wait to present it to her next weekend. Although she's too young to understand the signifance of the gift, once she's old enough to know she loves baby dolls, I know it'll be a treasured piece for a very long time.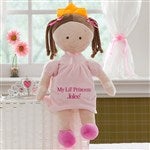 it is truly big
By
AMANDA H.

(WYOMISSING , PA) - December 21, 2011 (
See all reviews by this customer
)
i was a little hesitant to buy the doll but the reviews were great so i decided to buy it. and it is really big! and i love how soft it is an how it has my daughters name on it. only wish they could have more colors pink isnt my color but its very beautiful! couldnt have asked for a better doll! totally worth the money!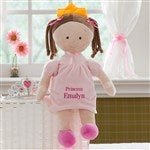 Excellent
By
Shopper

(Addis, LA) - December 19, 2011
Great gift!! Bigger than expected! Good quality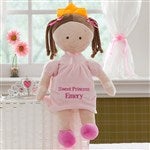 Adorable
By
Shopper

(San Jose, CA) - November 19, 2011
This was just so darling. It meant so much to be able to have her name on it. We are going to save this for her when she gets a bit older.

Adorable Doll!
By
Shopper

(Dayton, OH) - November 15, 2011
I ordered this doll for our 6 month old grandaughter as a gift. My order arrived promptly and well packaged. When I opened the box, I was so pleased. The doll was a little bigger than I thought it would be, but that made it even better. She is soft and well made and I love the personalized stitching. She will be easy to cuddle with and carry around. The quality was great!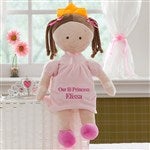 So Sweet!
By
Heather H.

(San Antonio, TX) - October 29, 2011 (
See all reviews by this customer
)
Love this item!!! It is bigger than I thought-the lenght of a 5 month baby! So cute and will be nice to hug and play with!!!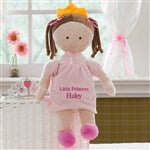 Adorable Doll
By
Shopper

(Atlanta, GA) - September 26, 2011
Larger than expected. Super soft. Very cute.

Too Cute!
By
Shopper

(Hinsdale, IL) - September 12, 2011
Just darling and larger size than I expected! Always great quality from PMall!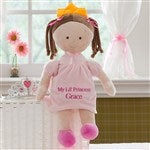 Happy Shopper
By
Shopper

(Wappingers Falls, NY) - August 22, 2011
The doll was almost as cute as my grand-daughter :) ...it's a perfect first doll with no worries of her eating a button eye.. and the engraving only makes it more personal and special for her.

baby doll
By
Tara B.

(Greenville, KY) - August 1, 2011 (
See all reviews by this customer
)
Perfect! This doll is excellent quality! It is much bigger than I expected it to be and a wonderful price for this great keepsake gift!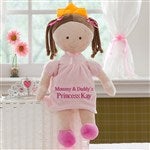 Gift for Niece
By
Shopper

(Brentwood, NY) - July 30, 2011
This doll is very soft and perfect for a toddler. Embroidered name looks perfect.

Every Little Girl should have one!
By
Anea Z.

(Glenolden, PA) - July 25, 2011 (
See all reviews by this customer
)
This is adorable and even bigger then I anticipated. It is so soft and I just know my Goddaughter will love it! I cannot wait to give it to her.