beautiful
By
Shopper

(Philadelphia, PA) - April 5, 2014
THE WOODEN ALBUM IS BEAUTIFUL. WILL LAST FOREVER! MY SON AND MY DAUGHTER-IN-LAW LOVED IT.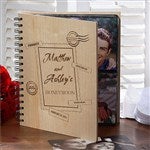 Honeymoon Photo Album
By
Shopper

(Grand Forks, ND) - February 18, 2014
The album was just perfect and delivered right on time. We love it.

Nice cover
By
LeAnn P.

(Selma, NC) - December 24, 2013 (
See all reviews by this customer
)
Book is exactly as I thought it would be. Looks great! I am excited to put our honeymoon photos in there. I would recommend this product.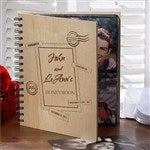 What a Nice Surprise!
By
Jacquelyn M. C.

(St. Peters, MO) - October 12, 2013 (
See all reviews by this customer
)

What a nice surprise it was to open our package and see our beautiful, honeymoon album. It was more than we expected---love the personalization. I just found it unexpectedly as I was searching for an album that would lie flat and came across this great album. It was flat which was just what I was looking for, but to get the personalization made it even better. I can think of many events where this would make a perfect gift. The quality of this album is excellent---nice wooden covers and sturdy slots to put pictures! Nice packaging also. You will not be disappointed with this album! It is great! A wonderful find! Thanks very much.

Wedding Gift
By
Elaine W.

(Weston, FL) - July 22, 2013 (
See all reviews by this customer
)
My friends were very happy with this album. They were very touched with the personalization. My friend told me that his fiance cried when they opened the gift package.

Nice gift
By
Shopper

(Staten island , NY) - July 2, 2013
This makes a very nice gift. It is well made and looks very nice. It makes a nice shower gift or something extra for a wedding gift. I've given several and they are always well liked.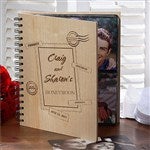 loved it and so did the bride
By
Regina D.

(Erlanger , KY) - June 25, 2013 (
See all reviews by this customer
)
I LOVE the product, very good quality and exactly like the picture shows. I was a little disapointed as the web site decieved me, I thought I was paying extra to have it quicker than it came. I was still happy with the product and would order from the site again.

Honeymoon
By
Shopper

(Hoschton, GA) - May 5, 2013
This is a great gift to give the bride and groom! Great quality and very reasonable price. Shipping was extremely fast and also had a tracking number so I knew exactly when I would receive it.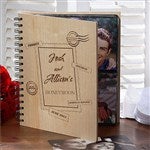 Great Job
By
Shopper

(Frederick, MD) - April 7, 2013
Product was exactly what we wanted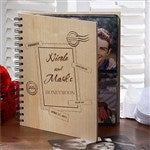 Honeymoon Personalized Photo Album
By
Bonita M.

(New Liberty, IA) - March 29, 2013 (
See all reviews by this customer
)
I bought this for my daughter who is getting married this month. She is going to love it. It arrived in a couple of days which was wonderful. It is such a cute and clever idea, well made, and I just love it. Thank you so much.
Bonita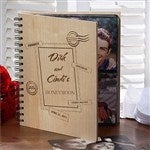 Great Quality
By
Shopper

(Morehead, KY) - March 16, 2013
I purchased this album in hopes of giving my husband this album as a 9th month wedding anniversary gift to display all of our wonderful pictures from Riviera Maya, Mexico. I just received the album today and I was surprised by the wonderful quality of the album. I would recommend anyone looking for a great honeymoon gift or just a great way to display their honeymoon to purchase this item.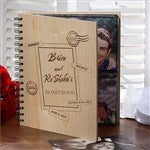 anniversary gift
By
claudia T.

(manassas, VA) - October 30, 2012 (
See all reviews by this customer
)
perfect for the occasion ,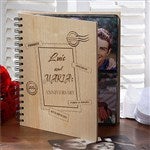 Well made, loved it!
By
Shopper

(St. Joseph, IL) - October 19, 2012
I loved this even more when I rec'd it! It's very nice quality! Loved it!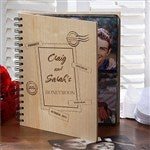 Great gift!!
By
Shopper

(Pewaukee, WI) - October 9, 2012
I ordered this for a friend who recently got married. I had received one for my wedding and loved it. It is an excellent album for storing honeymoon photos. The detail is great and looks just like the picture. Would highly recommend.

Personalized Honeymoon Album
By
Joan W.

(Palos Park, IL) - September 9, 2012 (
See all reviews by this customer
)
I am a Travel Consultant doing luxury trips and honeymoons and have been looking for a special gift for my Honeymoon Couple going to Bora Bora and Taaha in Tahiti. I came across this album and it was perfect for them. Their names, wedding date and destination was printed on the album. The quality of the album is beautiful and will last a life time.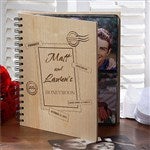 Great shower gift
By
Shopper

(Warminster, PA) - August 14, 2012
I bought this to add to a gift card that I was giving as a bridal shower gift. It ia a lovely additon and it is something the bride and groom will have forever.

Great idea
By
Gloria L.

(Riverside, CA) - August 2, 2012 (
See all reviews by this customer
)
Nobody prints photos anymore! I was hoping to give the honeymooners a chance to show off their trip to guests. I haven't heard yet if they like it, but what's not to like? Hopefully, they'll use it!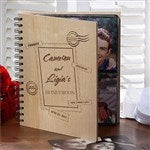 Great shower gift idea!
By
Shopper

(Philadelphia, PA) - June 29, 2012
What a fun gift to give! The engraving on the wooden cover was just perfect. It's a great size for a honeymoon album, holding 72 pictures in protected vinyl/plastic sleeves. It will make a wonderful keepsake for the bride & groom that will last a lifetime! They loved this gift!

I love it
By
Shopper

(Rancho Cucamonga, CA) - May 9, 2012
I bought this for my cousin and im sure she is gonna love it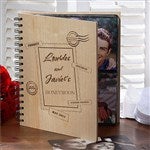 Great idea
By
Shopper

(Oakford, PA) - April 15, 2012
Photo album was a big hit. Was told I had "the cool gift" of the shower. Bride loved it!


Great!
By
Shopper

(Emporia, KS) - September 23, 2011
This photo album was such a wonderful gift, the bride and groom LOVED it.
It is very good quality.

Loved the album
By
rose S.

(holland, PA) - August 27, 2011 (
See all reviews by this customer
)
Gave this to my niece for her bridal shower, it was a big hit.
Everyone loved it! I was so happy with it too. Great quality and the
delivery was so fast. Very hapy with my purchase. Love this website!

So cute! A must have!
By
Lindsey G.

(Cumberland, RI) - August 19, 2011 (
See all reviews by this customer
)
I ordered this for myself and as soon as it came in the mail, I ordered it for my friend who is getting married! I have recieved so many compliments on this,I love it!!!!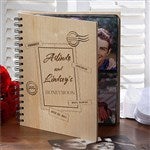 Love the Special Keepsake!
By
Peggy C.

(Imperial, MO) - August 6, 2011 (
See all reviews by this customer
)
I was really impressed with the quality of this item. The engraving was perfect and really captured their special occasion. It is a wonderful keepsake.

Perfect Memento!
By
Jodie B.

(Farmingdale, ME) - August 1, 2011 (
See all reviews by this customer
)
I'm getting married in a week and I was on the site buying gifts for others when I saw this. I couldn't resist, and I'm glad that I didn't. It's adorable! I love how names are inscribed in the wood, very classy and expensive looking. I love that it has the name of the place where you honeymoon, and the date plus some other cute details, such as "love birds." I ordered it for myself and I would highly recommend it. It's something that we can have forever and pass along. Any new couple would adore this as a gift, so don't hesitate, it's unique, useful, and most of all meaningful!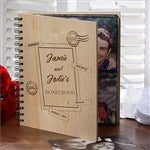 HoneyMoon Memories for a life time
By
BETHANIE T.

(LEBANON, TN) - July 25, 2011 (
See all reviews by this customer
)
I was so pleased with this photo book. The cover and back has a true "wood feel" and the engraving is remarkable. Both my sister-in-law and brother-in-law love this gift. Now they have a special album just for their honeymoon.

Another "Slam Dunk" for Personalization Mall.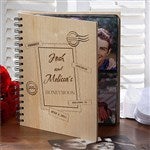 Thrilled
By
Shopper

(Virginia Beach, VA) - July 25, 2011
This product is beautiful and unigue. I just love it.

ALOHA HAWAII
By
Shopper

(Union, NJ) - July 12, 2011
THE NEWLYWEDS WILL HAVE THE PERFECT HOME FOR THE PICTURES THEY TAKE ON THEIR HAWAIIAN HONEYMOON.

Honeymoon album!
By
melanie H.

(waltham, MA) - July 9, 2011 (
See all reviews by this customer
)
I bought it as a gift and my fiancé wished we got ourselves one! It's nice, sturdy, and different froma usual honeymoon album! It is just perfect!

Great bridal shower gift
By
Shopper

(Troy, NY) - June 13, 2011
As always this item exceeded my expectations. Great quality and just the perfect touch to make a great personalized gift.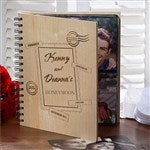 Very Pleased With The Album
By
Diane J.

(Havertown, PA) - June 11, 2011 (
See all reviews by this customer
)
I wanted to get something for my daughter and future son in law that they didn't get from anyone else. This album is the perfect gift. It arrived very quickly and I was pleasantly surprised with the quality. Can't wait to give it to them. I have ordered many things from Personalization Mall. Love this company !!