Awesome purchase
By
Adrian H.

(Memphis, TN) - June 25, 2014 (
See all reviews by this customer
)
My order was delivered on time and I ALWAYS rec'v EXCELLENT customer service!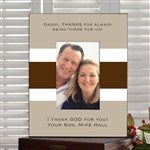 great
By
Anita D.

(Trumbull, CT) - June 25, 2014 (
See all reviews by this customer
)
The words I requested came as a wonderful surprise. The words were actually spelled in the whitish color of the frame and printed in the blue. It was like the blue of the frame was cutout and over-layed but there wasn't a seam between the layers (colors). Better than I expected and my father and I were very impressed.

Picture perfect!
By
Shopper

(Duncansville, PA) - June 25, 2014
I LOVE that you can pick the color & personalize the frame and then view it before submitting the order. I have trouble visualizing things & it was a big help for me to be able to see the different colors before making my choice. Also, with the personalization, I could see how it looked & decide if I wanted to edit it before I submitted the order. It arrived & was EXACTLY how it was shown when I was creating the order. The only disappointment (& it is a very small one) is that it said the opening was 5X7. However, I had gone to the photo store & printed out a 4X6 collage photo specifically for this frame & had to trim it down alittle, losing alittle of the pictures, so it wasn't a 5X7 opening. I would DEFINITELY order it again. Great job!

Beautiful frame!
By
Mary C.

(Lompoc, CA) - June 21, 2014 (
See all reviews by this customer
)
The frame is exactly what I was hoping for. The colors are beautiful. It was the perfect Father's Day gift. My husband loved it. I recommend this frame!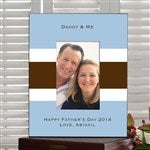 Happy Mom
By
Shopper

(Deatsville, AL) - July 30, 2013
Arrived in great condition. Packaged very nicely. Very good quality. Bought for Christmas gifts for my grown children for this coming Christmas. Can't wait to see the look on their faces upon receiving them. Very satisfied with this purchase.

Great frame for a Guy
By
Shopper

(Euless, TX) - June 18, 2013
I ordered for my boyfriend for fathers day, looked great! Good frame for a guy.

Loved them
By
Shopper

(Carmel, IN) - June 17, 2013
I created picture frames for my mom and dad for mother's and father's day and they turned out great, as usual. Just looked wonderful and I love how they were fully customizable. I've never been disappointed with personalization mall's products.

Perfect
By
Rose L.

(Phila, PA) - June 16, 2013 (
See all reviews by this customer
)
Turned out just like it looked in the image shown. Colors, font, etc. were all perfect. It was a perfect gift for Father's Day. I would recommend this product.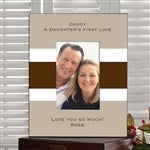 Great Gift
By
Aimee S.

(Rossiter, PA) - December 31, 2012 (
See all reviews by this customer
)
This product turned out really nice and was very affordable. It was easily customized and can fit about any occassion/situation.

Item as described
By
Ashley R.

(Bedford, IN) - December 11, 2012 (
See all reviews by this customer
)
I am very pleased. This is a gift of my kids to the grandparents.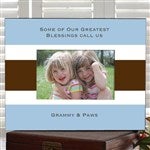 Love this frame
By
Shopper

(Baltimore, MD) - September 30, 2012
I was very happy with the quality of this frame. The colors and personalization were exactly as advertised and I couldn't be more pleased with it. Very satisfied customer!

Great gift
By
Shopper

(OLNEY, MD) - August 20, 2012
Great gift for 1st father's day/ 1st 'grand'father's day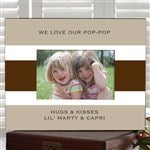 Personal and FAST
By
Desiree A.

(Bluffton, SC) - June 24, 2012 (
See all reviews by this customer
)
Best gift I could've given my husband for his first Father's Day.. he loved it!
Super fast shopping too!

Perfect Father's Day Gift
By
Shopper

(Delaware, OH) - June 23, 2012
My husband truly loved this Father's Day Gift. Personalizing the frame with our recent trip to Disney with our 3 year old son will allow us to never forget such an incredible vacation. The colors of the frame are great and the quality of the print was terrific. Would definitely recommend this frame as a wonderful gift.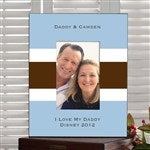 Great frame
By
Samantha M.

(Hartsdale, NY) - April 3, 2012 (
See all reviews by this customer
)
Makes a great gift! Even nicer in person! Fast shipping too!


Even better in person!
By
Shopper

(Mascoutah, IL) - January 6, 2012
I was pleasantly surprised upon opening the package. The frame is heavy and has a glossy finish to it. I just love it!

unique
By
Nicole M.

(Blacklick, OH) - December 1, 2011 (
See all reviews by this customer
)
I have been looking for a frame that said great grandparents on it for about 6 months. I have not had any luck but when I found this one and I could personalize it to say great grandparent and their names it was perfect. I placed the order for 2 frames wishing now I would have done 3. I will be getting another one as soon as I can pick the color I want. Great quality as with any product I have ordered from personalization mall in addition to the quick arrival even when chosing standard shipping. I am very pleased with the picture frames and will return for any of my personalized needs.

Can never find a frame that says"Pappy"
By
Shopper

(Union, NJ) - July 12, 2011
WE HAVE ONE GRANDDAUGHTER. SHE CALLS HER GRANDFATHER PAPPY. FOR THE PAST 2 YRS, I HAVE BEEN SEARCHING FOR A FRAME THAT SAYS "I LOVE MY PAPPY". THANK YOU FOR LETTING ME MAKE MY OWN FRAME. PAPPY LOVES IT!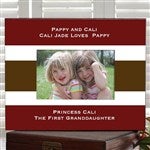 Great Fathers day gift
By
Kim T.

(Fort Irwin, CA) - June 28, 2011 (
See all reviews by this customer
)
He loved it!

Super Cute!
By
Shopper

(Prattville, AL) - June 22, 2011
My husband loved it!

Great Gift Frame!
By
Debra W.

(Deer Park, TX) - June 22, 2011 (
See all reviews by this customer
)
When I ordered this frame for a grad gift, I thought it was going to be small even though the overall size was included in the description. When I opened the package, I was extremely impressed at it's presentation; the quality is great, the size is great, and it far exceeded my expectations. The photo really does not do it justice.

Very happy Dada
By
Lauren G.

(Brooklyn, NY) - June 21, 2011 (
See all reviews by this customer
)
Each time I order from Personalization Mall, I am impressed, and they didn't disappoint with this frame. The coloring of the khaki frame was perfect and matched well with the photo I chose. And you can't beat the quick shipping!!!