So fun and cute!
By
Shopper

(Tecumseh, KS) - June 24, 2014
This is an awesome well priced gift! Turned out amazing and I would recommend it to everyone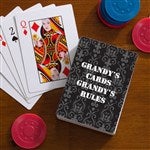 Fantastic idea!
By
Darlyn L. B.

(Bakersfield, CA) - March 16, 2014 (
See all reviews by this customer
)
I bought two sets, one for each of my young grandsons who have become interested in playing cards. Such a unique gift!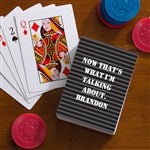 Wonderful
By
Katherine G.

(Hartland, MI) - December 16, 2013 (
See all reviews by this customer
)
This is the second time I've bought this item and I've loved the product both times! The cards have been gifts both times and the person receiving the gift has also loved them. It's a great personalization gift that will be used on more than one occasion and for more than just decoration. I recommend this gift, it's great and very personable.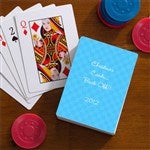 Great Quality
By
Madison R.

(Shallowater, TX) - December 14, 2013 (
See all reviews by this customer
)
I bought these cards as a present for my boyfriend. The quality is great and the patterns and fonts turned out even better than they looked on the screen! No regrets about ordering these.

great gift for young men
By
Sherry R.

(Horseshoe Bay, TX) - December 14, 2013 (
See all reviews by this customer
)
I was stumped as to what my 30 yr. old nephews might want….beside cash. So I thought maybe they could make some cash with these cards! The quality and colors turned out beautifully!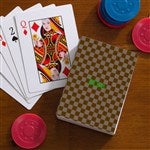 He is THRILLED!
By
Malika B.

(Marietta, GA) - January 17, 2013 (
See all reviews by this customer
)
My husband is a huge card player, mainly spades. I have been looking for personalized cards for him for quite sometime but have never been 100% sold on a company. I finally decided to go with Personalization Mall, and when I received the cards, I was extreamly impressed with not only the quality of the work, but also the quality of the cards, themselves. I gave them to my husband last night for his birthday, and I don't think I could have asked for a better reaction! He is very happy! Thank you!

Personalized poker cards
By
Gary K.

(Appleton , WI) - December 16, 2012 (
See all reviews by this customer
)
Excellent quality, shipped fast.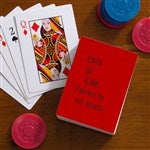 Complete Satisfaction
By
Shopper

(North Myrtle Beach, SC) - December 9, 2012
I was completely satisfied with the quality of the cards and the quality of the printing work. I was amazed at the speed of delivery.

Fast and accurate
By
Shopper

(Urbandale, IA) - November 12, 2012
Easy, affordable, fast shipping and the process was super easy! I recommend this site to all and I will be returning for x-mas!

Great gift!
By
Shopper

(Collinsville, IL) - September 22, 2012
Very nice, but you will have to buy something nicer to store them in. Would definitely buy them again.

Great gift
By
Shopper

(Bronx, NY) - August 4, 2012
Great gift, reasonably priced, good quality!

Nice Gift!
By
Shopper

(Mishawaka, IN) - March 19, 2012
Very pleased with my purchase. Quality was good. Nice gift!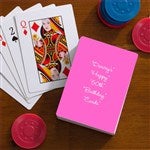 A must for Card Collectors
By
Shopper

(The Woodlands,, TX) - March 5, 2012
My college son has collected decks of playing cards since he was a little boy when his grandfather got him started. He is receiving his Personalized deck for graduation from college in May, with his name, college and year of graduation personalized in his school colors. I know he will love this deck of cards!

My grandson was thrilled!
By
Shopper

(Platteville, WI) - January 8, 2012
Our grandson is a budding magician and card "shark" and all he wanted for Christmas were magic tricks and decks of cards, even though he must have 25 or more already. But when I was able to give him a deck of cards that had his name and the title of Magician on it, he was really ecstatic. He is hoping to take part in a talent show at his school, and will do some cards tricks using this special deck of cards.

By the way, I was interested to see that these were shipped from Burr Ridge, since that is where he lives as well. I have your website bookmarked so that the next time I want a personalized item, I will know just where to look.

Thanks for your good service and great product.

Great Gift
By
Carla D.

(Lake Mary, FL) - December 28, 2011 (
See all reviews by this customer
)
Got these for my Dad who plays Texas Holdem. He thought they were terrific and is going to take them to show his poker buddies. He loved the personalization on it...thought it was "very cool". Thanks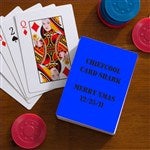 personalized deck of cards
By
Shopper

(Indianapolis, IN) - December 25, 2011
Loved it!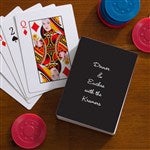 Great gift
By
Shopper

(plymouth meeting, PA) - December 23, 2011
Great gift for my sons friend. Nice quality, quick delivery.