Fantastic
By
Sarah M.

(Escondido, CA) - December 27, 2013 (
See all reviews by this customer
)
We have a friend that always uses a mug with my name on it when he comes over to our house so I thought it would be a great idea to get him one with his own name on it. We didn't exactly make this mug as it is supposed to be made, but it is perfect for him. It came out exactly as I hoped it would. I bought a few other things off of this website and I am throughly happy with all of the products that I bought. I will defiantly be buying products from here in the future.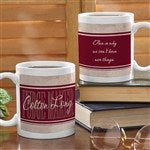 Beautiful Job
By
Susan N.

(Fulton, MO) - December 11, 2013 (
See all reviews by this customer
)
I ordered the "Name Your Career" mug as a gift for my supervisor and couldn't be happier with it! The mug is much bigger than I expected! The colors are well coordinated and the personalization was accurate. Ideally the mug should allow for more characters/lines for personalization. The shipping cost added $5.00 to the order total. Overall, I love it, and the boss will, too!

Gorgeous!
By
Shopper

(Raymore, MO) - November 10, 2013
I got the cups in red and they are beautiful very happy with this purchase!

Big High Quality Mug
By
Shopper

(Woodbridge , VA) - November 4, 2013
The Mug 15 oz was big enough to make my Boss's gia-enormous hands look normal size. She made compliaments pleasing of the gift box and workmanship of the Mug. A great gift to give. A great gift to get.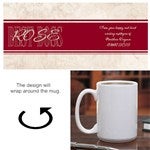 Great monogrammed mugs
By
Terry M.

(Charlottesville, VA) - September 14, 2013 (
See all reviews by this customer
)
Beautiful, sturdy mugs making the perfect gifts.
Lightning speed shipping.

Excellent product!
By
Shannon R.

(Loxahatchee, FL) - June 26, 2013 (
See all reviews by this customer
)
This is an excellent quality and economical product to give staff or peers. I gave these mugs as a thank you gift to peers and they were delivered on-time in perfect condition. I would definitely recommend this product!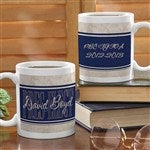 Perfect
By
Paula A.

(Tehachapi, CA) - February 5, 2013 (
See all reviews by this customer
)
This mug was exactly like the picture.. It made a beautiful gift for my husband on our anniversary. I highly recommend this mug :)

Very Nice
By
James R.

(Fairview Heights, IL) - January 26, 2013 (
See all reviews by this customer
)
Very nicely done.
Great conversation peice at w*rk.

Very nice
By
Shopper

(Winchester, KY) - January 15, 2013
The cups were very professional, I was pleased with the ease of design, and the quality of the product. The order was received very quickly, and packed very well.
These coffee cups were a gift to my family, we used to play together in a gospel band.
We don't get to play together much anymore, but these will remind us of the good times
We shared as a country gospel group.
Thanks. Personalization Mall. From. Soldiers of the Cross.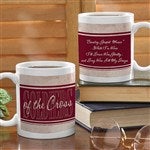 Gift
By
Shopper

(Durham, NC) - December 29, 2012
This cup exceeded my expections. Ordered for ministers at church...personalization on mugs was beautiful.

Classy Gift Idea For a Firefighter...
By
Michele A.

(Oklahoma City, OK) - December 23, 2012 (
See all reviews by this customer
)
Over the past couple of years, I've ordered several items from this website for my favorite firefighter. This holiday, I came across the Name Your Career mugs and thought these would make a nice gift to add to his collection. I ordered six 15 oz mugs to be presented as a set, in burgundy, with each inscribed with a verse from the Firefighter's Prayer. A very heartfelt gift indeed...

Just Perfect!
By
Heather M.

(Fountain, CO) - December 16, 2012 (
See all reviews by this customer
)
Mugs arrived perfect-- and so fast!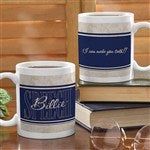 Motivational
By
Jamie B.

(Ocean Springs, MS) - April 15, 2012 (
See all reviews by this customer
)
I am a college student; I used an inspirational quote and put my future title on the cup. Every morning when I drink coffee it reminds me to keep on pushing.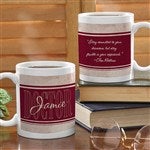 Personalized Coffee Mug
By
Tonya J.

(West Monroe, LA) - January 21, 2012 (
See all reviews by this customer
)
What a hit this item was for Christmas

Great Products!
By
Shopper

(Brazil, IN) - December 30, 2011
I ordered several items from Personalization Mall about 8 days before Christmas, I received every piece before Christmas and the quality of product was perfect! I will be ordering again. Thanks Personalization Mall for your dedication to customer service!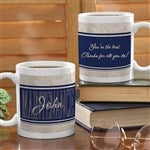 Gifts for my crew
By
Shopper

(Bellingham, WA) - December 15, 2011
What an awesome gift that everyone uses and is pesonalized with that specific person in mind. I would highly recommend to anyone searching for an unique gift idea

Great little gifts!
By
Beverly W.

(Coolville, OH) - December 8, 2011 (
See all reviews by this customer
)
I ordered these mugs for Christmas for my coffee addicted girls, the Doctor one for my daughter and the Lawyer one for my daughter-in-law. I like the colors very much and ordering was very easy. It was also nice to order something personalized and be able to see it, and change it until it was perfect. I think they will love them. Thanks!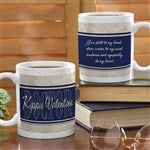 Great Gift
By
Melissa L.

(Port Saint Lucie, FL) - December 8, 2011 (
See all reviews by this customer
)
Gave this mug to my supervisor for appreciation and it was very nice. Was ordered and shipped in a timely fashion. Great price as well.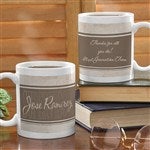 Nice for the price
By
Shopper

(voorhees, NJ) - November 29, 2011
very pleased - especially being able to create your own quotes

Fast & Good Quality
By
Shopper

(Richardson, TX) - November 22, 2011
I ordered 4 of these mugs for my company. Each was different by color, name, and/or title. Everything was done correctly. This product looks really good in person and is of obvious quality. I was also pleased with the speed in which I received my purchase. It was delivered within a week. I'm sure I will be using this site to purchase other gifts in future.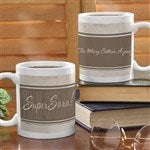 fun office gift
By
Shopper

(Albuquerque, NM) - November 18, 2011
Got a few for co-workers. Put the organization's acronym in the background, and used the quotation side for the actual title. They loved it.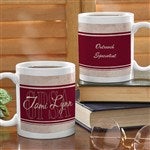 Career Mug
By
Leslee M.

(Vista, CA) - October 21, 2011 (
See all reviews by this customer
)
Saw this mug and wanted to get it as a special gift for the wonderful caregiver for my mother in law. So many caregivers out there who need to thanked for the dedication and family support they give. This is just a small way to say thank you.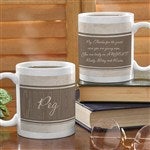 Coffee Time
By
Judy G.

(Surprise, AZ) - October 7, 2011 (
See all reviews by this customer
)
The mugs turned out great, the only suggestion I have is that the background print is extremely light and hard to see.

Personalized Coffe Mug
By
Vicki T.

(Higginsville, MO) - July 9, 2011 (
See all reviews by this customer
)
The Personalized Coffee Mug was everything I hoped it would be. Instead of a Career in the background, I used his nickname, and he LOVED it. I also personalized the verse on the back and turned out beautiful. I ordered this mug on Monday evening and received it on Thursday!!! I was very surprised and VERY pleased!!! Thanks!!!!