Wonderful keepsake
By
Shopper

(Old Greenwich, CT) - July 26, 2014
This is a terrific gift; well made and perfect size…not too large but big enough to read. New moms always love to have a personalized keepsake and this one is perfect.

great keepsake
By
Shopper

(bonneau, SC) - June 11, 2014
good weight, smaller than I thought, get a visual in your mind, it is clear and beautiful, looks like a tray in the picture,but it is a block of Acrylic, durable and well done

Love It
By
Shopper

(Karnak, IL) - May 30, 2014
I bought this for my sister and she absolutely loved it. She even cried! Great gift, great price!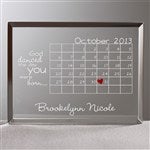 Beautiful piece
By
Shopper

(Lees Summit, MO) - April 28, 2014
This is a life long keepsake! It is really nice in person. I ordered another one after I seen the first one...great quality for the price.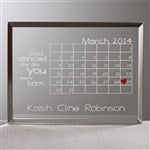 love
By
Skyla K.

(Tecumseh, KS) - April 20, 2014 (
See all reviews by this customer
)
This is the cutest keepsake! I love it

Lovely
By
Shopper

(Lees Summit, MO) - April 14, 2014
This is so sweet. It is heavy acrylic and really cute in person. I ordered this for my first grandbaby, when I received it. I really did not want to give it to my daughter-in-law, but I did. I will be ordering me one to keep. Very nice keepsake.

baby date
By
Shopper

(Berwyn, IL) - February 25, 2014
i was everything i wanted. my daughter is going to love this for her fisrt son. she got one of these for her wedding date.

personalized keepsake....
By
Shopper

(Robstown, TX) - February 23, 2014
very nicely crafted.... makes a great gift....

Keepsake gift
By
CARLA M.

(CARLISLE, PA) - February 19, 2014 (
See all reviews by this customer
)
I have not yet received this item to rate it.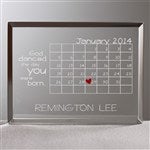 Meaningful Gift
By
Rhonda W.

(Lugoff, SC) - February 16, 2014 (
See all reviews by this customer
)
I have given this gift three times now and each time it was greatly appreciated. This is a wonderful keepsake for new parents.

Classy
By
Shopper

(Ridgeville, SC) - February 3, 2014
Made a very classy keepsake gift ....good quality!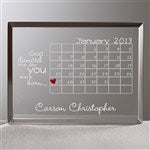 Perfect Momento
By
David C.

(Traverse City, MI) - December 30, 2013 (
See all reviews by this customer
)
My 88 year old mother has terminal cancer. She wanted something to give her children and their spouses for Christmas. I found these, and we ordered them for everyone. They were absolutely perfect and will be the perfect keepsake. They are quite small, but actually perfect for a little something to put on a shelf to remind everyone how their mother thought of their birth!

Favorite Baby Gift
By
Rachel S.

(Enid, OK) - December 11, 2013 (
See all reviews by this customer
)
I have now purchased this for all 4 of my nieces and nephews. I think this makes the best baby gift. I didn't look at the exact specifications before placing my original order so when it arrived it was smaller than I expected, but still large enough to read everything on it: birthday calendar, name, and saying. This item is just a bit larger than the palm of my hand.

Just Right
By
Regina S.

(Laurel, MD) - November 30, 2013 (
See all reviews by this customer
)
Love them! I bought one for each of my daughters for Christmas!

Wonderful
By
Julie G.

(Unity, ME) - November 9, 2013 (
See all reviews by this customer
)
I just love this item, will make a great Christmas gift.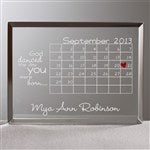 Great gift!
By
Laurie D.

(Glenview, IL) - October 27, 2013 (
See all reviews by this customer
)
As usual, the item arrived quickly and it was perfect. It is tiny, but that makes it just the right size for a desk or shelf. Can't wait to give it as a birthday gift for my sister-in-law. I am sure she will love it!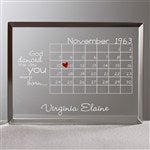 just beautiful
By
Shopper

(Lexington Park, MD) - October 18, 2013
I have already bought two of these. they are not as big as I thought , but just beautiful keepsakes. I have 4 more to buy for my nieces that are becoming moms ....


Beautiful!!
By
Shopper

(Center Rutland, VT) - September 6, 2013
The new parents were absolutely stunned when they received it. Thank you for helping me make their day!!

unique
By
Lina B.

(Berryvillle, AR) - September 4, 2013 (
See all reviews by this customer
)
this personalized gift was so unique and the message meant so much to the new Mother!!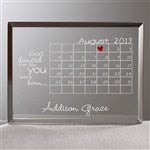 Beautiful!
By
Shopper

(Clarion, IA) - August 10, 2013
This little plaque is just gorgeous. Bought it for a new baby nephew. I loved it and so did his parents. The glass is clear and sparkly, lettering done very well. A heartfelt gift that I would recommend to anyone to purchase.

Baby gift
By
Shopper

(Camden, NY) - July 28, 2013
This is perfect for a baby gift that you want to be personalized; however, not overwhelming and a keepsake.

Unique
By Shopper (Galliano, LA) - July 6, 2013
I discovered this sight in March.It was just in time because I was invited to my cousins 50th anniversary party.I ordered this item that was for an anniversary.My nephew and his wife just had a baby July 2nd so I figured they had this item for a baby,s birth. I'm really glad they did.Everyone really loved the anniversary one because it is so unique.I really loved it to.So I just ordered 3 of the birth ones.One for the new baby,one for my niece that was born in 2011.The third is for me to give to my granddaughter who will turn 13 in October.I highly recommend this sight to all my friends and family.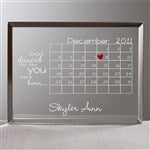 Cute!
By
Shopper

(Medford, OR) - May 11, 2013
This piece is super cute! It is small, about the size of an index card. It even came with a nice gift box.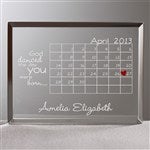 My keepsake
By
SHANINA T.

(KANSAS CITY, MO) - March 6, 2013 (
See all reviews by this customer
)
I love my personalization keepsake, and I plan to order another soon. I was so impress. I wish there were ten stars for your rating.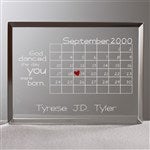 Memorable
By
Kimberly B.

(Blue Springs, MO) - February 19, 2013 (
See all reviews by this customer
)
We got our baby one of these for Valentine's Day. It is a keepsake he can have that will last a long time!

HIGHLY RECOMMEND
By
Shopper

(Eau Claire, WI) - January 22, 2013
Super service and great products ; HIGHLY Recommend ; A++++

Perfect gift
By
Megan M.

(Greeley, CO) - December 31, 2012 (
See all reviews by this customer
)
I bought this for my newborn niece and my sister and her husband loved it so much. They really thought this gift was very unique and perfect for their beautiful new baby girl!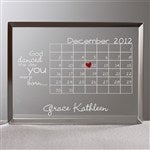 Beautiful item
By
Mary P.

(Kingwood, TX) - November 14, 2012 (
See all reviews by this customer
)
I gave this keepsake to a friend who just had her first baby. The baby had some health problems the first few weeks and seems to be doing fine now. The present meant a lot to her mother since she is a devout Catholic. I have never been disappointed with a gift from Personalization Mall. Keep up the good work.

gift for nephew many miles away...
By
Inez S.

(Avenel, NJ) - August 30, 2012 (
See all reviews by this customer
)
I sent this to my niece who lives in Florida as a gift for her new born son. She was surprised and loved the personalized keepsake. Something the baby will have for a very long time.

Happy Shopper
By
Shopper

(Wappingers Falls, NY) - August 6, 2012
This memorable calendar was so special with the babies name on it and a beautiful red heart on the day of their bith... we had 2 new babies in the family and I bought one for each and their mom's LOVED it..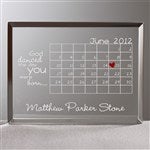 God Danced...
By
Shopper

(Kent, WA) - April 21, 2012
I have purchased two of these; one for my own granddaughter and the other for my nephew's first child. It's a very classy, thoughtful gift. I think it will be a tradition in our family to purchase these for all the new babies.

The Perfect Way to Run a Business
By
Karen M. J.

(Robbinsdale, MN) - April 15, 2012 (
See all reviews by this customer
)
I only received notice of an older grandchild's baptism 6 days before the day.
I went out on the internet to find an appropriate gift and found Personalization
mall. I then found the small lucite plaque which was exactly what I wanted - -
including her name, birthdate, etc. I phoned in the order adding a similar one
for another granddaughter who will be baptized this summer. This was Wednesday.
Imagine my shock when I looked out my door on Friday and noticed a package lying
on the step. The plaques were the only things I had on order, but it couldn't
be!!!!! Not 2 days!!!!! Well, it could be indeed. They were perfect and I
can't say enough about the quality, the workmanship, the speedy delivery, and
the entire process. Thank you! What a wonderful world this would be if all
businesses were run as yours is run! It's perfection!

beautiful!!
By
Karen L.

(Belle Plaine, KS) - March 9, 2012 (
See all reviews by this customer
)
I got this for my grand daughter. It is perfect. Thank you!

Xmas present
By
Suzann P.

(Somerset, MA) - December 7, 2011 (
See all reviews by this customer
)
Bought for Mom of twin boys, havent't given it to her yet. But I think it's adorable,and I am sure she will love it!!!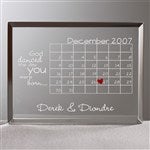 Gift
By
Shopper

(Royal Palm Beach, FL) - October 15, 2011
I purchased this as a gift for my friend. She was estatic when she received it. I received no negative comments.

Great Way to "Remember the Day"
By
Vickie N.

(Rowlett, TX) - October 10, 2011 (
See all reviews by this customer
)
I bought this instead of the usual photo frame for a new mother because it can "grow" with the child and become a keepsake to remind him/her just how "special" they are. It would look great in a nursery or a college dorm room.

Great baptismal gift
By
Shopper

(Sweet Springs, MO) - October 7, 2011
This is a great gift for any special event for kids, grandkids, great grandkids.
Looks like a high end product, nicely packaged, and received in good time.