Personalized Baptismal Card
By
Shopper

(Park Forest, IL) - June 23, 2014
The card was perfect! I liked the idea of making it very personal and for the price it was an easy way of making it a special day.

unique and such quality!
By
diana R.

(Lewiston, NY) - May 9, 2014 (
See all reviews by this customer
)
why spend 4.00 on a Hallmark card in the drugstore when you can get this very special card! It is high quality paper and ink, looks great. Thank you PM for this offer.

REMARKABLE
By
MICHAEL J.

(CHICAGO, IL) - March 3, 2014 (
See all reviews by this customer
)
Remarkable, fast and accurately done with perfection !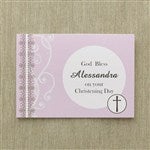 Great Baptism card
By
Cindy C.

(Pewaukee, WI) - September 29, 2013 (
See all reviews by this customer
)
I am thoroughly pleased with this card & will be happy to give it with my gift.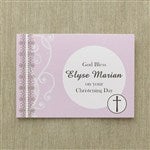 Better than the stores
By
Pamela S.

(Plainfield, IL) - September 24, 2013 (
See all reviews by this customer
)
The quality, including the paper it's printed on, is better quality than you will find in any store and it's personalized. It's also cheaper than the stores.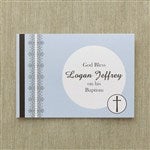 Cards for Dedication Ceremiony are Hard to Find
By
Wendy F.

(Dearborn Heights, MI) - July 25, 2013 (
See all reviews by this customer
)
I needed a card to enclose with the Keep Me Safe Personalized Cross for a new baby's Dedication Ceremony. Knowing Personalization Mall has a selection of cards that can be personalized for about the same price (or less) than the department or gift store counter, I did a quick search for an appropriate card. To my surprise I found I was able to change the cover sentiment to fit the event. Thank you Personalization Mall!

High quality, thick, glossy finish
By
Shopper

(Bryan, TX) - April 22, 2013
High quality, thick, sturdy and very presentable.

Personalized Baptism card
By
Shopper

(Nutley, NJ) - April 15, 2013
I could not be happier with the quality of this personalized card for my
first grandchild's baptism. It is of heirloom quality. I can see this card
being saved for posterity. It's that nice.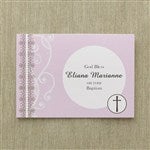 Beautiful Card
By
Lynda S.

(Randallstown, MD) - October 26, 2012 (
See all reviews by this customer
)
Great looking custom card!

Baptism Card
By
Shopper

(Byron, MN) - September 23, 2012
The card was what I expected. It was well made and very special. I am very pleased with my purchase.

chrisening day personalized card
By
Eileen P.

(Yonkers, NY) - September 17, 2012 (
See all reviews by this customer
)
Just what we wanted. great quality

The Perfect finishing touch!
By
Shopper

(Hinsdale, IL) - September 15, 2012
It can't get any more personal than this! So glad you offer these beautiful greeting cards - my gift recipients are always so impressed!

Great deal!
By
Kelly B.

(Hartsdale, NY) - June 2, 2012 (
See all reviews by this customer
)
High quality card and same price as a regular store card except this one was personalized! Didn't need to write a single word!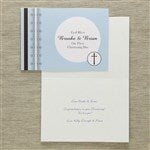 Christening Day Card
By
Shopper

(algonac, MI) - May 6, 2012
Loved it. Everyone wanted to know where I got this card and afghan. Of course I shared!!

Beautiful card
By
Shopper

(Colleyville, TX) - January 21, 2012
Beautiful quality! Heavy card stock, crisp print, high gloss finish.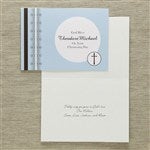 Personalized Card is an Amazing Touch
By
Terry A.

(Daphne, AL) - January 10, 2012 (
See all reviews by this customer
)
This Dedication Day greeting card was not only beautiful but was another wonderful keepsake for the recipient to have to remember this special event. I really appreciated the opportunity to write my own verse. The price is extremely reasonable especially considering that you will pay nearly the same price for a retail store card that is NOT personalized. I'm so happy that Personalization Mall offers so many exceptional products and ideas!

Awesome!!!
By
Shopper

(Sterling, VA) - November 4, 2011
I hate buying greeting cards because it always seemed like a lof $ for something that will just be thrown away. BUT now I LOVE buying them because Personalization Mall makes it worth it! I bought this card for a baptism gift and it was beautiful, stylish, HIGH QUALITY, unique, awesome!!!! The parents LOVED it and could not stop talking about it.

Personalized Christening Card
By
Diane M.

(Utica, NY) - October 25, 2011 (
See all reviews by this customer
)
What a special way to wish a baby blessings. I love that is is printed with exactly what I wanted to say and her name, etc. Great value too.

Always Perfect!
By Shopper (Moorcroft, WY) - October 19, 2011
I love shopping on personalizationmall.com! It's wonderful to be able to send a gift that is specifically made just for the person and event your celebrating!

Tessa's Card
By
Shopper

(Wildwood Crest, NJ) - October 10, 2011
Since I sent my Goddaughter's gifts right to her house, this card was perfect! My sister in law even had the card displayed on Tessa's Christening Day. It was beautiful and best of all....personalized!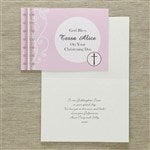 arrived on time
By
Lori B.

(Port Saint Lucie, FL) - September 19, 2011 (
See all reviews by this customer
)
Everything went great thanks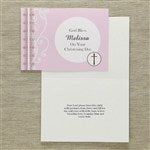 Fantastic Idea
By
Shopper

(Australia) - September 9, 2011
This personalized card was a finishing touch to the gift. Very pleased with the overall look of it.