Great Grandmother loves her new mug
By
Sandra S.

(Florence, SC) - December 28, 2013 (
See all reviews by this customer
)
I personalized the mug with all 4 of my Mom's great grandchildren. The mug turned out great and my Mom loved the mug!

Beautiful job
By
Giselle G.

(Bayamon, PR) - December 26, 2013 (
See all reviews by this customer
)
It was a christmas present and the person i give it were so happy!

Beautiful large personalized mug
By
Shopper

(Chippewa Falls, WI) - December 26, 2013
We chose to design this mug with four black and white photos. When the mug arrived, it was well-packaged and of high quality. The mug size is great and the design is beautiful.

Better than expected!
By
Carole P.

(Loveland, CO) - December 17, 2013 (
See all reviews by this customer
)
I found a cute idea for a co-worker on Personalization Mall.com and "stole" some of her pics off Facebook. When the large coffee cup arrived it was so cute!!
I love this website for its cute personalized items that are completely affordable, BONUS!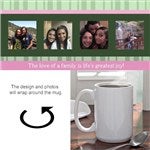 Great purchase
By
Shopper

(Suffolk, VA) - December 1, 2013
The mug is a good quality. My pictures and saying are very clear and look good. The price is really nice. Personalizing the item was really easy! The step by step process is really clear and helpful. Also, I like being able to see what the finished product will look like. This is the only site I have found that does that.

The only change I would request would be more mugs that you are able to personalize with pictures and longer sayings. This was one of two mugs that I found that I was able to write the whole message I wanted. Fortunately, I really liked the mug! :)

love it
By
Danyelle L.

(Olla, LA) - July 19, 2013 (
See all reviews by this customer
)
I loved it. Was a great gift.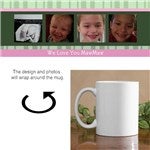 Happy First Mother's Day
By
Shopper

(Johnston, RI) - June 1, 2013
I wanted to get my daughter a reminder of her first mother's day. I thought she could use the mug now as well as enjoy its significance in the future. I used pictures from mother's day and the card the little guy made for his mommy (with a lot of assistance, lol) and put them together to make a useful remembrance. I ordered it on Monday and she got it delivered to her in a few days. Also, this was the first time I uploaded pictures and cropped them, etc. and it was a lot easier than I had originally thought. She loved it!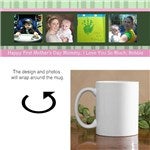 Awesome Gift !
By
Shopper

(Bushnell, FL) - May 31, 2013
Got this cup for my moms birthday, very nice quality cup, and pictures came out great, she loved it !

Wife loved the gift
By
Gary M.

(Clifton Park, NY) - May 17, 2013 (
See all reviews by this customer
)
My wife was very pleased with this mug with pictures our our family on it. It appears that most people gave it a 5 star which I agree with as along with a great cup, it was delivered in a very timely fashion.

perfect gift
By
Matthew E.

(Mountain View, CA) - May 16, 2013 (
See all reviews by this customer
)
The mugs came out beautifully. I like these better than others I have tried. The photos come out as you expect, and the extra framing, while it removes some space from photos, delivers a much more aesthetic result by giving some design consistency (it is unlikely your photos would otherwise carry a consistent visual motif so this ends up being a really nice feature). My wife loves them!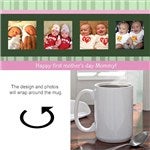 The Perfect Mothers Day Gift
By
Debra S S.

(Crownsville, MD) - May 16, 2013 (
See all reviews by this customer
)
Mom really loves the Coffee Mug with her precious Pugs' photos on it. It is one of her most prized possession now. Thank you.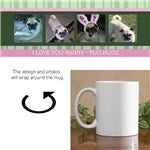 Perfectly Done
By
Stacey M.

(waldorf, MD) - May 16, 2013 (
See all reviews by this customer
)
I've ordered many personalized gifts on this site and am always 100% satisfied with not only the product, but the ordering process and delivery time as well. Thank you for making good products and being so reliable. I get the credit for all of the touching gifts I give because you make it so easy!

Mom loves it!
By
Maira K.

(Columbus, OH) - May 15, 2013 (
See all reviews by this customer
)
Made a great Mother's Day present!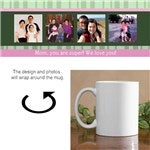 Perfect Fit
By
Tami M.

(Franklinville, NC) - May 15, 2013 (
See all reviews by this customer
)
I got this mug for my Mom as a Mother's day gift. She loves it and not just because of the photos of her Grand dog on the mug. This mug has a great feel to it, the size, handle and weight are perfect. This is great gift for right or left handed folks, because the photos go all the way around the mug. The photos were easy to upload and true to color as shown on the screen. The upload process is very easy and helps you crop the photos to the correct size. There were a couple of photos that I lightened up using the upload tools and they turned out great. The order arrived fast and was packaged with care.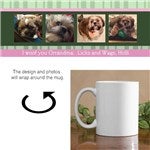 Great Quality
By
Shopper

(Eagle, WI) - May 4, 2013
As always personalization mall always sends a great product, the pictures on the mug were great quality and I'm very happy with my purchase.

outstanding quality
By
Robert S.

(Winter Haven, FL) - May 3, 2013 (
See all reviews by this customer
)
I rarely write reviews; however, I was impressed with the quality of this coffee mug and the photographs placed on the cup itself. This is not a cover or sticker on the mug! The mug has been through the dish washer several times and remains pristine. I highly recommend this mug to anyone looking for a personalized mothers day gift. I know any mothers who drink coffee would love this as a gift.

Perfect gift for coffee drinker
By
MONIQUE S.

(COVINA, CA) - April 23, 2013 (
See all reviews by this customer
)
Bought this as a gift for my sister-in-law that lives about 500 miles away and loaded it up with pictures of my son and her. She loved it.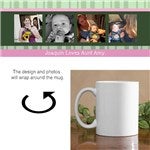 exceeded my expectation
By
Shopper

(Plano , TX) - April 12, 2013
The mug came out very nice. Quick delivery.

Beautiful mug
By
Shopper

(Boulder, CO) - March 31, 2013
I love this mug design the pictures are not very large but the mug really stands out and the writing is clear. I have ordered a number of the same design (there are two color options). Highly recommended.

Photo collage mug
By
Shopper

(HEMET, CA) - March 11, 2013
We ordered this mug for our Nana. When it arrived it was more beautiful than in the Preview online page. We highly recommend this gift for everyone. Its a beautiful way of displaying memorable photos. Drink yoru morning brew while enjoying the beautiful memories.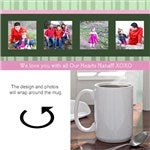 My twin sister loved her gift
By
Shopper

(O'Fallon, MO) - March 10, 2013
I gave the personalized mug to my twin sister for our birthday with pictures of myself on it and the caption read " I love my twin sister! Happy Birthday!" She absolutely loved it and it brought her to tears! The mug was very well done and we were totally pleased with the finished product. Colors were bright and the photos were clear. I will order again! This company rocks!


cute
By
Shopper

(Kaukauna, WI) - February 1, 2013
Turned out really cute! thank you!!!!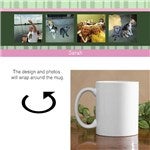 Perfect
By
Virgiree S.

(flint, MI) - January 10, 2013 (
See all reviews by this customer
)
I bought this cup for my mother and it turned out great. The pictures looked wonderful and she loved it. These are the kind of gifts worth giving because of its sentimental value.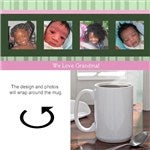 Photo Message to Her Personalized Coffee Mug -11 oz.
By
Kelly S.

(Sidney, KY) - January 8, 2013 (
See all reviews by this customer
)
I ordered this as a gift for my mother's upcoming birthday and I know she'll just love it! Once again the quality is unbeatable. Another beautiful gift from Personalizationmall.com - thanks so much!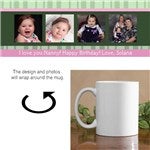 Love it!
By
Carolyn B.

(Las Vegas, NV) - January 7, 2013 (
See all reviews by this customer
)
The cup came out perfect! My auntie will love it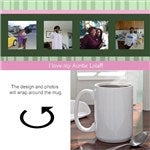 Mug
By
Shopper

(Buxton, ME) - January 4, 2013
Mug arrived exactly as had been shown. Very happy with purchase.

Awesome!
By
DETRA M.

(SHUBUTA, MS) - January 1, 2013 (
See all reviews by this customer
)
My daughter 's grandmother loved this gift, she was shrieking on the other end of the phone when she received her present. Thank u for the quality and care that goes into your product.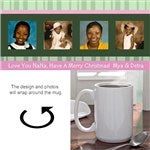 Pets Remembered
By
Cindy W.

(Chestertown, MD) - December 26, 2012 (
See all reviews by this customer
)
I added pictures of all of our pets over the years and gave this to my daughter who LOVED IT! The colors were bright and cheerful and being able to add a message made it even more special! Great size and weight with a comfortable handle!

Very Cute!
By
Shopper

(Moore, OK) - December 22, 2012
The colors & pattern of this mug are very cute! I had one made for my grandma for Christmas. In the first picture slot I put her wedding picture, the second I put a picture of her 4 kids when they were kids, the third slot I put a picture of her grandkids when they were kids, and the 4th was of her great-grand kids. It turned out really cute! I'm excited about it!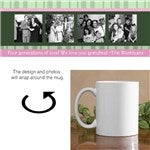 Cute
By
Madelyn S.

(Aurora, IL) - December 20, 2012 (
See all reviews by this customer
)
I got this as a gift for my grandmother from my daughter. It was very cute and I am sure she will love it.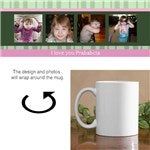 AWESOME
By
Shopper

(bronx, NY) - December 18, 2012
Made such a great Xmas gift for my mom. The pictures were really clear and the mug itself just looked beautiful! I would totally recommend this for anyone!

Love it
By
Shopper

(El Cajon, CA) - December 18, 2012
The mug turned out so cute - Grammy will love it. It turned out just like it looked on line. Fast service too.

Awesome!!!
By
Katie B.

(Zephyrhills, FL) - December 7, 2012 (
See all reviews by this customer
)
I just got my mug in the mail and it was absolutely perfect. I put 4 pictures of my grandmother and I & the picture quality was amazing. Definitely exceeded my expectations! :)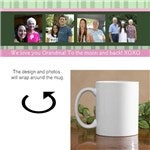 Product features you will like
By
Shopper

(West Chester, PA) - December 4, 2012
The product was fabulous. Wonderful quality. It is a Christmas present and I'm very much looking forward to giving the gift. Very happy with the final product.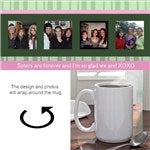 Amazing
By
Ashlee P.

(Minonk, IL) - November 21, 2012 (
See all reviews by this customer
)
I sent this straight to my grandma and didn't even see the gift myself but I got a voice mail last night of her balling because she liked it so much. She apparently LOVED it so it was a good buy!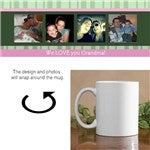 Great product
By
Shopper

(Canada) - November 13, 2012
The website instructions were easy to follow and I am very happy with how the mugs turned out. I will definatly become a return customer.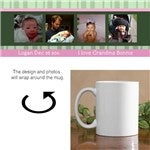 Photo Mugs
By
Shopper

(grain valley, MO) - November 9, 2012
The photo mugs i had designed thru Personalization Mall, far exceeded my expectations. We had them made up for everyone in our group. They were are thrilled with the product. What a great way to make any family/work event special. Thanks for your great service.

love it
By
Shopper

(colorado springs, CO) - October 15, 2012
it arrived quick, it looked just as i expected it too and it was a perfect gift.

looks like picture
By
Katie S.

(Randleman, NC) - September 18, 2012 (
See all reviews by this customer
)
This shipped pretty quickly. It looks just as good as the picture. Great cup.

Gift
By
Lori H.

(Hollis, NY) - September 15, 2012 (
See all reviews by this customer
)
perfect gift for grandma! Good for any occassion