Great Chris Gift
By
Shopper

(Overland Park, KS) - December 30, 2013
This was a great Christmas gift for my mother

Nicely Done
By
Shopper

(Howard Beach, NY) - December 20, 2013
Bought for myself & very pleased overall. Def will purchase for gifts in the future.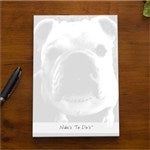 Great Product!
By
Shopper

(ALTAMONTE SPRINGS, FL) - December 6, 2013
I ordered this photo notepad for 10 different people (each with a different picture and quote), and they all turned out GREAT! Love it! I will be ordering more.

Great for To Do Lists
By
Shopper

(Stanford, CA) - March 3, 2013
I bought this for a friend who likes to make to do lists everyday. The picture beautifully blends into the background, and is not too faded or distracting at all. the paper is very good quality and very smooth. I bought 2 of them because I didn't want her to run out quickly -- since she uses them everyday. I'd recommend it and I'd recommend buying 2 rather than 1 because the stack isn't very thick (it's not thin either but, for daily use, you might worry that they'd run out quickly).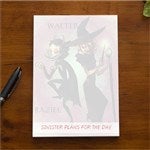 "PICTURE" perfect!
By
Teresa H.

(Chuckey, TN) - December 27, 2012 (
See all reviews by this customer
)
I bought this for my daughter! I know that a "notepad" is no big deal as a gift -normally! But with Personalization Mall - they make a "not so big deal" gift - EXCEPTIONAL!!!! The look on my daughter"s face when she opened this - made me feel like I had spent big bucks! Not so at Personalization Mall! The prices are reasonable and the results "priceless"! This is not my first purchase and won't be my last! Thanks Personalization Mall for making me look good!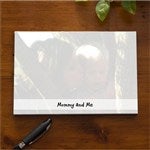 Great Gift Idea
By
Dwayne J.

(Bartow, FL) - December 1, 2012 (
See all reviews by this customer
)
I purchased this product for several of my co-workers as Christmas gifts. I have not given them out yet but I can gaurentee they are going to love them.

Perfect Gift!
By
Constance H.

(Gladwin, MI) - October 13, 2012 (
See all reviews by this customer
)
I ordered this as a gift for my sister, who loved the personlized photo! And she has gotten many compliments! Great personalized gift!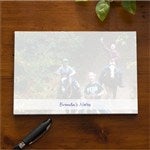 Great Mother's Day Gift
By
Shopper

(Cookeville, TN) - May 18, 2012
My mom just loved it...but doesn't want to write on the note pad because of the picture. :o)

Couldn't ask for more!!!
By
Shopper

(Raleigh, NC) - May 18, 2012
Like many men, I did my Mother's Day shopping late... I thought of getting my wife a personalized pad with our 1 month baby boy's picture on it, but doubted I had thought of it in time. I checked a few other companies but their ship date was after Mother's Day unless I wanted to pay some crazy rush fee.. I ordered the 5x7 pad with his picture and a personalized saying exactly 1 week before Mother's Day and got it THAT Thursday with STANDARD SHIPPING!!! The product is fantastic! I will definitely be shopping more with this company after such a great experience! The company acknowledged my order receipt, informed me that the product had been made, and also informed me of when the product shipped!

Wonderful Gift
By
Ashlee S.

(Shelbyville, TN) - May 15, 2012 (
See all reviews by this customer
)
I purchased this for my mother on Mother's Day. She absolutely loved it. I love how the banner on the bottom can be customized and the photo can be added. This is definitely something I could buy again in the future for other gifts.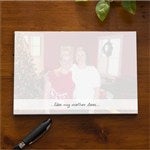 Better Than Expected
By
Melissa K.

(Cookeville, TN) - May 13, 2012 (
See all reviews by this customer
)
Before I ordered I saw the other review about dark pictures...and it is true. I had to lighten my dark picture because the "preview" of my order didn't look right. Once I lightned it I redownloaded it and the preview was perfect. I knew I could place my order and it would be what I ordered. But I didn't expect the notepad to be so big. I know it probably mentioned deminsions but I expected a regular sized notepad. The fact that it was oversized was better than expected.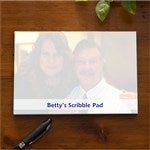 LOVE!!
By
Shopper

(Orlando, FL) - March 30, 2012
i am absolutely in love with this item.. it came out so wonderful! my family loved it just as much as i did.. definitely will be ordering more!!

Personalized Photo Notepad
By
Shopper

(Holland, IA) - March 30, 2012
I love these for gifts or for yourself as well. Very nice quality paper and picture just as shown in review.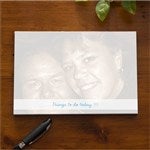 Photo Notepad
By
Rebecca A.

(Las Vegas, NV) - January 17, 2012 (
See all reviews by this customer
)
This is a fabulous Idea! It turned out very cute and I will definitly be doing this again. My mom loved it!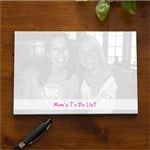 A great Gift for anyone!!
By
Stephen N.

(Centerville, OH) - December 31, 2011 (
See all reviews by this customer
)
This really turned out fantastic! This was a gift for a friend that is a NFL Cheerleader. Used a photo of her in her uniform and she just loved it. A personalized stationary with her photo. Really a great gift for anyone.

Very Cute!
By
Shopper

(Rockwall, TX) - December 26, 2011
LOVE the product! Price is set a bit high for the quality of the notepad but it's super cute and has a very quick turn around so it was worth the price. Great stocking stuffer for the grandparents :)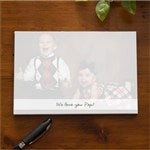 Great Idea
By
Shopper

(TIGARD, OR) - December 23, 2011
Note pad larger than originally thought, was a nice surprise. Love giving personalized gift it shows you made it just for them.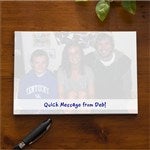 Note Pads
By
Shopper

(Dexter, MO) - December 22, 2011
I was very pleased with this product, the pictures looked better than I expected and was shipped in a timely manner! Thank you!!

Nice notepad that adds a little personalization!
By
Shopper

(Carpentersville, IL) - December 17, 2011
When the item arrived, I was very happy with it. It is the right opacity so that you can see the background photo but still see what you are writing. The verbiage adds more personality. Would recommend to all.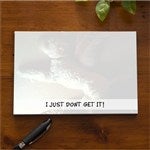 better than the preview
By
Shopper

(ORLANDO, FL) - December 17, 2011
I ordered two of these and very pleased with the product that arrived. I believe the photos came out better than the on-line preview indicated.

Great grandparent gift
By
Shopper

(Tustin, CA) - December 16, 2011
These turned out really cute and I can't wait to see the Grandparents' face when they receive these from their grandkids at Christmas. Great quality paper and the picture turned out perfect!

So Great!
By
Julie S.

(Lake City, PA) - December 15, 2011 (
See all reviews by this customer
)
These notepads are so neat! I can't wait to give them as gifts this Christmas! Thanks for such a great product.

nice gift
By
Shopper

(Haymarket, VA) - December 4, 2011
I doubt my husband will write on this notepad but it certainly is a nice gift.

love it!
By
Shopper

(Salem, MA) - December 2, 2011
I bought these as a small remember me xmas gift for my husband while he is at work. I loved them. I know he is going to love it as well. The pic came out great and I'm excited to give it to him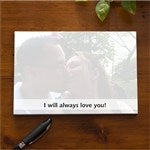 Perfect
By
Shopper

(Hazard, KY) - November 23, 2011
This item was better then I expected.

Note pad
By
Shopper

(Hollis, NY) - November 22, 2011
A very creative and different gift. I ordered two different ones and both pictures came out really well. A great holiday treat for the grandparents!

Great gift idea
By
Claudia L.

(Chino Hills, CA) - November 22, 2011 (
See all reviews by this customer
)
The notepads I ordered came out better than expected. Wonderful gift idea for grandmas.