So happy
By
Joseph A.

(Tuxedo, NY) - February 11, 2014 (
See all reviews by this customer
)
So happy with this purchase, it arrived quickly and it's great quality. Will buy another.

mart
By
Shopper

(Dorr, MI) - January 3, 2014
nice solid wood. the name Mark looked professionally done.

Great gift.
By
Michael B.

(Haverhill, MA) - December 11, 2013 (
See all reviews by this customer
)
This is the third belt holder I have purchased. One of my nephew's has already filled up his first holder and the quality was so good that I wanted the second to match his first. I am very happy with this product.

Great quality!
By
Whitney G.

(Plainfield, IL) - November 11, 2013 (
See all reviews by this customer
)
This is my first purchase and I will definitely do a lot of Christmas shopping here! The belt rack is high quality and sturdy and my daughter loves it.

Just what I wanted!
By
Shopper

(Olathe, KS) - October 9, 2013
This is for my Grandson for his Birthday. I love it because it is very kid friendly! It is just the right size for his room and not fancy for a grown up! He is going to love it! Also, I love the fact that it is hand crafted wood!

Great gift for grandson
By
Carol P.

(Frankfort, KY) - August 16, 2013 (
See all reviews by this customer
)
I really like the personalized martial arts belt holder. It looks just like the advertised picture. It was delivered within a timely manner. It is something my grandson will be able to use for years to come and show off his belts.

Martial arts belt holder
By
Elizabeth R.

(Geneva , IL) - August 10, 2013 (
See all reviews by this customer
)
The product was needed for a black belt ceremony six days after I ordered it. The holder arrived the day before and was done beautifully. The engraving was done just right and the belts looked wonderful on the wood finish. I am going to be buying another on for my daughter very soon!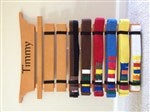 Great for our own "Hall of Fame"
By
Ron G.

(Oldsmar, FL) - July 12, 2013 (
See all reviews by this customer
)
We bought one for each Grandkid and they are mounted in the hall to the kids wing. The kids are so proud of their "hall of fame". The oldest is working on his second display. Perfect gift!

awesome
By
Shopper

(Olathe, KS) - June 13, 2013
Very nice product. Awesome way to display martial art belts! Grandson loves it! sO DOES HIS MOTHER!!

Excellent workmanship! Can't wait to get another !
By
Shannon L.

(Wantage, NJ) - April 7, 2013 (
See all reviews by this customer
)
We bought this for my 7 year old for his first belt promotion and as a regular customer of Personalization Mall, this product didn't fail. The wood quality is excellent, not cheap , splintering pine. Engraving was beautiful and bold. I just started karate at 38 years old along with my 4 year old too so we certainly will be buying 2 more for our future belt promotions ! Comes with screws to hang on wall. very nice finish on wood . Thanks again for the quality products! NEVER disappointed after years and years .

It was a great gift
By
Anthony B.

(Oceanside, NY) - December 30, 2012 (
See all reviews by this customer
)
I got this as a Christmas gift for my cousin who is taking karate. She loved it. It makes a very nice gift for any kid or adult so they can see their accomplishments on the wall and at the same time, have something to shoot for.

Karate Belt Display
By
Shopper

(Dracut, MA) - December 6, 2012
I think the display is great. The only complaint I have, as others have stated, is that the package is delivered with the name of the item all over the outside.

Great gift for karate kids
By
Shopper

(Lagrangeville , NY) - October 5, 2012
WE love this we got it for my 12 year olds birthday as he has really gone up in the ranks quickly in his class and he has a lot of belts to display! A big hit!! Nicely maid too, light weight so it wom't tear down walls!

My grandkid loved it!
By
Shopper

(Huron, OH) - July 12, 2012
Very nicely built and wrapped well to avoid damage during shipping. The personalized name at the top made this one of the top gifts for my grandson's birthday. Well worth every penny and then more!