Cross for a friend
By
Shopper

(Aston, PA) - August 3, 2014
This small cross is beautifully done and it looks great! A very unique and well made, lightweight cross. One of a kind. I have bought them for 2 friends and they absolutely loved it. Would recommend to anyone.

Wedding Gift
By
Cheryl S.

(Fairborn, OH) - July 22, 2014 (
See all reviews by this customer
)
I gave this as a wedding gift topper and received big hugs in return. I was very happy with that response. Thank you.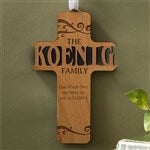 Bless Our Family Cross
By
Mary M.

(Austin, TX) - July 15, 2014 (
See all reviews by this customer
)
Very nice and detailed.

+++++
By
Shopper

(Flushing North, NY) - July 1, 2014
This is a beautiful cross that we designed for a friend.
I will definitely purchase it again it is perfect for anyone that is religious. I am very satisfied.

Very nice job done on this item!
By
Kathleen R.

(Jefferson, NC) - June 17, 2014 (
See all reviews by this customer
)
I bought this for a friends wedding gift and was able to put their last name and personalize the actual phrase and date on it! They will love this gift for their new home!

great lilltle gift
By
Shopper

(West Wyoming, PA) - June 10, 2014
Loved the item. In one way I wish they made them in larger sizes too. I had it made for my daughters wedding in his name as the family name, above it I put her and his first names. Below I put something like God Bless Our Marriage and Lives. They loved it. Love you can personalize it & not just use a standard phrase like many other sites. I highly recommend this site to buy special items. I already bought a personalized mug,crystal cake topper with 1st Corinthians 13:4 verse (love is patient verses and it's the whole verse, not partial like other sites), including personalization with names and date.

The Post Office lost our two wood crosses
By
Deanna T.

(Rimrock , AZ) - June 7, 2014 (
See all reviews by this customer
)
I wanted these because of our 52nd Anniversary. I have ordered cups, cards, and pen and case set, afgan for a 5oth Anniversary and card. I have ordered a rug and all have gotten here but the two crosses. My brother is coming out and I will not be able to give it to them with the personalized card I did to give with the cross. I also had one made for my husband and me and I have the personal card but not the cross. Do not understand when I got all the other things I did not get the cross. Talked to the Post Office and gave them a copy that the cross should have been able to pick up but nonething. So I can not rate this because I do not have it. It looks really great in the picture. Thanks

Exactly as described
By
Audrey C.

(Houston, TX) - March 19, 2014 (
See all reviews by this customer
)
Cross was beautiful, better quality than expected, recommend.

Great the second time
By
Maricela M.

(Dallas, TX) - October 1, 2013 (
See all reviews by this customer
)
The first one they sent was craked but then I called and they sent me another one and this was better.

Personal cross
By
Dawn P.

(Rancho Palos Verdes, CA) - August 27, 2013 (
See all reviews by this customer
)
This size of this cross, if you are not expecting it, may be smaller than you would think. It is about the size of your hand from palm to finger tip. However, the detail of this makes a great gift. I have purchased this cross many times as gifts for friends. It may be small but it has a giant impact.

Personalized name cross
By
Shopper

(Watkinsville, GA) - July 28, 2013
Perfect gift for my family members. I plan to buy more before Christmas!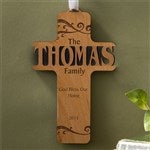 Love This Cross!
By
Shopper

(Staten Island, NY) - July 25, 2013
Bought this as a gift for my friend and loved it so much I got one for myself and my in-laws. It's nicely made and great to hang up in your new home!

Beautiful Quality Keepsake
By
Shopper

(Wilmington, DE) - July 22, 2013
I thought the cross and carving were beautiful. It would be nice to have a larger one but I knew that it would be small from other reviews. I can't wait to give it to our granddaughter.

Nice...
By
Shopper

(Jacksonville, FL) - June 4, 2013
Please pay attention to the size(not as large as it appears), but the product itself is very nice and the laser engraving and cutout is very nice...

love it!!
By
Cindy B.

(Springfield, KY) - May 31, 2013 (
See all reviews by this customer
)
I have purchased multiple of these and everyone seems to love it!!

Perfect Wedding Gift
By
Adrienne D.

(Houston, TX) - March 3, 2013 (
See all reviews by this customer
)
It was such a surprise to see how handcrafted it appeared, it was even neat to smell the smokey woodburning on the side. Though I forwarn the edges smudged off some, I'm sure some some sealant will do the trick. While I wish it were available in a larger version, it will be a great personal touch no doubt they will cherish. Thanks Personalization!

Cross
By
Shopper

(Louisville, KY) - February 11, 2013
A nice gift for the newlyweds home, they loved it!

Beautiful
By
Shopper

(Fountain Valley, CA) - December 30, 2012
This product is well made and looks amazing! I ordered one for my family and three as gifts. Everyone loved them! You will not be disappointed.

Love it!
By
Shopper

(Hacienda Heights, CA) - December 28, 2012
My son was so happy when he saw this.

Personalized Wood Cross
By
Shopper

(Columbia, SC) - October 28, 2012
A beautiful work of art that can be used for various gifts and occassions. My family members all want one their homes. So each time I get a coupon I order a few more. I would highly suggest this items for purchase for yourself or for gift giving.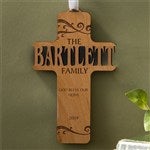 2012 Christmas Gifts
By
Sharon N.

(San Diego, CA) - October 15, 2012 (
See all reviews by this customer
)
I purchased eleven of these for various family members and friends for Christmas gifts. I wish they were about half again as big, but these are very nice. I'm sure they will be liked by those who receive them. I always shop at Personalization Mall first when looking for special gifts.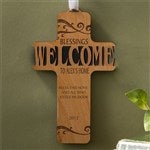 I love this item
By
Monique C.

(Southfield, MI) - October 12, 2012 (
See all reviews by this customer
)
I ordered three of these as thank you gifts and I love them just as much as I love the personalization site. This is my first stop when shopping for gifts. i love the personal touch at an affordable price.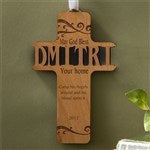 Great housewarming gift
By
GARMANNE M.

(NEW ORLEANS, LA) - September 24, 2012 (
See all reviews by this customer
)
This is an excellent housewarming gift for families who are purchasing a home. I purchased this a family member who took in 11 family members during our evacuation from Hurricane Katrina. They have always opened their home to students attending college in the Atlanta area and family is never turned away. They recently purchased a new home and we are looking forward to visiting them soon. When they received the gift, they called to say how lovely and thoughtful it was of me to send it.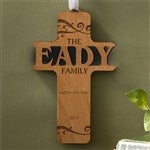 Beautiful Crosses to share and have for your own!!
By
Shopper

(Columbia, SC) - September 18, 2012
I am so happy with my purchase. The items are beautiful, great quality and the workmanship is superior. My husband's hobby is woodworking and he inspected it closely and was pleased also. I would suggest this items to anyone and the price was right too. I also want to comment that the customer service is OUTSTANDING!!!!!





Cute Cute
By
Shopper

(Alvin, TX) - September 9, 2012
It is a little big for an ornament...and kinda small for the wall, but I bought 13 of them for family members for Christmas...they are gonna love them..

Love this product
By
Shopper

(Fennimore, WI) - August 16, 2012
absolutely beautiful!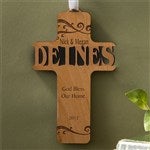 Beautiful Laser engraved Cross
By
Velia A.

(Burr Ridge, IL) - August 2, 2012 (
See all reviews by this customer
)
This was a birthday gift for my godson along with other gifts. I used it as a gift topper and placed on top of the gift box. My sister LOVED IT! she loved his full name on it and is now requesting one for my new neice. It was a hit at his Birthday party. everyone LOVED IT!