Lovely Housewarming Gift
By Shopper (Bristow, VA) - August 12, 2014
Great!

Perfect Gift for Adoption Celebration
By
Brian L.

(Cincinnati, OH) - May 15, 2014 (
See all reviews by this customer
)
I bought this as a gift for a family member that just officially completed their family through adoption. The names filled the entire tree! The ability to add the date and my own phrase at the bottom was a great feature! I am thrilled with this product and cannot wait to give this gift.

Mother's Day Gift
By
Susan L.

(Westwego, LA) - May 11, 2014 (
See all reviews by this customer
)
I gave the "Family Tree Canvas" print to my Mother for Mother's Day. She was so excited and overjoyed. She loved it!! The Grandkids were asking where were their names on the tree???? So I guess I will be ordering another one for the "Grandkids" soon. Thanks for making my Mom's day so special.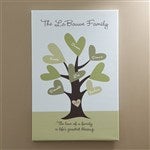 Looks awesome.
By
Donnie B.

(Carver, MA) - May 5, 2014 (
See all reviews by this customer
)
Looks great. Better than expected. Bought as a house warming gift for my step-daughter and her family. Hope she likes it.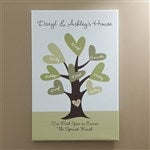 Great Gift
By
Michael D.

(Franklin Square, NY) - February 12, 2014 (
See all reviews by this customer
)
Great quality product, good value

Beautiful canvas used to cover a wall fan grate.
By
Shopper

(Middlesex, NJ) - February 4, 2014
This canvas looks so much nicer in person. It is a nice size and the colors are perfect.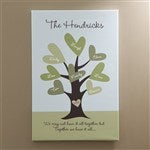 Very nice!
By
Shopper

(Glen Mills, PA) - January 17, 2014
This turned out better than expected. I really like that you had the option to personalize the hearts that you didn't need for a family member's name and that you could create your own sentiment. Our family was created through adoption so this is the perfect "family" tree for us!

Historical piece
By
Shopper

(Portugal) - January 12, 2014
I bought this for my 10 year old granddaughter and she is delighted with it. Something to keep for her future grandchildren! - a great idea as it gets more difficult to buy the right gift. Beautifully made with excellent service. Thank you.

Beautiful product
By
Shopper

(Winnetka, CA) - December 26, 2013
I ordered this as a gift for my cousin who was my secret Santa. When she opened it she loved it! So did everyone else. They all kept asking where I'd bought it. The colors are lovely, it's sturdy, and well made. I plan on ordering one for myself!

Family Tree Canvas
By
Lynn A.

(Sullivan, MO) - December 20, 2013 (
See all reviews by this customer
)
Fabulous gift and was beautiful!!! Turned out exactly the way I wanted it.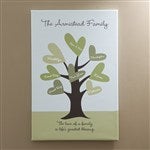 Heartwarming
By
Shopper

(Newark, DE) - December 16, 2013
I ordered this for my friend who is going to be elated with this gift i am giving her for Christmas. The quality is very nice and the colors are adaptable with most decors. Perfect gift for those who are all about family.
Again, thanks personalization mall.

Thoroughly Impressed!
By
Shopper

(Cincinnati, OH) - December 5, 2013
I bought two similar products, so I will leave the same review under both. I was so happy with the products I received! The website was easy to navigate and personalize my item. They were reasonably priced and I was able to get a gift for each set of grandparents. I can't wait for Christmas so I can give it to them! Probably the best part was they looked even better in person than online. I was very happy with the quality of both canvases. I got them so quickly! I ordered them Cyber Monday, at like 11:00 pm, and received them today, on Thursday. Very impressive timing. Overall, I am very happy with my purchase and whll you the site for future shopping and gifts!

Happy!!
By
Shopper

(Yorktown, TX) - May 13, 2013
This personalized canvas art was a perfect Mother's Day present for both my mother and my mother-in-law. They both loved it.

So beautiful
By
Shopper

(Aurora, CO) - May 8, 2013
It's beautiful, my mother will love it the colors an size are excellent not to mention the names were printed on the right leaves!!! Love this item and it will be charished for life!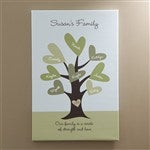 Family Tree Canvas Art
By
Shopper

(Danvers, MA) - January 25, 2013
I bought this for a house warming gift & was nervous it would look cheap. I was pleasantly surprised! It came out beautiful and was a big hit. They LOVED it!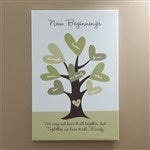 Gift
By
Shopper

(Ramona, CA) - December 27, 2012
This gift was well received. I bought the version with the black frame. It's classy and eye catching. My family said they loved it and had planned to make a family wall/collage and will use this as the focal point.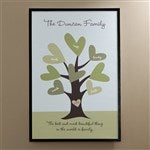 Great Christmas Gift
By
Sarah S.

(Florence, SC) - December 27, 2012 (
See all reviews by this customer
)
Shipping was swift and my brother and sister-in-law absolutely loved it! The quality was great and the canvas allowed them to finish it how they pleased. Wonderful gift.

Nice gift!
By
Shopper

(MEDFORD, MA) - December 17, 2012
Meaningful and nice gift for family!

Love it
By
Lucia W.

(Escondido, CA) - December 9, 2012 (
See all reviews by this customer
)
This is such a classy gift.... got it for my sister for Christmas.... Colors and drawing are beautiful.

Gorgeous Gift
By
Arianna T.

(Yuma, AZ) - October 19, 2012 (
See all reviews by this customer
)
Gave this as an anniversary gift for my parents 28th. They both loved it!! It makes an awesome gift. The fact that it's personalized makes it even extra special. You guys are a GREAT company!!

So beautiful!
By
Genelle P.

(Mayfield Heights, OH) - September 16, 2012 (
See all reviews by this customer
)
I ordered this (way in advance) as a Christmas present for my aunt and uncle. I love it! It is a perfect personalized gift, and I would order it again for someone else.

Another great product from Persoanlization Mall
By
Cindy M.

(Silver Spring, MD) - August 29, 2012 (
See all reviews by this customer
)
It's lovely, no fault with the quality, well packaged and will surely delight the family when presented at Christmas!
Again love the fact that we can see what the product will look like, takes the guess work out of it. Also like that there was a choice of lines or you could write your own.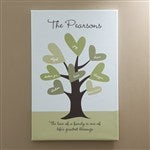 LOVE
By
Ashley W.

(Jackson, MS) - August 18, 2012 (
See all reviews by this customer
)
My sister had a fit over this! Thanks so much for making her birthday gift so special!!

Grandparent's legacy
By
Shopper

(Olney, IL) - August 10, 2012
We very much like the Family Tree art--it had just the right number of leaves for our grandchildren. (If we have additional ones, we'll be happy to figure out how to add leaves.

Wonderful
By
Nicole P.

(Tecumseh, MI) - August 1, 2012 (
See all reviews by this customer
)
It turned out very nice and better than expected!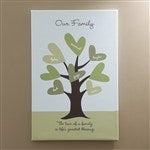 Awesome!
By
Shopper

(Duluth, GA) - May 18, 2012
I got this for a mother's day present, and my mom loved it! I would recommend this for anyone as a gift for your mother or grandmother.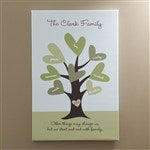 very pleased
By
Alicia H.

(Chesterfield, MO) - April 23, 2012 (
See all reviews by this customer
)
I got this tree for my mom for mothers day. We are a blended family with 4 kids from my mom and 4 kids from my step dad. This tree having 8 leaves was perfect. The picture came very quickly and it looked exactly how I ordered it. Everything I have recieved from this site so far has been great.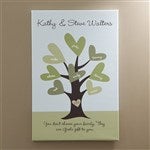 Nice Product! Easy transaction! Fast Shipping!
By
Brian H.

(East Stroudsburg, PA) - April 14, 2012 (
See all reviews by this customer
)
The personalized family tree was the perfect gift for my sister and her family. Everyone loved it and wanted to know where to get one!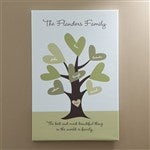 What I like most
By
Shopper

(Boynton Beach, FL) - April 11, 2012
This is a perfect way to display the important people in our lives, something special mom can look at and smile with joy at her growing family

Loved how this turned out.
By
Elizabeth P.

(West Burlington, IA) - April 10, 2012 (
See all reviews by this customer
)
I have seven siblings so this tree was perfect for me to personalize. I put the last name on the top, the year my parents were married in the heart on the tree trunk, branches have the names of each child and on the bottom my parents first names. I love it so much I may keep it for myself instead of giving to my Mom!

Lovely!
By
Shopper

(Alliance, OH) - April 9, 2012
Though I admit I wish it were a little bigger, it's absolutely beautiful, and came exactly as I ordered it! I love the fact that you can put whatever you'd like on all the products on this website!! This was my second purchase and I have been extremely satisfied both times. Truly personal, unique, quality, beautiful art.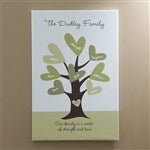 In love!
By
Stephanie C.

(Wise, VA) - March 25, 2012 (
See all reviews by this customer
)
I absolutely love this "Family Tree"!!! It is in my kitchen & is the first thing I see when I walk in! I love it!!!

Personalized Love
By
Nathan B.

(United Kingdom) - March 18, 2012 (
See all reviews by this customer
)
We bought the Family Tree art as a birthday present for my mom and are pleased to say she loved the gift. Being able to add all the family members' names to the art meant it was highly personalized and because the quality, it's a piece of art that takes center stage in the lounge. We opted for the framed option as it gave a finished look to the piece and would highly recommend this as an added extra.
All in all, we are pleased and would use the site again, thanks to the quality.

Beautiful, LOVE it just in canvas
By
Janine S.

(Horsham, PA) - March 18, 2012 (
See all reviews by this customer
)
LOVE it.... such a great addition to our home.... it's a decorative item that shows the merger of two families. I LOVE it without the frame... just the canvas.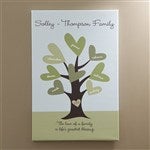 A terrific family tree
By
Shopper

(Jacksonville, FL) - March 4, 2012
We love the family tree canvas. Nice size, great colors, and it is just what we wanted..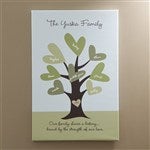 Nice housewarming gift
By
Shopper

(Harbor Springs, MI) - February 25, 2012
Love the fact that while working on script and personalization, you can see the actual item! Great site.