SO ADORABLE!
By
Jacqueline M.

(Baltimore, MD) - March 10, 2014 (
See all reviews by this customer
)
I received this item as usual in a very timely manner. It is so cute! I purchased this for my granddaughter (who is only 7 months old). Eventhough I know she can't really appreciate it now, I thought it would be great for her because it was made out of fabric. It is so soft, the colors are very bright and I just love it. It will be a great keepsake for her.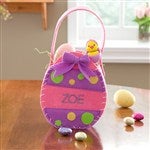 Mini Easter Bag
By
Loretta F.

(Staten Island, NY) - June 1, 2013 (
See all reviews by this customer
)
I like to be ahead of the game, so I ordered this treat bag for Easter now. It is really cute. Perfect too for putting a gift card in. It was nicely done.

Mini Egg Treat Bags
By
Shopper

(Marianna, FL) - April 1, 2013
omg these were a big hit at our Easter party the parents and kids loved them
thank you for helping make our party a success!!!!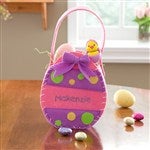 10 month old Niece
By
Catoria M.

(JACKSON, MS) - April 1, 2013 (
See all reviews by this customer
)
I just wanted something small for my niece and this was perfect. She could almost carry it around like a purse, so it wasn't too big for her. It was also really good quality, she's at the age of tugging on everything, but so far it's been pretty durable.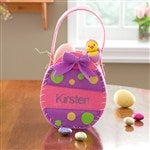 So cute!
By
Shopper

(Brooklyn, NY) - March 31, 2013
Bought this as a gift. It is adorable. Highly recommend.

Product review
By
Shopper

(Louisville, KY) - March 29, 2013
This little basket is precious. Great price too.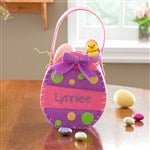 Looks Even Better Than The Picture!
By
Michele T.

(Fishers, IN) - March 25, 2013 (
See all reviews by this customer
)
What a delightful surprise to receive something that looks even better than the picture! It is so well made and absolutely adorable for my granddaughter's first Easter. The colors are vibrant and the lettering is beautiful. It came in a few days. This company delivered on every promise!

Cute Baskets
By
Shopper

(Seabrook, SC) - July 18, 2012
I really loved these baskets for my niece and nephew..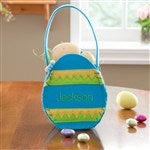 Easter name baskets
By
Donna V.

(Tarpon Springs, FL) - April 9, 2012 (
See all reviews by this customer
)
Loved the easter name baskets. Couldn't believe how quickly they came. Good value for the price.

Adorable personalized mini Easter bag
By
Shopper

(Farmington, MN) - April 8, 2012
Adorable, very well made, personalized mini Easter Egg Treat bag. My three granddaughters loved them and they will be used year after year. Excellent quality product, great customer service and communication from this company. Always provides exactly what they say and I'm looking for.

Adorable Bag
By
Rachel K.

(Fairfax, VA) - April 5, 2012 (
See all reviews by this customer
)
I bought this item for my baby cousin for his first Easter with me. He will be three in June, so I figured that this would be a good small size for him to tote around his goodies. Not big enough for more than a few eggs, but still adorable. Printed well and packaged nicely.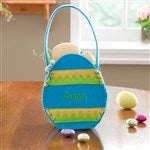 Cute Tote
By
Rachel K.

(Fairfax, VA) - April 5, 2012 (
See all reviews by this customer
)
I bought the pink bag for my little cousin and she is going to love it. I do wish that it was a little big bigger, but at least I can fill it with a few of her favorite Easter goodies. Printed nicely on the front, and designed well.

cute
By
Shopper

(Ormond Beach, FL) - April 2, 2012
Very cute but small...It will be good for a few pieces of candy w/a gift card.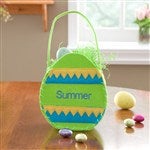 Awesome Buy!
By
Meghan P.

(Oxford, NC) - April 2, 2012 (
See all reviews by this customer
)
I ordered 2 of these, one for my son & on for my daughter. These are so adorable. Both of my babies are under 2 so they are the perfect size. Great price as well! Love love love them!

EASTER BASKET
By
Shopper

(HENDERSON, NC) - April 2, 2012
Just love the Easter basket. I had this made for my grandson's first Easter and can't wait to take it to him this weekend. Thanks for your great service; appreciate the quick delivery.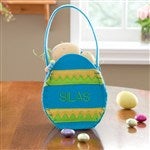 Easter Egg Mini treat bag
By
Gayle N.

(Saint Louis, MO) - April 2, 2012 (
See all reviews by this customer
)
This personalized bag is for our newborn grand daughter. This will make a nice little keepsake for her first Easter, complete with her name on it. Colorful, pretty. It is small, but that works for this.

Easter Egg Mini Treat Bag - Green
By
Shopper

(Calera, AL) - March 27, 2012
Loved it! The basket is everything I wanted it to be. Great Quality and product looks as good in person as in the picture. Would order again if I needed too! Shipping was quick. My only issue, product went on sale for half price the day after I ordered.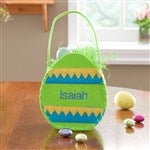 Great Easter basket
By
Shopper

(seattle, WA) - March 26, 2012
This basket is exactly what the description says. It's on the small side but if small is what you are looking for then this item will be perfect for you and once you add monogram to this product you overlook the size.

Once more - great!
By
Donna C.

(Windsor, CA) - March 25, 2012 (
See all reviews by this customer
)
Once more our grandkids will be thrilled with something different, something unusual and very pretty. It is made extremely well, and an extra something for the kids. Thanks Personalization Mall. These come in different colors also, for different kids.

Personalized Easter Baskets
By
Sandy H.

(Morgantown, WV) - March 25, 2012 (
See all reviews by this customer
)
The egg shaped baskets are perfect for Easter. They are much larger than I expected and that is GREAT !!! They are well made and the colors are bright, the embroidery of the name is perfect. I bought these for my adult children, I think they are perfect for any age. I would recommend these to anyone looking to buy a unique personalized Easter gift.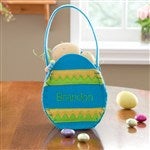 Features
By
Shopper

(Hebbronville, TX) - March 20, 2012
The small basket is really cute especially for a small child and the fabric that is used is great and the font for the name is amazing.

awsome gift
I always please with Personalization gifts. Are you sure receive this items in 2 days?

Adorable
By
Shopper

(Canada) - March 6, 2012
Not only are these baskets adorable, but the process and shipping time is extremely short - they will be the perfect Easter surprise.