Father's Day gift
By
Shopper

(Marrero, LA) - June 27, 2014
I love love love this frame! Such a cute gift to give, male or female!!! Gave to my dad from the girls for fathers day & he loved it.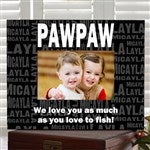 Yay!
By
Nadine W.

(Pratt, KS) - June 10, 2014 (
See all reviews by this customer
)
Very happy with the finishing product! This is will make a great Father's Day gift! Even better, the colors black and white on the frame goes with everything. Also really like how the names are faded in the back.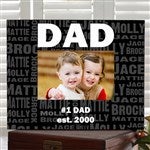 so cute!
By
Shopper

(Riverdale, NJ) - October 5, 2013
I gave this to my husband for Father's Day and he loves it, from his first grandchild! it is made very well and I love that you can put the name of the child on it and personalize it! great product!! great site!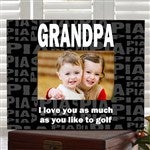 Very Pleased
By
Shopper

(Morris, IL) - July 7, 2013
I ordered this for my son and put a picture of my three grandchildren in it for him for Father's Day. He loved it and I thought the quality was great!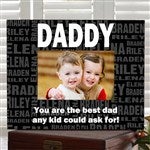 my parents loved it
By
Sharone O.

(Woodland Hills, CA) - July 1, 2013 (
See all reviews by this customer
)
I made one for each of my parents and they absolutely loved it!! It's much better than buying a regular frame from the store and the quality is worth the price.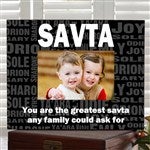 Photo Frame Especial
By
Norma M.

(Beeville, TX) - June 22, 2013 (
See all reviews by this customer
)
This frame was exactly as I wanted. I can never find grandfather in Spanish - Abuelo. Being able to personalize it was awesome!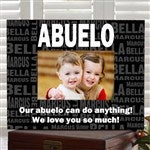 great gift
By
Shopper

(Camas, WA) - June 17, 2013
This is a great gift for anyone. I bought it for 3 family members and they loved it. Nice quality frame and love the personalization!

First Father's Day
By
Shopper

(Elkhorn, NE) - June 9, 2013
I gave this to my husband for his first Father's Day! It works great on his desk at work. Personalization looks great!

Mommy of 3 and LOVING it
By
Shopper

(Sachse, TX) - March 11, 2013
This is a surprise frame for my Husband for his birthday. I am so impressed with the quality of the frame. I just LOVE that I was able to put all 3 kids names on it along with a personalization. The best part is it is personalized. Great gift for ANY man or woman in your life as it is a priceless gift!!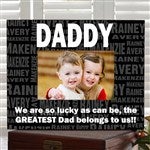 wonderful
By
sherrise W.

(brooklyn, NY) - February 17, 2013 (
See all reviews by this customer
)
My husband loved it, it eas his Valentine's day gift

Very nice!
By
Shopper

(Waco, TX) - January 18, 2013
I ordered one of these for my husband when we found out we were having our first child. It turned out so nice that I ordered another for my dad. They are beautiful and exactly what I wanted.

Perfect for Daddy's work office
By
Shopper

(Pittsgrove, NJ) - January 3, 2013
Pleased of ship time as we received right before Christmas. Picture frame size is perfect size and sturdy enough for my husband's work office desk, as he's reminded that all his hard work is for the provision of his little girl.

First Fathers Day
By
Shopper

(Matawan, NJ) - August 30, 2012
I searched over 20 websites looking for a decent Father's day frame and once I stumbled upon this frame I knew it was the perfect one. The quality of the frame itself is great and I truly was shocked at how nice it turned out.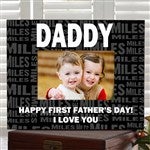 Awesome custom gift!
By
Jennifer C.

(Richfield, MN) - July 9, 2012 (
See all reviews by this customer
)
We ordered this frame as a birthday present from my kids for their dad. Instead of putting a ton of names in the list we put their two names plus words that represented things he loves (napping, fishing, boating, donuts, singing, etc.). It turned out fantastic. He is typically a pretty stoic guy but even he laughed out loud! The frame is good quality and relatively inexpensive. I would recommend this for anyone who likes custom gifts and is on a budget!!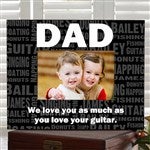 Perfect gift.
By
Shelby G.

(Poulsbo, WA) - June 23, 2012 (
See all reviews by this customer
)
I bought this for the Grandpa who has everything. He loved it. the Grandma's did too.Guess what they are getting for Christmas? Thank you for the beautiful quick work. Loved it.