Wonderful Product!
By
Shopper

(raleigh, NC) - September 2, 2014
This was a wonderful product! I wish a little tag would come in the package showing goofy people like me how to properly put is on the basket. Once I figured it out it looks great!

Dog toy basket liner
By
Cindi K.

(Dexter, MI) - August 26, 2014 (
See all reviews by this customer
)
This liner is perfect. It came in many colors to choose from. The quality was really nice and the stitching was neat and looked good. I would definitely recommend this to anyone looking for a really cute dog toy basket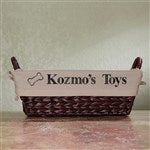 Really cute pet toy basket liner
By
Carole B.

(Fountain Valley, CA) - July 25, 2014 (
See all reviews by this customer
)
I have always been pleased with the quality of everything I have ordered from Personalization Mall. The trend continues. I ordered 2 liners (and the baskets that complete the set.) One set was for my dog and the other was for my sister's dog. My sister was very pleased.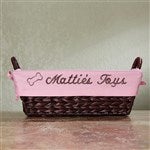 ADORABLE AND VERY STURDY
By
Debra L.

(Peabody, MA) - June 19, 2014 (
See all reviews by this customer
)
I ordered three of these liners to fit into the three baskets that I just purchased from this company. The word to describe them is "PERFECTION". The are nicely made. Very sturdy material, the embroidery was amazing, there were no defects, nothing was misspelled, and they arrived with the baskets to my home fast. I LOVE THESE and I wish I could give you 6 stars instead of five.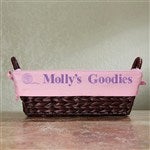 adorable
By
cheryl M.

(north andover, MA) - April 26, 2014 (
See all reviews by this customer
)
Bought the personalized liner and basket for my daughter's new puppy. Great gift.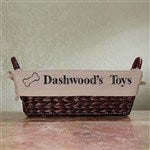 Toy basket
By
Shopper

(Slidell, LA) - February 1, 2014
I just love it and so does my sassy girl. It's just perfect for her to get her toys in and out. Very well made, I am very happy with my purchase.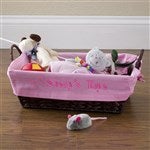 A place for toys
By
Shopper

(Sebring, FL) - December 28, 2013
Extremely pleased with this item & workmanship.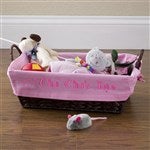 For my princess
By
Kayli G.

(Conroe, TX) - December 27, 2013 (
See all reviews by this customer
)
I bought this for my puppy for christmas and put her gifts in it for christmas and she loves it! It's low enough so she can get into it to get her toys and it holds a lot. This was perfect and would be perfect for any dog owner.

Pretty cool.
By
Shopper

(Akron, NY) - December 17, 2013
I was so impressed with the pet toy basket. The personalization was perfect and the little bone on the side was so cute. The liner was a nice thick material and fit the basket perfectly. At first I thought the size might be a bit too small, but then I happened to see a friend with a plain basket for her dog and it was the same size. It actually holds several toys and it's a perfect size for your dog to reach into. I bought this as a gift for my daughter and filled it with all sorts of grooming supplies, toys, and treats. It really holds a lot. She's going to love this. It's a gift you can be proud of giving. The quality of the product and the personalization makes it a "wow".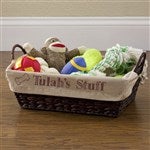 Adorable
By
Carmen F.

(Palm Coast, FL) - November 24, 2013 (
See all reviews by this customer
)
I absolutely love my pet basket. It looks so good with my two dogs names on it. Have received so many compliments on it. Looks great in the living room.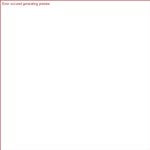 Beautiful Basket
By
Cindy B.

(Destrehan, LA) - October 28, 2013 (
See all reviews by this customer
)
This is a beautiful addition to my dining room to hold my pet's toys. Nice quality as always. Very satisfied!!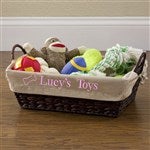 Adorable
By
Jennifer E.

(Oklahoma City, OK) - August 26, 2013 (
See all reviews by this customer
)
Just the right size for my Morky's toys! Looks lovely in the living room! Highly recommend it!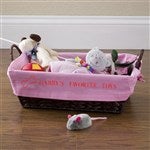 Adorable
By
Patricia A.

(Newburgh, NY) - August 3, 2013 (
See all reviews by this customer
)
This is just what I needed to keep my dogs toys in, she loves it! It's a small basket, which is perfect for me because my dog is tiny.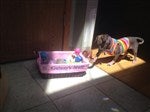 Great gift for pet lovers
By
Deanne M.

(Spring, TX) - July 30, 2013 (
See all reviews by this customer
)
I ordered this as a closing gift for customers who were buying a new house and I knew how much they loved their little dog. They were SO surprised and 6 months later are still telling all their friends and neighbors about the great, personalized gift they rec'd from their loan officer. I have since continued to order all closing gifts from personalizationmall.com and have been 110% satisfied with everyhing!!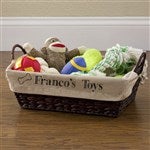 Excellent quality - perfect for my kitty!
By
Shopper

(Iowa City, IA) - July 22, 2013
I have been looking for a basket for my kitty's toys and this is perfect size (those of you complaining about the size, should have looked at the measurements beforehand because they are stated right on the website). It fits in with our decor in our home and I loved that I could put her name on it. The ball of yarn graphic is adorable! I have been searching high and low for a kitty toy basket and this is JUST what I needed. Great quality and excellent addition to our home. You can't go wrong with this!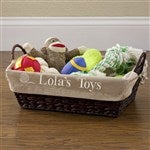 The Perfect Gift
By
Shopper

(Sterling, VA) - June 17, 2013
This basket is high quality and truly well done. I love the number of options you get to customize it. What I recieved was exactly what was depicted on the website.

WOW!!!!!!!!!!!!
By
Donna Rae T.

(Pleasant Valley, NY) - March 31, 2013 (
See all reviews by this customer
)
Wow this was a really good surprise. The basket is made really well and the liner is very rich feeling. Almost to good for the dogs : ) Their toys look really good in the basket, now if I could get only get them to put their toys
away on their own. Thankyou for the surprise!!!!!!!!!!!

Cat toy basket
By
Shopper

(CYPRESS, CA) - January 22, 2013
This is excatly what we were looking for to keep all the cats toys in one place and doesn't look out of place with the decor of the livingroom.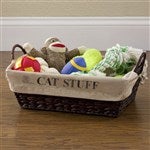 Awesome!!
By
Noha H.

(Springfield Gardens, NY) - January 2, 2013 (
See all reviews by this customer
)
great quality. loved it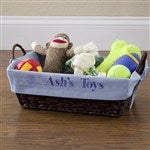 Great!
By
Kelly T.

(McDonald, PA) - December 13, 2012 (
See all reviews by this customer
)
Looks fantastic and good quality! My dog loves her new toy bin and It looks just like the preview picture!