Great Bags
By
Theresa S.

(BEDFORD HEIGHTS, OH) - April 12, 2014 (
See all reviews by this customer
)
I ordered these bags for my grandsons for Easter. My daughter asked me to give these to them early because they are going out of town this week. They loved the bags. I saw them open them on my iPad. My daughter said they are good quality leather and they are much bigger than they look. She said they will hold a lot of clothing and probably will be big enough for clothes for the week for the boys. I love the quality of all items that I have purchased from Personalization Mall. The initials on the bags were perfect.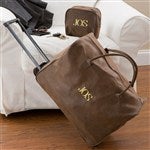 Really great value
By
Shopper

(Coal Center, PA) - February 18, 2014
I bought this set as a Valentine's gift for my husband. The quality is good & my husband says he can't wait to think of a place to use it. (I say Florida-since it's miserable here in PA right now).I ordered the black embroidery & it looks really nice. it's lightweight & sturdy.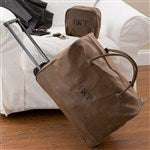 Embroidered 2-Piece Luggage Set
By
Candy B.

(Oviedo, FL) - January 31, 2014 (
See all reviews by this customer
)
I purchased this as a gift for my husband, who travels every week, and he loved it!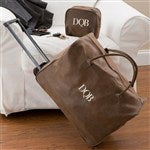 Love it!
By
Shopper

(Albany, NY) - January 27, 2014
I ordered a set for myself after we received my husband's. It's the perfect size weekender.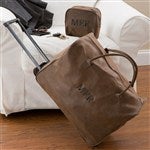 2-Piece Luggage-a must buy
By
Jennifer L. A.

(Wichita, KS) - December 17, 2013 (
See all reviews by this customer
)
A can't believe this first-class quality for the price. The embroider is top-notch - very professional. Would DEFINITELY recommend this product.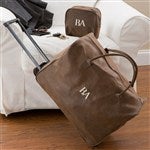 Good quality-impressive look!
By
karen M.

(Eureka, IL) - November 21, 2013 (
See all reviews by this customer
)
Anxious to give this to our son for Christmas. He travels as a Dr. and this will be perfect for his trips! As always, great quality and wonderful service! Love Personalization Mall's point system also!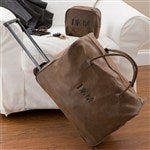 Great Bag!
By
Lisa Q.

(Kyle, TX) - June 21, 2013 (
See all reviews by this customer
)
Bought this for my husband for fathers day, He really loved it! Although I didn't buy this for luggage I bought instead for business use & with company initial logo on it, so that he can put all his tools in that were kinda heavy and just roll with it! That's the great part of this bag, it's larger than I thought it would be and also comes with a smaller bag for all the loose drill bids too and now all he has to do is roll it instead....No need to carry bag :)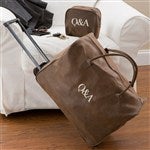 Great gift!
By
Tenieka A.

(Charlotte, NC) - June 20, 2013 (
See all reviews by this customer
)
I purchased this for my dad as a gift for Father's Day. The quality of the bag is exceptional, especially considering the price. My dad and I were both very happy with this product.

Father's Day winner!
By
Shopper

(Atherton, CA) - June 16, 2013
I bought this bag set for my husband for Father's Day. When we travel, he routinely carries all of our electronics (cameras, iPod, iPad, earphones, etc) in a carry-on. He's never used a carry-on bag with wheels before, and this one is amazing! It's well-made and handsome, and yet not so expensive that you're afraid to ever use it. It's also small enough to fit under the seat in front of you, so it's the perfect answer...and will also be good for weekend car trips. No more lugging around a heavy bag on his shoulder!

Better than I expected!
By
Malika B.

(Marietta, GA) - January 17, 2013 (
See all reviews by this customer
)
The quality of this bag was great! I was skeptical of the size when i bought it, but is more than spacious enough and the matching Vanity travel bag was able to hold all off what I needed! Thank you!

Great Gift
By
Requita G.

(DUMFRIES, VA) - December 20, 2012 (
See all reviews by this customer
)
I bought this as a gift for my father. He absolutely loves both bags and can't wait to use them.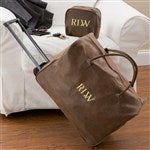 Great buy
By
Shopper

(Virgin Islands (U.S.)) - December 13, 2012
A must have