Great Gift!
By
Shopper

(Lebanon, IL) - July 21, 2014
Bought them as a gift for my bridesmaids to wear for the reception, and after. They are exactly as listed; very pleased with the purchase.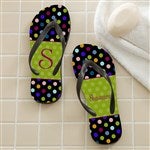 Love these
By
Keisha J.

(Grand Prairie, TX) - May 7, 2014 (
See all reviews by this customer
)
I Love the material that these shoes are made of, that way the name doesn't rub off!! I am very impressed.=)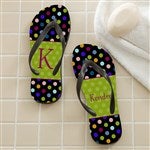 Adorable and FUN!
By
Shopper

(Broadview Hts., OH) - December 11, 2013
Ordered these for my beach lovin Mother-In-Law and they are perfect. Just enough fun with polka dots and so personal with her name and initials. Love these!

Polka Dots For Her Personalized Adult Flip Flops
By
Shopper

(Stanton, CA) - November 4, 2013
My cousin is a flip flop fanatic! She'll wear 'em till there's snow on the ground. However, she's never had a pair with her name on 'em. She was so surprised.
She's in another state & haven't personally seen 'em so, I can only pass on what she's said...she claims she loves 'em!
As for comfort & how long the lettering wears...I'll get back to ya.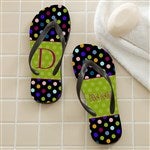 Perfect for College
By
Regina M.

(Arlington, TX) - October 1, 2013 (
See all reviews by this customer
)
This is the third pair that I purchased. They were all given as gifts to my girls going to college as shower shoes. I love the quality. they are perfect and can never be confused with someone elses. So far they have held up and I find them to be very durable and well made. They do not appear to be cheap at all.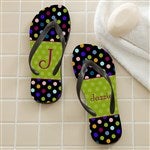 Nice Beach Gift
By
Gregger Y.

(Hillsboro, TX) - September 7, 2013 (
See all reviews by this customer
)
Made for a very nice beach gift. Product was just as advertised.

Excellent!!!!
By
Regina M.

(Arlington, TX) - August 26, 2013 (
See all reviews by this customer
)
I purchased 2 pair of these flip flops for my girls returning to College. They are very happy with the quality. The appearance is very nice. The personalization is awesome and very well done. They are not cheaply made. Worth every dime I spent.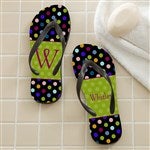 POLKA DOT FLIP FLOPS
By
Merl H.

(POINT BLANK, TX) - August 18, 2013 (
See all reviews by this customer
)
MY GRANDDAUGHTER WILL LOVE THESE SHOES! THEY ARE PERSONALIZED LIKE THE ONES HER OLDER SISTER GOT! FIRST ONE WAS NAUTICAL AND THESE ARE POLKA DOT....BOTH REALLY CUTE AND FUN!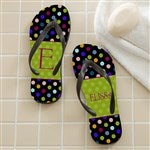 How neat---personalized flip-flops!
By
Carolyn C. J.

(Greenville, SC) - March 11, 2013 (
See all reviews by this customer
)
Again, my granddaughter couldn't have been more surprised and pleased with her very own personalized flip-flops! She wears this type of shoe all summer, and when she saw the colorful polka dots and the unique way the sandals were presented---one with a large initial of her name on one sole of the shoe, and on the other, her full name. She was delighted!

I must also put in a plug for your company: I've been a fan since Christmas, when I ordered a leather initialed toiletries bag for my son-in-law. The quality was exceptional, so I ordered another for my son in February for his birthday. Both men were delighted with their beautiful, roomy bags---thank you for them and for your wonderful, fast service. Your ease of ordering is exceptional as well. I'll be a customer forever!

BFF gift
By
Shopper

(Eden Prairie, MN) - January 22, 2013
My best friend loved them. It was a little birthday gift, but the personalization made it special.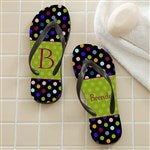 Really Cute
By
Patricia M.

(Lyndhurst, NJ) - January 21, 2013 (
See all reviews by this customer
)
Bought these for my granddaughter as a gift. She said as soon as it gets warmer, they will be on her feet everyday!

Very cute!
By
Kim W.

(Marion, IA) - December 26, 2012 (
See all reviews by this customer
)
I bought these for my neices and they enjoyed having their names on them. The personalization was nicely done. They have not worn them yet.