Adorable!
By
Shopper

(Atco, NJ) - November 6, 2013
I was thrilled with these bags ordered for my granddaughter and great nieces for Halloween bags. They loved them! Only one problem was that one of the hearts wasn't sewn on well and had to be quickly repaired for a crying little girl! Otherwise - they were wonderful.

Adorable
By
Shopper

(Winston Salem, NC) - October 14, 2013
I bought two of these bags for my flowers girls in my wedding. Since we are only a few weeks away from halloween I filled them with princess toys and such! It was a little smaller than I expected but still definitely usable and really cute.

Adorable....
By
Shopper

(Cranston, RI) - October 12, 2013
Since my 2 yr. old granddaughter thinks she is a "princess", and dresses like one from time, I knew that she would love this embroidered princess castle, and use it after Halloween for her many "crowns, wands, and jewels."....

Makes us the Favorite Grandparents.
By
Shopper

(Hot Springs, AR) - September 17, 2013
The Grandkids loved their Trick or Treat Bags and they can be used for other things later.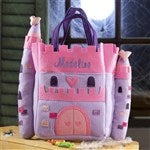 Special Castle Goodie Bag
By
Barbara B.

(Longwood, FL) - September 7, 2013 (
See all reviews by this customer
)
This is more practical than simply a Trick or Treat Bag. I intend to put in small special items and use it to donate for a silent auction. This will be more unique than other containers and has the name of the organization printed on it for personalization.

Great Tote...
By
Mechelle M.

(Marietta, GA) - February 9, 2013 (
See all reviews by this customer
)
I purchased this "Halloween Tote" because it was on clearance, it turned out to be a great everyday tote for my daughter. She's a HUGE princess fan, so if you have a daughter who's into the fairyland... GO FOR IT!!!

Personalized Princess Castle Trick or Treat Bag
By
Michelle F.

(Canton, MI) - January 21, 2013 (
See all reviews by this customer
)
I love the way this turned out! I was uncertain at the time I ordered it, but it is everything it is advertised to be. My grand daughter will love it and since I purchased it right after Christmas, the price was great! I will save it for October!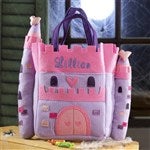 cute
By
Char D.

(Canada) - November 29, 2012 (
See all reviews by this customer
)
bigger than i thought it would be :)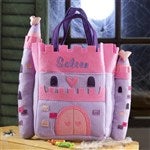 Definitely a Treat
By
Ericka F.

(Northridge, CA) - October 28, 2012 (
See all reviews by this customer
)
This item exceeded my expectations and delighted my goddaughter! She has found more uses for it than I could have imagined, including collecting candy! Again, they hit the mark! Each item I buy makes me love Personalization Mall more!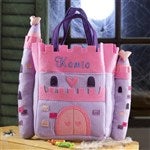 Great Company!
By
Shopper

(Niceville, FL) - October 12, 2012
My niece loved this item! This company is punctual and I will continue to order from them!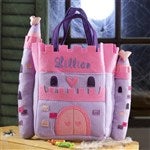 Great product
By
danielle O.

(maiden, NC) - October 6, 2012 (
See all reviews by this customer
)
Love love this treat bag!!!! It's a great size and my daughter loves it

adorable!
By
michaela S.

(philadelphia, PA) - September 23, 2012 (
See all reviews by this customer
)
Love this bag! Very well made! My daughter is so excited to carry her "princess castle halloween bag!"