Excellent
By
Jamie F.

(Branford, CT) - December 6, 2013 (
See all reviews by this customer
)
Received my ornaments very quickly. Beautiful!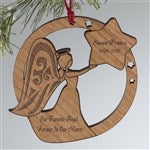 A Lasting Tribute to a Loved One
By
Shopper

(New York, NY) - November 19, 2013
The receipient was very touched by this ornament. It will be a wonderful way to remember her beloved mom, especially now during the upcoming holiday season. I did not personally get to see the ornament but my friend said it was so beautiful. I'm not surprised given my history with always being pleased by the products I've ordered through Personalization Mall.

mother in law
By
Shopper

(Ponce Inlet, FL) - November 3, 2013
an ornament to be cherished now and years to come

Beautiful!
By
Shopper

(Norfolk, VA) - April 20, 2013
The quality is excellent. I have a satin ribbon on it now and placed it on the side of a photograph. At Christmas time, it will hang on the tree. I enjoy seeing it all year long. I think it is a wonderful memorial.

Memorial Ornament
By
Shopper

(Louisville, KY) - February 11, 2013
I treasure this. It is such a great way to remember my Dad. I only wish the lettering was a bit larger.

Excellent
By
Debra P.

(Dickinson, TX) - December 27, 2012 (
See all reviews by this customer
)
Good quality, unique gift

Excellent quality
By
Geraldine F.

(Norfolk, VA) - December 27, 2012 (
See all reviews by this customer
)
I am very pleased with my Memorial Angel ornament. It is very easy to read the inscription that I ordered even though I used all the space I was entitled to use. It is presently on the Christmas tree, however, I plan to keep it visible all year long. Thank you for the wonderful service.

Nice ornament
By
Shopper

(Vancouver, WA) - December 25, 2012
This ornament is a good quality wood & nicely cut. I like the idea of being able to put your own little sentiment on it.
This will be a lovely gift for my grandson...to remember "gramma."
Thank you....LMH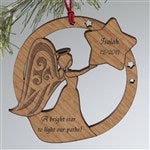 beautiful
By
Paula F.

(Brentwood, CA) - December 20, 2012 (
See all reviews by this customer
)
This is a great & well made ornament - a family had just passed recently and I wanted to give something to his spouse. And this was a great gift.

Something to remember her dad by at Christmas time
By
Annette M.

(Pittsburgh, PA) - December 20, 2012 (
See all reviews by this customer
)
Love love love!!! Details are really pretty. I bought this for my daughter, as her dad had recently passed

Paige's Angel
By
Martha H.

(Republic, MO) - December 16, 2012 (
See all reviews by this customer
)
This is a beautifiul tribute to our beautiful daughter, Paige. Christmas was her favorite holiday and that makes Christmases very rough on the family, but this ornament will help.

In Memory of Ornament.
By
Janice W.

(Knoxville, TN) - December 14, 2012 (
See all reviews by this customer
)
Recently lost my husband, and I did not want to forget him at Christmas. The Memorial Angel was perfect for my tree.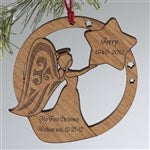 Christmas ornaments
By
Shopper

(Littleton, CO) - December 11, 2012
ordered 3 items. happy with all. I have ordered before and products are as expected. thanks

beautiful
By
barbara F.

(Sunrise, FL) - December 4, 2012 (
See all reviews by this customer
)
I bought two of these ornaments to remember my Mom, who passed
four weeks ago.
It arrived in less than a week, and it is so beutiful. I cried and my daughter
whom I send the other one to will probably cry as well.
What a meaningful ornament. Thank you so much. WE WILL TREASURE IT.
Last year I bought a weddingornament which is also beautiful.


Beautiful
By
Shopper

(Canada) - December 2, 2012
Very beautiful.

Beautiful
By
Jessica F.

(Grove City, OH) - November 30, 2012 (
See all reviews by this customer
)
This ornament is a beautiful way to remember my late mother at Christmas. The engraving is perfect!

Beautiful Memorial
By
Shopper

(Albany, GA) - November 27, 2012
I ordered four of these as a tribute to my late Dad. I gave one to my Mom and both of my sisters and all were touched by the ornament. The quality was good, the writing clear and accurate. We will cherish these for many years and they are well made enough to pass down to our children later. The hardest part of ordering was deciding the wording, the order arrived well packaged and included a self closure bag~ wonderful to store the ornament in. Great quality and quick dependable service.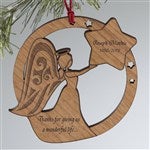 Beautiful
By Shopper (CANTON, OH) - November 18, 2012
I am giving this ornament to each of my three sisters. Our mother went to heaven in February. This holiday is going to be very difficult for all of us. I wanted to give them something beautiful to place on their trees each Christmas.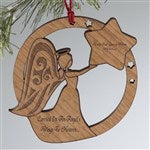 Beautiful
By
Shopper

(Waco, TX) - November 10, 2012
wonderful craftsmanship.

Exactly as pictured.
By
Shopper

(Naples, FL) - November 6, 2012
My only wish was that this ornament had an option for the angel to be a male. It still works for a man because the angel is holding up the name, so the angel doesn't necessarily represent that person. It would just make more sense and be more personal, but this item still came out pretty and has this really neat woody smoked campfire smell to it that was unexpectedly neat. I ordered this for my mother to represent my brother who passed away. Christmas will be hard this year, but I thought this might bring her some comfort..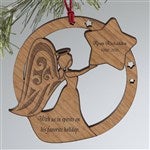 Sal-Ann
By
Shopper

(FAYETTEVILLE, AR) - November 6, 2012
This is a memory angel ornament in dedication to her beloved dog. It is so sweet and will be perfect on the tree or hanging from the kitchen window.