Wonderful Godparent gift
By
Tricia W.

(Onalaska, WI) - April 1, 2014 (
See all reviews by this customer
)
I was looking for a unique Godparent gift to give and this fit the bill. It is very nicely made and even smelled like a campfire!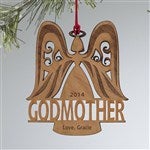 Awesome gift for a Godparent!
By
Donna C.

(Tarentum, PA) - January 11, 2014 (
See all reviews by this customer
)
We ordered this ornament for our son to give his Godfather. It is nice since you can add the year on the ornament. His Godfather loved the gift! Will order next year for the other God parents. Very nice! Like the other reviewers it did have a burnt wood smell but I think it was from the ornament being cut and then put in the keepsake pouch. It was not that strong that it took away from the personalization of the gift.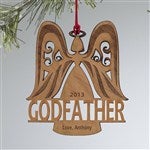 Godmother Gift
By
Ashley M.

(Shreveport, LA) - December 30, 2013 (
See all reviews by this customer
)
Bought this as a Christmas present for my son's godmother. It looks great and is great quality. Also it shipped really fast. The only thing is when it comes it does smell a little from the wood and chemicals used to carve it. I would order this again.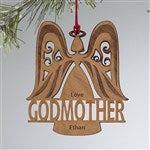 Perfect gift...
By
Jessica D.

(Culpeper, VA) - December 12, 2013 (
See all reviews by this customer
)
The ornament was just what I was looking for. It arived very fast and in perfect condition.

Beautifully carved! Our favorite ornament!
By
Shopper

(Santa Clara, CA) - December 4, 2013
We got this for each of my daughter's Godparents with their nicknames as the name engraved. They came out beautifully. We were worried that the wood would look cheaply made but it isn't. Great quality and our favorite ornament out of all the ones we've ordered on this site. It really makes an outstanding impression.

personalized wood angel ornament
By
Barb L.

(Appleton, WI) - November 11, 2013 (
See all reviews by this customer
)
This ornament is the perfect gift for a 90 year olds' birthday...I am sure it
will be on a little stand, outside her door, for all to see...it and the
ornament stand were beautiful...your quick delivery was also fantastic.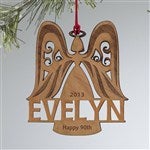 I love this ornament
By
Shopper

(Sacramento, CA) - November 9, 2013
I am amazed at how sharp the cut-out letters are and how sweet this little angel ornament is. I am very satisfied with it. My Goddaughter will love it, too.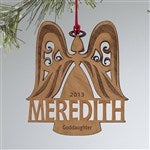 touching gift
By
Shopper

(North Olmsted, OH) - July 28, 2013
Gorgeous ornament. Beautiful craftsmanship. Great price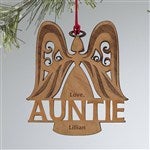 Great gift
By
Bonnie P.

(Alamo, CA) - July 23, 2013 (
See all reviews by this customer
)
Personalized this for my granddaughter and it is darling. I think she'll love it.

Very cute!
By
Shopper

(Amherst, OH) - April 8, 2013
This Christmas ornament is a dainty wood, but very cute with its cut-out letters. The personalization is easy to read; nice little gift for a grandparent or grandmother.

Perfect godparent gift
By
Kristie D.

(Nottingham, MD) - January 22, 2013 (
See all reviews by this customer
)
Absolutely love! Turned out beautiful! My sons godmother & godfather each got one & were very excited. It will be a special reminder each Christmas!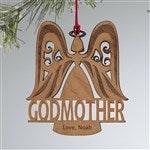 Well Received
By
Shopper

(Fort Atkinson, WI) - January 2, 2013
Nice craftsmanship, beautifully done and well received.

Beautifully crafted
By
Shopper

(Chicago, IL) - December 19, 2012
We were very happy with our purchase. The craftsmanship was quality. The only thing that would have made it better, is if there was an option to engrave the date on the back.

Great gift
By
Shopper

(Arlington, TX) - December 19, 2012
Purchased five of them for my kids Godparents/Padrino's. They were truly a great personalized gift. Everyone loved them!

Amazing
By
Aimee P.

(Perrysburg, OH) - December 17, 2012 (
See all reviews by this customer
)
This is a beautiful gift. the craftsmanship is amazing. I would recommend this gift to everyone
I am so happy ... the little black bag it comes in makes it look simply stunning.

Thank you so much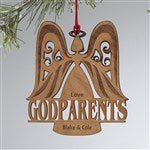 Great gift idea
By
Shopper

(Ripon, CA) - December 16, 2012
Loved it!! It's a great personalized gift. Especially for the person that has everything.

Top quality
By
Marilyn K.

(Endicott, NY) - December 14, 2012 (
See all reviews by this customer
)
I searched several sites looking for a godmother ornament that was different from the traditional ones. This ornament is not only unique, but it is of excellent quality. I will not hesitate to order from this company again.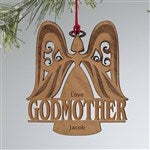 favorite ornament
By
kris S.

(chicago, IL) - December 13, 2012 (
See all reviews by this customer
)
i ordered a gooodmomma wooden ornament with the words love above it and emma under it and her godmommas reponse was " I LOVE IT" it was beautifully carved and the personalized bag was lovely as well, i would order again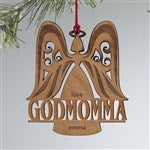 something special
By
Shopper

(Hallandale Beach, FL) - December 7, 2012
nothing says "GODMOTHER" like this, especially for an angel like mine. it's elegant but not too fancy, and the personalization makes it extra special. well-crafted and different - so will stand out on tree - or where ever year-round.

Gorgeous Ornament
By
Diane L.

(Parker, CO) - November 26, 2012 (
See all reviews by this customer
)
Was able to customize this frame to read "Grammy" instead of using it for Godparents. It is beautiful wooden ornament and will make a wonderful gift.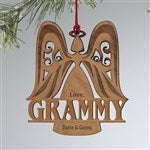 very pleased
By
Shopper

(Albany, WI) - November 9, 2012
I ordered this ornament for my daughter's godfather, I was worried it might be too big, but it is the perfect size, very lovely.