Wonderful keepsake
By
Shopper

(Pflugerville , TX) - September 16, 2014
Perfect and useful gift. The engraved text was really pretty and I know my mom will cherish it for years to come since the text was about her first grandson. Great purchase and I will definitely buy this again or recommend it! Great price too!

LOVED IT!
By
Rebecca F.

(Kankakee, IL) - September 8, 2014 (
See all reviews by this customer
)
I purchased three of these. One for my Mom and one each for my two future mother-in-laws (one being my groom's step-mom). I loved that you could put your own quote on there and that you could view it online before you confirmed the order. They turned out better than I expected and they're a great size! They're going to love them!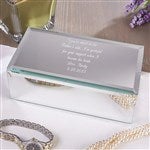 Supreme
By
Shopper

(Knoxville, TN) - July 12, 2014
Beautiful item and everything correct. I ordered three of these and happy with all of them. Great choice for a gift for three young ladies.

Beautiful
By
Lindsey S.

(Toms River, NJ) - July 7, 2014 (
See all reviews by this customer
)
This was a high school graduation gift. Her mom told me this was her favorite gift. I'm so happy that she loved it as much as I did!

Best Birthday Gift
By
Shopper

(Boynton Beach, FL) - July 5, 2014
I purchased this product for my mother 50th birthday, she loved it, it was exactly the same thing and the quality was very good, I always order from this website and they haven't disappoint me yet. I would definitely suggest this to anyone who wants to give something meaningful and special to a love one.

Namesake Mirrored Box
By
Lorraine G.

(Vicksburg, MS) - June 30, 2014 (
See all reviews by this customer
)
This was another gift for a great, great granddaughter of my mother's. It was absolutely beautiful. The item was delivered to the receiver in Washington, DC in an unbelievable short time.

Beautiful gift
By
Shopper

(Lakewood, CO) - June 20, 2014
Elegant box
The personalized engraving is done beautifully
Definitely looks like it's worth every cent it costs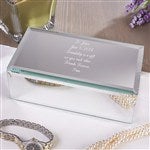 wow!!!
By
Katherine F.

(Las Vegas, NV) - March 8, 2014 (
See all reviews by this customer
)
I purchased this item as a much deserved retirement gift. The quality of the box is fantastic. It impressed all that saw it at the party. I was expecting good quality but the quality of this mirrored jewelry box is unexplainable and beautiful. Looks personalization mall.

Perfect
By
Shopper

(Lakeland, FL) - March 7, 2014
The mirrored box I ordered and personalized arrived quickly and is exactly as shown and ordered. I will be using this site again. Thank you for a very special gift for someone special.

Perfect Gift
By
Isaac M.

(Los Angeles, CA) - January 19, 2014 (
See all reviews by this customer
)
Amazing site fast shipping great product! Exactly what I was looking for and got!
Thank You!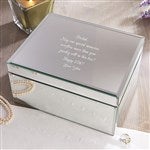 Great Bridal gift
By
Sarah R.

(Pawnee, IL) - August 25, 2013 (
See all reviews by this customer
)
This is beautiful. I am giving this to my flower girl at my wedding. Its sturdy and the mirror finish is perfect.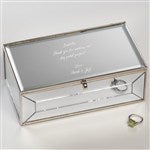 My God-daughter Loved It!!!
By
Shopper

(Gibsonton, FL) - July 15, 2013
I purchased the jewelry box as a surprise gift for my 7 1/2 year-old god-daughter. Her mom recorded her opening the box and retrieving the jewelry box and her expression was priceless. The first words she said was, this is beautiful. Due to her age, she wanted to know how I got her name engraved on the box...too cute. This is something she can cherish for the rest of her life.

daughter inlaw present
By
melanie L.

(spring hill, FL) - June 3, 2013 (
See all reviews by this customer
)
I purchased this for my daughter in law..I love personalizationmall.com I've gotten a lot of personal gifts from them they are prompt and this gift just like all the others have met my specifications..very pleased ill definitly use them again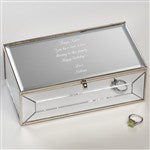 Special Birthday Gift for my Best Friend
By
Shopper

(Leland, NC) - June 2, 2013
For my best friend's 65th Birthday, this mirrored jewelry box was perfection.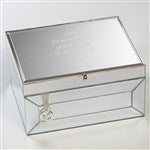 Great Mother's day gift
By
Shopper

(Stafford, TX) - May 20, 2013
I bought this for mu mom on mother's day(as grandma to out first child). She loves it! It's beautiful, the inscription came out perfectly!

Beautiful.
By
Reham A.

(woodland hills, CA) - March 5, 2013 (
See all reviews by this customer
)
This is just stunning my mom is going to love it. It's my wedding gift to her and I got it engraved in French but no letter accents were added just the same letters as in English. I sure will be back. Got lots of people to get gifts for.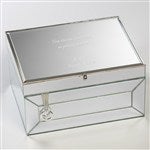 Amazing!
By
Alvin H.

(New York, NY) - February 19, 2013 (
See all reviews by this customer
)
Just seeing the smile on my girlfriend's face was all I needed. The box was of top-of-the-line quality, and I'm so glad I ordered it! I'll definitely be ordering from here again!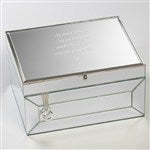 outstanding
By
Shopper

(Brainardsville, NY) - December 30, 2012
This was a gift for our oldest granddaughter who turned 16.We had never seen such a beautifully made jewelry box. My husband did the inscription to be engraved on it. We were unbelievably impressed with the work you guys did for us. Thank You!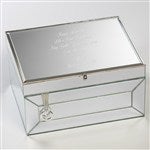 Beautiful & Special !
By
Shopper

(Middletown, DE) - December 11, 2012
This gorgeous mirrored keepsake box exceeded my expectations in quality and engraving.It's very sturdy and well made...the engraving was perfectly done.The inside has 3 velvet compartments to separate jewelry.What a special gift this will make!I've ordered from Personalization Mall before,and have always been delighted! Thank you...I'll be back!