Head over Heels!
By
Shopper

(hillsborough, NJ) - May 16, 2014
this was perfect as part of a bridal shower gift. the theme was shoes & the bride will be wearing red heels at her wedding - the couple (& everyone else at the shower) loved it! Also purchased the easel for easy display. couldn't decide between the 2 size options available. very glad i went with the 5 1/2 x 5 1/2.

Perfect match
By
Shopper

(Glendale, AZ) - February 17, 2014
The picture was perfect since it reminded my wife and I of a pose from our reception. Was a perfect 2nd wedding gift since the canvas is cotton - or at least I hope this version is!! Ha! Either way, the wife loved it and so did I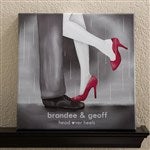 Great canvas
By
Jonathan S.

(Miami, FL) - February 15, 2014 (
See all reviews by this customer
)
It was the perfect size. She loved it.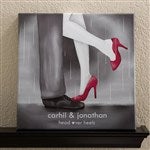 Loved it!!
By
Misty W.

(Carencro, LA) - January 31, 2014 (
See all reviews by this customer
)
Got this for a weddings shower and loved how it turned out!! Just precious!!!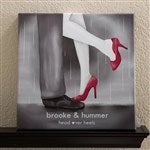 petite and perfect
By
Tammy N.

(Midlothian, IL) - January 28, 2014 (
See all reviews by this customer
)
I LOVE this item. I bought for a couple small shelves I have on my living room wall. This canvas is absolutely perfect because it's the perfect size for a smaller shelf. I have mine surrounded by a few tea light glass cups I get compliments on it all the time. If your looking for something more on the smaller size this is perfect.

Unique and beautiful gift
By
Meredith S.

(Malvern, PA) - January 14, 2014 (
See all reviews by this customer
)
I sent this to my sister as a gift for her birthday because she wore red shoes on her wedding day and this seemed perfect for her. She loves it so much and said it's the best gift she's ever gotten! I would greatly recommend this product.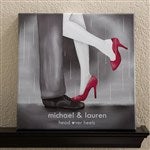 Perfect!!!!
By
Shopper

(Converse, TX) - December 20, 2013
I was a little iffy about ordering this. I always am with online purchases. But I am really glad that I did it was just as described, great quality and will be the perfect gift for my sis and her Bo. I will definetly be a return customer because this will be the first place I shop for great personalized gifts that aren't the run of the mill things that u could purchase just anywhere. Also the shipping was super fast!! Great experience overall, Thank You personalizationmall.com!

Simple and sweet
By
Shopper

(Dyersburg, TN) - October 11, 2013
I got this for an anniversary gift. Color and quality were great. Shipping was on time. Loved the product.

Love it!!!
By
Shopper

(owasso, OK) - August 27, 2013
I absolutely love this! Looks very nice and professional!! I ordered the smaller one, and now wish I had ordered the larger one. The small one is pretty small - so spend the extra money and get the larger one! You won't be disappointed!

excellent wedding gift
By
Shopper

(Newport News, VA) - August 20, 2013
unique perfect wedding gift

Love This Canvas
By
Hazel G.

(East Orange, NJ) - June 10, 2013 (
See all reviews by this customer
)
I bought this Canvas for a friend, and I loved it. It is just the right size and so beautiful. I am ordering another for my sister.

Perfect gift for my wife
By
Shopper

(THE COLONY, TX) - June 9, 2013
This is a fun item i purchased for my wife which allowed me to add my sentiments for our 40 years of marriage. Great colors. Well done piece. This is one of several canvas art pieces i have purchased from PM over the past few years. I appreciate the many promotions offered by PM. I always like the fact that PM allows some creative variations from the way they layout an item so I can make gifts very unique. The ability to review allows me to adjust each item till I have it exactly as I want it.

Head over heels!!
By
Shopper

(Houston, TX) - April 17, 2013
This is such an amazing canvas!!! My boyfriend has it hanging on his wall at this very moment! It's not too big , not too small! I'ts THE perfect size!! I love, love, love it!!!=)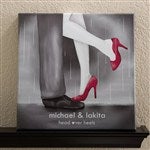 Wedding Gift
By
Shopper

(St. Louis, MO) - March 23, 2013
I wanted to give my niece a wedding gift that was personalized and a special gift from her Aunt on her wedding day. This canvas is perfect! I ordered the larger 12"x12" canvas which will allow the new bride and groom to hang in their home in "that special place", and is timeless so that they can move it from home-to-home over the years and still want to hang it. I'm very happy with this item.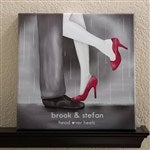 Perfect
By
Shopper

(Presque Isle, ME) - January 20, 2013
This is a Valentines Day gift for my husband and I cannot wait to give it to him, he will love it and I love it. It will look beautiful in our newly remodeled, well painted, bedroom. We have been married 28 years so it is nice to have found something so different than the usual Valentins gifts. The canvas looks exactly as it does in the picture, I ordered the larger size to hang on the wall. Very very happy with my purchase.