Absolutely amazing
By
Shopper

(Lehigh acres, FL) - December 2, 2013
Got this product and it came out amazing. Picture was very clear and good placement.

beautiful...
By
Shopper

(New Hyde Park, NY) - December 1, 2013
a beautiful way to remember my grandma ...

Christmas Ornament to remeber my father
By
Annamarie P.

(Turnersville, NJ) - December 1, 2013 (
See all reviews by this customer
)
I lost my father on 8-24-13 and for Chrismtas i order 9 of these for all my sisters and my mom and i order 1 for Father in law also when they came to home i started tocry they are so BEAUTIFUL and done wonderful and they came so fast in regular mail .....I just order know for my MOM and mother inlaw the pillow case with there Husbands on it SO at night they can HUG THEM AT NIGHT TIME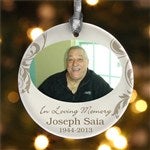 Very Pleased!!
By
Shopper

(West Columbia, SC) - November 29, 2013
I ordered these ornaments after losing a very special family member. They turned out so well, and now we each have a special memory of our loved one. I received them in less that a week after ordering them. I would highly recommend the product and the site. I have ordered from them in the past and I have never been disappointed!

A wonderful way to remember...
By
Shopper

(Florence, AL) - November 29, 2013
The ornament was beautifully made and comes with a nice bag to keep it from getting scratched when packing. It is a wonderful way to remember a cherished family member during the holidays.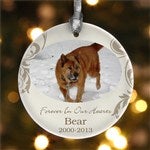 A Keepsake That Will Be Treasured
By
Amelia L.

(Pensacola, FL) - November 19, 2013 (
See all reviews by this customer
)
I designed & ordered an ornament for each of my 3 grandsons...my whole family is beyond pleased with the quality of the product...although I had bought them for their Christmas trees, they all want them displayed year round...beyond the product itself, the items arrived quickly--even earlier than promised.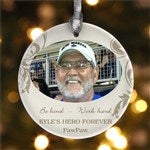 Just perfect
By
Shopper

(Bartlett, IL) - November 12, 2013
This is my thrid time buying this particular item,and for those of you reading this please note that this can be used for more than a memorial ornament. I used it as a "First Christmas" for a recently married couple and it is beautiful. If you are looking for an elegant background to personalize you will not be disappointed in this style.

Memorial photo ornament
By
Tammy P.

(matthews, NC) - November 4, 2013 (
See all reviews by this customer
)
This item has exceeded my expectations. I chose it because the photo is 'made' onto the ornament instead of having a spot for a photo, which I have had in the past and the photo ends up fading/falling out over time. I also like the fact that it is not 'holiday themed' so I can have it out all year long.
5 thumbs up :)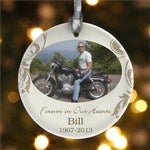 Memory Photo Ornament
By
Sunny S.

(Cape Coral, FL) - November 4, 2013 (
See all reviews by this customer
)
I ordered one of these for each of my siblings and myself. They were all very beautiful! I was very pleased with the results, and will enjoy Moms memory during the holidays for years to come.

3rd one
By
Shopper

(Bartlett, IL) - October 31, 2013
I bought two of these to give to daughters who had lost their father. I was so pleased that I bought another one however I used it as a Christmas gift for newlyweds. The silver tie and background are perfect for it. Very, very happy with my purchases.

Love it!
By
Shopper

(Hanover, MD) - September 29, 2013
Turned out great and it was extremely fast shipping.

Beautiful Ornament
By
Shopper

(Altamonte Springs, FL) - August 16, 2013
I love this ornament. Originally, I was looking for a memorial photo ornament that was round instead of flat. I settled for this one since the flat ones were the only ones available. But now that I've received it, I'm completely satisfied. It's very nice and doesn't look cheap, which was my concern.

Our Memorial Ornaments
By
Dawn M.

(Altavista, VA) - June 21, 2013 (
See all reviews by this customer
)
I purchased 15 of these ornaments to give to my and my husbands brothers and sister. They are beautiful memorials of our parents that have gone to live with our Lord God. I will be getting more for our children and our nephews and nieces. The only down fall is I wished there was a little more room to add a little more information (complete dates).

Forever Remembered
By
Jessica K.

(El Campo, TX) - June 19, 2013 (
See all reviews by this customer
)
The person I gave this to loved it as it will be a special gift to forever hold.

Marmie Blooms
By
Shopper

(Centennial, CO) - April 9, 2013
Love the opportunity to put a memory on a friends tree every year so she never forgets the person she called "Marmie"..I know she'll never forget her... it's just a special memorial to her year after year.

A memory captured!
By
Jessica K.

(El Campo, TX) - February 22, 2013 (
See all reviews by this customer
)
Perfect way to capture one's memory.