Wonderful
By
Shopper

(Acton, CA) - September 2, 2014
I ordered 3 of these bags and they are lovely. The pictures came out great considering what I sent was computer generated and had been forwarded to me from a family member. They exceeded our expectations.



Great Tote for groceries and more
By
kathryn G.

(Rancho Cucamonga, CA) - August 4, 2014 (
See all reviews by this customer
)
This was a gift for my best friends birthday. She is a new grandmother and she was so impressed with it she started to tear up when she saw the pictures of her grandson I had downloaded from her daughter's facebook page. She said this was the best gift she has ever received from me.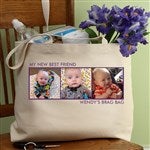 Personalized Perfection!
By
Sylvia S.

(Bay City, TX) - July 22, 2014 (
See all reviews by this customer
)
My sister and our husbands enjoyed a wonderful vacation to the Smoky Mnts in Tennessee!!. Finding this tote was great because we can showcase and enjoy some of our favorite moments right on the bag! Thank you for this Awesome product!
WE love it!

Perfect gift
By
Diane M.

(Osprey, FL) - June 10, 2014 (
See all reviews by this customer
)
I created a graphic for my sister's 50th anniversary and wanted it printed on something special. This tote bag was just the thing. I was very pleased with the product I received. The print was very vivid. The canvas where the image was placed doesn't feel stiff. I know they will be very happy with this bag for years. Brilliant job. Thank you.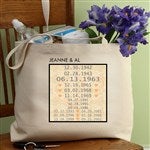 great quality
By
Daniela R.

(Plantation, FL) - June 9, 2014 (
See all reviews by this customer
)
super great quality of the tote bag and also the photo print.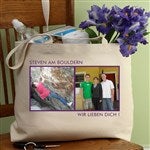 The picture comes out perfect
By
amy R.

(marble city, OK) - May 20, 2014 (
See all reviews by this customer
)
My Mother n law Loved it it was the perfect gift!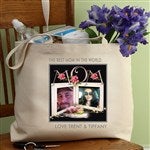 Mother's day gift
By
Gina C.

(Augusta, KS) - May 15, 2014 (
See all reviews by this customer
)
I ordered this custom bag for my mom for Mother's day. I recieved the box with my items on the Wednesday before, and imagine my surprise when someone elses pictures and wording were on my bag! I contacted the company right away and they had the correct item mailed to me over night and i recieved it by Friday afternoon!

Great gift to share with loved ones!
By
Shopper

(Boston, MA) - May 14, 2014
I ordered this bag for my mother-in-law and put a picture of our son on the tote bag. She absolutely loved it and stated that she likes that she can see her grandson every day and it's also practical for her everyday needs. Highly recommend!

mother's day gift
By
Maria L.

(Howard Beach, NY) - May 8, 2014 (
See all reviews by this customer
)
Beautiful image and size tote

Very pleased
By
Shopper

(Central Square, NY) - May 3, 2014
This item arrived only a few short days after I ordered, loved the super fast shipping! The bag is thick and sturdy. The pictures were of good quality, not excellent, but good (only slightly blurry). But considering the very inexpensive cost of the product I was quite satisfied. Will definitely purchase more items in the future.

Mothers Day
love it

Perfect size for my needs
By
David N.

(Middleboro, MA) - April 20, 2014 (
See all reviews by this customer
)
And came out a lot better than I thought it would really really like it

Tote
By
Lauris C.

(Pleasantville, NY) - April 14, 2014 (
See all reviews by this customer
)
Great!

great gift idea
By
Shopper

(Lincoln, CA) - April 13, 2014
Loved the quality of the picture and the quality of material used for the making of the bags. It was a lot bigger than I thought it would be too and it shipped to me very quickly

Great lovely bags
By
Shopper

(College Point, NY) - March 29, 2014
My wife decided to buy some thoughtful gifts for our daughters. This was an excellent choice, we bought the first to check for size and quality and we loved it so much we bought the second. These bags are ecofriendly and best of all they show that a gift doesn't have to cost much to be a success .Personalizing a gift shows the recipient that you took time and were thinking of him or her, for us it was a gift from the heart and nothing can beat that.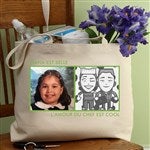 Fabulous Purchase!
By
Shopper

(Newport News, VA) - January 25, 2014
We ordered the tote decorated with photos of our new grandchild as a greeting gift for our 1st meeting with our son's mother-in-law. We are thrilled with the results. One of the pictures is not as vivid as the other two, but we attribute that to the quality of the submitted photo.
The construction appears to be good quality. The tote measures 14.5" tall x 15" long x 5" wide. The pair of 1" wide x 11" high shoulder straps are sewn into the hem of the bag, and the material seems sturdy. The only drawback is that the bag is not made in the USA (tag shows Pakistan), but otherwise it's top-notch.
We ordered the bag on-line on a Sunday night, and it arrived on our doorstep by the following weekend, using the standard shipping.
We uploaded the photos from our computer, and it turned out to be pretty simple once we did it. From the descriptions given in the ordering data, we weren't sure if our photos would work, but it was much worry about nothing.
We would definitely order similar items though this vendor again, with no hesitation.

Great personalized bag
By
Carrie H.

(Bovina Center, NY) - December 22, 2013 (
See all reviews by this customer
)
I have never ordered a personalized bag before. After reading the reviews for them on various sites, I decided to try Personalization Mall. The bag came out great, the picture is clear, the bag seems sturdy and the price was even better! I will be ordering more!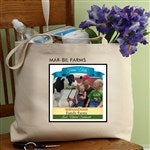 Awesome!
By
Shopper

(Maywood, IL) - December 17, 2013
This item is better than the picture. The quality is excellent. The pictures are so clear. My mother is going to adore this gift. SO excited to present her with this item. Thanks personalization mall for a great product :-)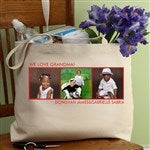 What a hit!!
By
adele K.

(schaumburg, IL) - November 16, 2013 (
See all reviews by this customer
)
Great canvas bag- the photos came out great and my sister is going to love this gift.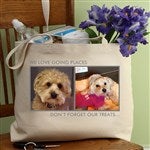 Great Gift
By
DARLENE C.

(South River, NJ) - November 16, 2013 (
See all reviews by this customer
)
This is a gift for our pet sitter, I know she will love it, the tote came out fantastic, I can not wait to give it to her for Christmas.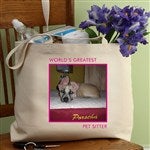 Great Gift
By
Shopper

(Tigard, OR) - October 29, 2013
We bought this for my mother-in-law for her birthday and put our sons picture on it. The look on her face was priceless when she saw it. Great quality and fast shipping, thank you!

Great
By
Shopper

(white plains, NY) - October 18, 2013
The pictures came out great - the shipping was quick and the bag itself is a really nice quality and bigger than i thought it would be. highly recommend.

Nicer & Bigger then I expected :)
By
Shopper

(Lake Hiawatha, NJ) - September 30, 2013
I've bought alot from this site and always been happy but I wasn't sure how this bag would turn out. Pictures looked great and size was alot bigger then I expected. Handle is nice and long too so it can go over your shoulder. Bought it for the Grandma's and they love it!!!

Canvas Tote
By
Shopper

(Port Saint Lucie , FL) - August 19, 2013
I came out excellent. We got if for my sister-in law for her birthday and put a picture of her goddaughter. Good size bag, good material. Would recommend this product and would buy again.

Great gift!!!
By
Shopper

(Lewiston, NY) - July 26, 2013
This was a great gift idea!!! The price was sooo reasonable for the quality of this product. I was worried the bag was going to be thin or cheap and that was not the case at all. The pictures came out clear and beautiful. I used one picture from my iPhone and 2 from my camera and they all looked perfect. For a personalized product it was fabricated and shipped very quickly. I couldn't be more happy with this product and my mother-in- law was gushing about this gift!!!

Absolutely Awesome
By
Debra D.

(Emmaus, PA) - July 19, 2013 (
See all reviews by this customer
)
I love this product and the pics I selected for this canvas bag look amazing. I would recommend this site to anyone. I have purchased items previously and love everything I received, also product is shipped very fast.

Mother In Law
By
Shopper

(Oakland, CA) - July 19, 2013
I bought this as a thank you gift for my mother in law for coming down to help us out with our little one when we moved. She just loves it. She cried when she opened it. The picture turned out great and the bag is good quality.

The greatest way to show off
By
Tricie W.

(Clinton, MD) - May 25, 2013 (
See all reviews by this customer
)
I was very pleased with my tote that displayed an important day of my life (my wedding). The pictures were printed very well and I love the fact I had my pictures there for everyone to see, I guess you can say that I am a little show off. To be honest having the pictures on the tote was great for me because when things wasn't so great at work, I would go to my tote to look at our wedding pictures it would automatically bring happiness to me immediately. So having this tote close by is like having medicine to ease my pain.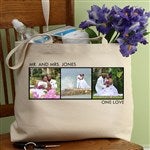 Awesome bag!
By
Rachael G.

(Vista, CA) - May 20, 2013 (
See all reviews by this customer
)
Everyone loved the bag, said it was good quality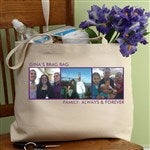 Bag Review
By
Shopper

(Seneca, SC) - May 15, 2013
I did not see the finished product in person, but my step-mother has done nothing but rave about it since she received it. I am very happy that she is pleased with the gift.

Very Nice
By
jennifer M.

(Lowell, MA) - May 15, 2013 (
See all reviews by this customer
)
Came out great & great price

Review
By
Shopper

(MERRITT ISLAND, FL) - April 30, 2013
Great bag. Nice size and picture came out great!