Canvas print
By
Deborah R.

(Matamoras, PA) - August 22, 2014 (
See all reviews by this customer
)
I just received my canvas print!! I love it! The quality is exceptional. It was beyond my expectations! And I am ordering more. I love personalization!! Everything I order from you is great and ships so fast. Thank you so much!! Can't wait for your next sale.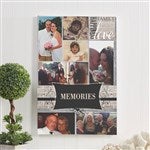 Awesome
By
Deborah H.

(Valdosta, GA) - July 19, 2014 (
See all reviews by this customer
)
We absolutely love the canvas we had made in Memory of our friend's father!!! I know he will love and cherish it for years!!! The quality of this canvas is above and beyond what we expected!!!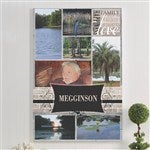 love it!!
By
Hee P.

(Centreville, VA) - July 11, 2014 (
See all reviews by this customer
)
My family and I recently had our photographer friend take pictures of us. The photos turned out awesome. I wanted to make a large collage out of them to hang on our wall and I was already curious about the photos on canvas. I'm glad I ordered it bc it turned out wonderful! I have received tons of compliments on it. It was so easy to create as well. I may be ordering another one in the future.

My picture looks great
By
Julie W T.

(Burgin, KY) - July 11, 2014 (
See all reviews by this customer
)
Very pleased with my personalized canvas print. Looks great! I've ordered several products from Personalization Mall and have been pleased every single time!

Great quality canvas print
By
Shopper

(Mahtomedi, MN) - June 30, 2014
I loved my canvas collage - I was so pleased with the quality. I will definitely add more to my collection of family pictures.

LOVE LOVE LOVE
By
Andrea W.

(Gainesville, VA) - May 28, 2014 (
See all reviews by this customer
)
This came out beautiful - bigger and better than I expected. We are working on a photo wall of canvas collages going up our steps and this is big enough to be the main anchor. I really love it - the quality is wonderful.

Perfect
By
Jayme L.

(Tucson, AZ) - May 12, 2014 (
See all reviews by this customer
)
This gift came out perfect for mothers day! it was shipped on time and the quality was great. My mom loved it!

Beautifully Amazing!!!
By
Shopper

(Brighton, CO) - April 18, 2014
Absolutely LOVE the piece we got back!!!

A awesome wall art
By
Filomena S.

(Yucaipa, CA) - February 19, 2014 (
See all reviews by this customer
)
I really love my new wall art. It has beautiful colors and great quality. The only thing I wish for the site to provide is more options at editing. For my next project I will be back to this site for sure.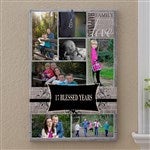 Nana loved it
By
Shopper

(Manhattan Beach, CA) - December 30, 2013
I sent this collage to Nana from the kids and she really loved it. It took a little time to get the pictures just right, but it was worth it.

wobderful christmas present
By
Shopper

(Denver, CO) - December 26, 2013
This was perfect and elegant! It was a wonderful present and loved by all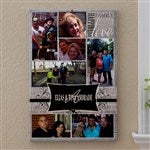 Beyond Expectations
By
Amber S.

(Katy, TX) - December 23, 2013 (
See all reviews by this customer
)
I found this only a few days before our family christmas while looking for a last-minute, meaningful gift for my parents. It was so easy to put together and allowed for plenty of my own input before finalizing the product. It showed up and i was blown away. Just perfect and in amazing time! I'm so thankful for this gift and my parents already treasure it so much!

Masterpiece
By
Shopper

(Bartlett, TN) - December 22, 2013
I made a family collage out of this for my sister-in-law and it came out beautiful.

Great Photo Canvas
By
Kriste B.

(Midland, TX) - December 20, 2013 (
See all reviews by this customer
)
This personalized canvas print was so easy to make, and personalizationmall.com did a great job on it and got it shipped out quickly. I will definitely be ordering more things like this and more things from this site. I have been extremely pleased with everything I've ever gotten from here!!!

Beautiful!
By
Melinda W.

(Elizabethtown, PA) - December 16, 2013 (
See all reviews by this customer
)
I purchased this canvas for my niece and just couldn't believe how beautiful it turned out! I was so happy, I turned around a purchased another for my nephew.
I have never been disappointed with anything I have bought here! Love this site!!!

Amazing
By
Idelisse S.

(Lawrence , MA) - December 13, 2013 (
See all reviews by this customer
)
I ordered this canvas collage for my mom for christmas. Although I have not given it to her, I was so pleased with the outcome and how quick I received it. It was easy to make and gave many options. I have purchased items in the past and have never been disappointed!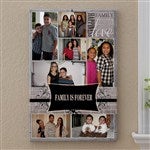 Wonderful piece of art
By
Victoria E.

(Whitesboro, NY) - December 10, 2013 (
See all reviews by this customer
)
Absolutely beautiful canvass filled with memories for my children to hang in their homes. I enjoyed putting this together and am well pleased with the service from your company. I know the kids will love these on Christmas morning.

Great Wedding Gift
By
Shopper

(Fairfield, AL) - November 11, 2013
I customized this for my best friend wedding and she loved it!! She stated it was the best gift she received!!

Very impressed!!
By
Shopper

(pineville, LA) - October 20, 2013
I was very pleased and impressed with the way my personalized canvas picture turned out. The quality is FANTASTIC and shipping was very speedy! They did a wonderful job and I couldn't be happier! I would 100% recommend this product and company!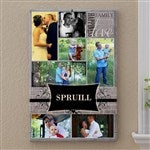 Amazing!
By
Nicole J M.

(Thousand Oaks, CA) - June 16, 2013 (
See all reviews by this customer
)
I specialized this for my mother in law. She is going to be amazed. It turned out better than expected. LOVE IT and can always count on Personalization Mall to hit the spot perfectly. THANKS

Gift for granddaughter
By
Joycelynn R.

(Carriere, MS) - April 5, 2013 (
See all reviews by this customer
)
Our granddaughter just loved this photo collage of her daughter's first year. The collage is on canvas and looked like it cost twice what I paid for it. Ordering instructions were very easy to follow and the finished product was perfect!! Thinking of ordering one for the grandmother who seemed jealous that she didn't have one too.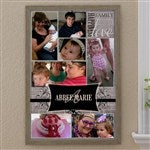 Great show piece!
By
Shopper

(Lu Verne, IA) - April 2, 2013
I wasn't sure what the product would be like when it got here but I was very happy with it. The pictures are all very clear and stand out. It is big enough to stick out on the wall and I have had many compliments on it.