well done
By
Shopper

(white plains, NY) - April 15, 2014
had this deck of cards personalized with 2 pictures of my son's pet - i'm sure he will love this item. picture resolutin is excellent and arrived incredibly fast. the only thing I would have preferred was a nice little card case for the cards to be stored in. The case is a little on the flimsy side but the cards are top notch.

MOTHERS CARDS
By
Gerardo S.

(Clearwater Beach,fl, FL) - March 16, 2014 (
See all reviews by this customer
)
THE PICTURE WAS PERFECT AND THE CARDS GOOD WUALITY. THANKS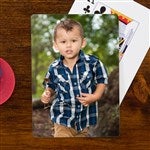 Grampz loved this gift
By
Shopper

(Maitland, FL) - March 15, 2014
Such a cool and unique gift that acts as a conversation piece. I was worried from the screen shot that the photo might come out blurry but it was perfect!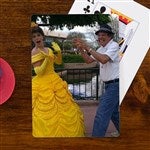 Nice gift idea...
By
Basil C.

(Farmingdale, NY) - January 21, 2014 (
See all reviews by this customer
)
This gift was a hit for a 40th b day. Slap a pic of someones kids on anything and they will love it. My only gripe was the paper box the cards came in was already ripped when I got it. I think there was an option to upgrade the cardbox..If so I recomend it.

A little pricey but they look great!!
By
Deborah A.

(Louisville, KY) - January 2, 2014 (
See all reviews by this customer
)
Very easy to create these cards, and quality was top notch. We needed cards with jumbo print for some of our older friends, and the photos made for a fun gift. It is pricey when you just order one or two decks, but this is a gift that will certainly last. Cards are high quality and photos turned out great. Highly recommend!!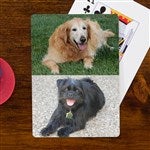 Personal playing cards
By
Kim O.

(Maryville, IL) - December 30, 2013 (
See all reviews by this customer
)
Very happy with my order. This was a gift from my Son to his Grandmother. It was received with a glad heart and brought much joy! The perfect gift. This was from a very old photo and it looked fantastic!

Photo Playing Cards
By
Joanne B.

(Beulah, MI) - December 19, 2013 (
See all reviews by this customer
)
AMAZING! I purchased these for three different people for Christmas and one includes my husband's BIG Buck- SEE it?!?!??!!! I cannot wait until they open them.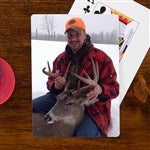 Really Pleased with Personalized Playing Cards
By
Jeffrey C.

(Nanticoke, PA) - December 17, 2013 (
See all reviews by this customer
)
We were so pleased with the quality of the playing cards and how well the personalization looked on the cards. We buy a 'gag' gift for our family and friends with our photo on it and thought the deck of playing cards would be a great gift. They came in a personalized box, too. This order was done perfectly and very quick. I ordered them on Friday night and received them on Tuesday morning.

Great Gift
By
Shopper

(Greenville, MS) - December 16, 2013
I was so pleased to find a great gift for my younger friends. The quality was good and the speedy delivery was exceptional.


GREAT
By
Shopper

(BRYAN, OH) - November 29, 2013
Great looking cards--the process was easy and received the cards exactly when they said I would!!

Great cards
By
Shopper

(Grand Island, NE) - November 16, 2013
The cards are great. I was happy that the picture came out clear and that I was able to crop it to fit the card well.


Cute gift idea
By
Mary M.

(Archbald, PA) - November 9, 2013 (
See all reviews by this customer
)
I ordered two sets of these cards for stocking stuffers. They are a really cute gift. I'm sure the recipients will love them and am looking forward to their reaction. As with everything I've ordered from this site I'm completely satisfied with both the quality and the speed of service.

Birthday Memorial
By
Alice P.

(West Point, MS) - October 18, 2013 (
See all reviews by this customer
)
My mother loved playing cards. Her offsprings are remembering her 100th birthday November 1 & 2 with a memorial celebration. She will be our Queen of Hearts, her surviving son the King of Hearts, and the remainder of the cards distributed to the family. I thought this was a lovely and fitting gift. The quality of the pic wasn't the best, probably due to the age of the pic. Everything else was pic perfect. There was a very short turn-around from order time to delivery and we're especially appreciative of that. Extremely pleased. Thank you!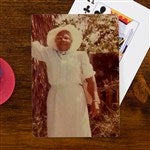 Unique Gift
By
Aimee S.

(Rossiter, PA) - September 11, 2013 (
See all reviews by this customer
)
I purchaesed 3 of these for the man in my life and his 3 brothers. They have been a big hit on poker night. I thought it was a very cute unique idea. I will likely do this again for others.

Awesome gift
By
Shopper

(Biglerville, PA) - June 22, 2013
Got these for my dad for fathers day. Came in a reasonable time and made a great gift. Only slightly negative thing is that the image quality on the card isn't super high. But actual cards are of good quality so it's all good. I would recommend them.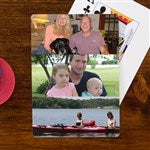 Great gift for Father's Day
By
Trina B.

(Spring, TX) - June 20, 2013 (
See all reviews by this customer
)
My husband loved these! If you're into card games this is a must have with your kids pictures.

Loved it!
By
Aiesha M.

(Philadelphia, PA) - June 9, 2013 (
See all reviews by this customer
)
The Cards looked exactly like the preview showed. I brought them for my Mother In Law with a picture of her grandson on them and she screamed so loud and ran through the house showing everybody. She loved them thanks again for yet another successful & Unique gift!!!!

Love them
By
Shopper

(Alpharetta, GA) - April 20, 2013
I bought 2 decks as a gift for my grandmother's 85th birthday, using 2 pictures of the family from the 50s/60s. She loves to play Canasta, so this was just perfect. I am tickled with this, and cannot WAIT til her birthday party to give them to her! They shipped/arrived to me quickly, and they look great.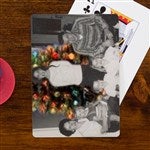 PERFECT GIFT
By
Mary S.

(MURPHY, NC) - March 23, 2013 (
See all reviews by this customer
)
These came out better than expected....I will get more for friends.

Excellent Product
By
Mary S.

(MURPHY, NC) - March 10, 2013 (
See all reviews by this customer
)
Got these for my husband with the grandchildren's pictures on them. They were nice quality.

Totally Awesome
By
Kim W.

(Powell, TN) - March 8, 2013 (
See all reviews by this customer
)
The person I ordered these for was just totally amazed. He said I had really out done myself this time. Everyone at the party loved them and wanted to know where I had gotten them. The were just perfect. Excellent quality as well