Simply beautiful bud vase
By
Janice A.

(South Bend, IN) - May 15, 2014 (
See all reviews by this customer
)
I bought this bud vase as a gift for my sister and she loves it! She's so excited about her rose garden blooming this season so she can proudly display them in this vase. It's a perfect size for small floral arrangements. Love it!!!!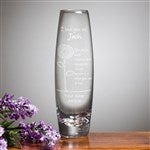 a great gift
By
Dalya B.

(Bethlehem, PA) - May 12, 2014 (
See all reviews by this customer
)
very nice!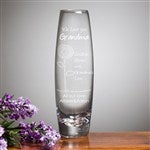 Made my mother cry!
By
Shopper

(Concord, NH) - November 29, 2013
This was a lovely gift that arrived in a timely manner and truly touched my mother. It's so difficult buying gifts for people who always ask you not spend spend money on him/her. This gift was perfect and I know will be treasured for years to come.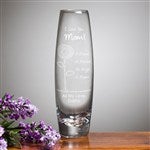 Birthday gift for a special friend
By
Karen B.

(Cayucos, CA) - November 19, 2013 (
See all reviews by this customer
)
My friend was very happy to receive this beautiful vase.
So nice to express your own sentiment. I will definetly use this company in the future.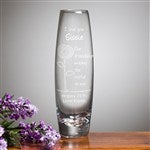 She was so touched
By
Penny B.

(Stanton, CA) - August 20, 2013 (
See all reviews by this customer
)
I gave my best friend this bud vase for her B-Day & she was so touched.
It's so dainty & the etching was perfect! I couldn't believe how many words were able to fit because, I had a lot to say.
I was proud to give her something so special & personal. She kept looking at it over & over. It made me giddy to see her so happy.
Personalization Mall is my way to shop.
And with gas prices these days...you can't beat it!!!

Beautiful !!
By
Shopper

(Orlando , FL) - July 31, 2013
The vase was exactly the way was showing in the website.
I bought this as a gift for my mom for her birthday and she loved it.
I can't stop buying from this website because of the quality of the products.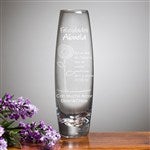 really lovely vase
By
Teri C.

(West Hemspstead, NY) - June 16, 2013 (
See all reviews by this customer
)
I was really impressed by the elegance of the vase. It will make a great gift for my son's teacher.

Love This!
By
Christopher V.

(New York, NY) - May 17, 2013 (
See all reviews by this customer
)
My mother isn't that big on Flowers but she is beginning a new job on Monday and is excited that I bought her this vase...I'll probably be sending her flowers once a month now and she loves it.

great gifts
By
Shopper

(San Pedro, CA) - May 15, 2013
Small, but cute!

A truly special gift!
By
Karen P.

(Chalfont, PA) - May 15, 2013 (
See all reviews by this customer
)
The bud was was just perfect! It was just right for a Mother's Day keepsake gift. It arrived quickly and was of excellent quality. My grandson gave it to his Mother and he was quite proud to give her such a special personalized gift. We filled it with colorful flowers and it was wonderful for him to have such a beautiful present for his Mom

Beautiful
By
Shopper

(West Bridgewater, MA) - May 14, 2013
I ordered 3 different version of these vases. They are gorgeous and everyone loved them on Mother's Day. Great find, great quality!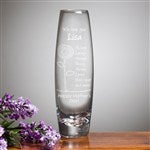 Memorial Vases
By
Shopper

(Fort Kent, ME) - May 3, 2013
AWESOME! I love the flower that is printed on it- perfect space for the name and date of a life loved and lost.

Very lovely, nice job on personaliztion
By
Shopper

(Pittsburg, CA) - May 1, 2013
We could not have wished for a more lovely gift for our adult daughers as they raise their young children, thank you for a beautiful, quality gift.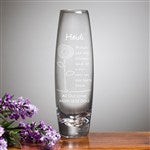 Loved it!!! Great gift !!
By
Tanya C.

(irvington, NJ) - April 30, 2013 (
See all reviews by this customer
)
The timing of delivery was great and the presentation was Awesome -- thank you..I love this gift and so did my mother!!


Beutiful
By
Shopper

(Land O' Lakes, FL) - April 27, 2013
Oh! I LOVE IT! The delicate and elegant glass is amazing!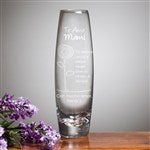 Beautiful vase
By
Shopper

(Tacoma, WA) - April 5, 2013
Great quality. Can't wait to gift it

Beautiful!
By
Shopper

(Centennial, CO) - March 18, 2013
Perfect! A beautiful bud vase and the inscription is so pretty! Love it!