I will buy this again!
By
Robin B.

(Ormond Beach, FL) - July 14, 2014 (
See all reviews by this customer
)
The water bottle itself is great quality. I struggled a little with the photo resolution issue but I must say PM is very forgiving. You don't have to get it perfect and it comes out stunning! I have created over 20 products with photos and love them all!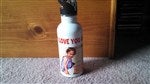 Exactly Right
By
Kathy B.

(The Woodlands, TX) - May 7, 2014 (
See all reviews by this customer
)
It was easy to import my design and make changes after. The bottle is just what I thought it would be. It is a gift that I haven't given yet. I can't speak to how well the design will hold up under washing and use. But it's a perfectly acceptable gift.

water bottle
By
Cindi K.

(Dexter, MI) - March 25, 2014 (
See all reviews by this customer
)
I ordered this water bottle for my daughter who is always refilling water bottles for school. She loves it. The personalization is really nice so that no one mistakes her water bottle for theirs. I love the fact that it is BPA free too. I would highly recommend this product.

LOVE IT!
By
Linda L.

(Belvidere, NJ) - February 17, 2014 (
See all reviews by this customer
)
Very, very pleased with this! Not only was my order fulfilled QUICKLY, but the graphics are beautiful and the bottle itself is very nice. It's PERFECT. I highly recommend this!

Great Deal!
By
Brittany D.

(East Petersburg , PA) - December 22, 2013 (
See all reviews by this customer
)
I love this water bottle! It was fairly priced and the shipping was 2 days faster than I was told! I thought that it would be cheaply made, but it seems to be holding up with no scratches. Highly recommend this item or others.

Perfect!
By
Shopper

(Woodburn, OR) - December 18, 2013
The personalized water bottle turned out exactly as the screen showed, if not even better! Love it!

water bottle looks great
By
Shopper

(North Fort Myers, FL) - December 15, 2013
the picture on the water bottle looks great. very clear and good color.

perfect gift
By
Shopper

(milton, FL) - December 8, 2013
The picture quality on the bottle was perfect. Was able to get a bigger picture that wrapped around the bottle rather than just a portrait view. The bottle was heavy enough not to fall over but lightweight enough to carry comfortably. Perfect gift for my son-in-law to carry on his motorcycle trips. Thanks for a quality product. I was very pleased.

Perfect Gift
By
MelissaTye W.

(Amarillo, TX) - November 26, 2013 (
See all reviews by this customer
)
It came out looking great and the birthday gilr loved it! So easy to make and just what we needed thank you!

Made on six year old very happy!
By
Kathleen C.

(Little Silver, NJ) - August 20, 2013 (
See all reviews by this customer
)
I had this personalized Wolverine water bottle sent to my grandson so I did not see it, except in the large number of photos that he insisted his mother send to me! He was just thrilled with the look and personalization and my daughter was thrilled with the quality. Everyone is happy!

Back To School Water Bottle
By
KIM C.

(RED OAK, TX) - August 16, 2013 (
See all reviews by this customer
)
My daughter was so surprised and so excited when she saw her personalized water bottle for school. A collage of her best photos made it very special to her.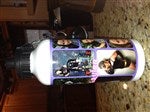 Great Gift
By
Shopper

(La Jolla, CA) - August 2, 2013
I purchased this item for my brother-in-law for his first Father's Day with pictures of him and my nephew on it. I loved it and so does he! I wish I had thought of this for my sister for Mother's Day, maybe next year.

Good Product, Exceptional Customer Service
By
Kathy N.

(Long Beach, CA) - July 8, 2013 (
See all reviews by this customer
)
I ordered 12 of these bottles, each one unique (not 12 of the same thing), about midnight on a Sunday night. By mid-morning Monday, I had received word that they already had shipped! Then I had a question about rewards points, and customer service immediately granted my request. I have never had better customer service from any company, anywhere, in person or online.

The bottle itself is as depicted, and my artwork (color line art, not photo) was beautifully reproduced. The two different lids are a bonus I didn't find from any other provider.

I will definitely order from Personalization Mall again. My experience couldn't have been better.

Personalized water bottles
By
Shopper

(Conroe, TX) - June 24, 2013
I had difficulty figuring out how to personalize - this being my first order. Once I set it up, the personalization was off kilter. However, the product arrived with lettering perfectly centered and aligned.

Well done!
By
Rhonda B.

(Wake Forest, NC) - June 1, 2013 (
See all reviews by this customer
)
I ordered a water bottle with my company logo and name on it! It was very well done. I would recommend this product highly!!

Great Gift!
By
Joanna D.

(Canada) - April 28, 2013 (
See all reviews by this customer
)
I bought this as a gift for a friend of mine. She has 2 daughters with CF & I personalized it with their pictures & fight for a cure. Great gift & a great way for others to see the cause we're all fighting for!