Robe Purchase
By
Shopper

(Red Boiling Springs , TN) - September 6, 2014
Very pleased with the personalized robes we purchased; good quality and delivered very quickly. Everything we expected.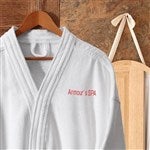 4th time
By
Shopper

(Katy, TX) - August 24, 2014
This is the 4th time I buy this product, first for my husband, then for me, them my father and now my sister and my mom, at this rate everyone in my family is going to end up with one. Obviously the reason is that I love them, the quality is excellent, they are very comfy and the embroiled name is that special something that makes them unique, is a great product.

Great Quality Robe!
By
Shopper

(Chicago, IL) - January 29, 2014
I purchased this as a gift for my mom, she loved it! The quality is great and so comfortable. The embroidery was perfect. I would definitely recommend this product. Well worth it!

love it!
By
Shopper

(Roxbury Crossing, MA) - March 19, 2013
I love it!! It looks real nice...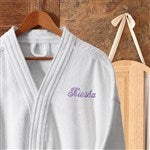 Valentine's Day Gift
By
Shopper

(bronx, NY) - March 5, 2013
I purchased this robe for my husband as a Valentine's Day gift. He LOVES it! It's soft, plush, comfortable and the stitching is superb! I am thinking of getting my own matching robe. If you're looking for a robe, I recommend this one. You will not regret it.

He loves it.
By
Shopper

(North Miami, FL) - February 23, 2013
He loves it.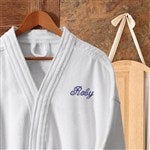 Beyond my expectations
By
Shopper

(Naples, FL) - February 19, 2013
I purchased this robe for my husband as a gift for our 2nd wedding anniversary since the traditional gift is cotton. He had been saying he wanted a robe for a while now so I jumped on the opportunity to get this for him & took advantage of the embroidery! When I got it in the mail I was so pleased with the quality it surpassed my expectations for sure! I gave it to my husband and the look on his face was priceless. He absolutely loved the robe & thought his name on it was a great bonus!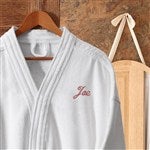 Wonderful, comfortable, elegant
By
Shopper

(PORTSMOUTH, VA) - February 14, 2013
My boyfriend loved his robe. He wears it everyday, after a shower as he gets ready in the mornings.

Loved it!!
By
Linda V.

(Tustin, CA) - January 19, 2013 (
See all reviews by this customer
)
My husband loved his robe so soft and warm. I think im buying one for myself.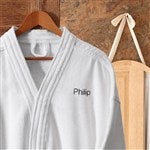 Velour Spa Robes
By
Shopper

(Paterson, NJ) - January 2, 2013
I purchased 2 of these robes for my parents as a Christmas gift. They absolutley love them! They love the great quality and the personalization with their names. I would 100% recommend these spa robes.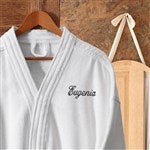 LUXURIOUS ROBE!
By
KAREN S.

(Egg Harbor Township, NJ) - December 25, 2012 (
See all reviews by this customer
)
I have purchased at least 10 of these robes over the past few years and I personally own and use mine everyday. They make beautiful gifts and they are super absorbent. All of the people I have given them to have also raved about them. I purchased this one for a close friend who is now purchasing one for her hubby. If you are looking for a great gift, you can not go wrong with this robe!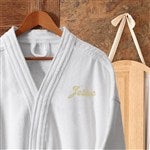 best spa robe
By
Lana P.

(Vacaville, CA) - December 20, 2012 (
See all reviews by this customer
)
got one for my husband he loves this velour spa robe, best quality product. Will order one for myself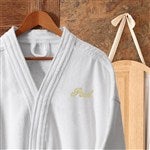 awesome value
By
Sandra L.

(Gasport, NY) - December 7, 2012 (
See all reviews by this customer
)
Got 3 robes as gifts. 2 of them went to a bride & groom and they loved them! 1 robe I have yet to give for Christmas. I was a little worried at first about the quality, but was very happy once they arrived. So happy I found site!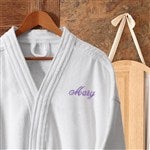 Perfect Guest Robes
By
Jean D.

(Las Vegas, NV) - November 24, 2012 (
See all reviews by this customer
)
This is my third time purchasing these bathrobes. The first orders were for gifts, but this time I bought them for our guest room. Company won't have to pack a bathrobe when they come to visit, and to have them feel special, the robes are embroidered with "Our Guest" in gold. LOVE THEM....again!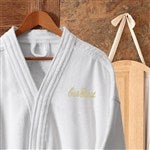 Excellent Gift Idea!!
By
Shopper

(Houston, TX) - October 8, 2012
I got three of these robes. One for my husband, and one for each of my two adult sons.
They all are a bit on the persnickety side...but they absolutely LOVE them.
Excellent Gift Idea!!

The quintessential perfect gift for anyone
By
Shopper

(Canada) - August 12, 2012
The quality of the bath robe is really nice, they are very soft and well made. I have purchased them on more than one occasion, for a bride and groom, husband, you really can't go wrong. The personalized monogram really sets them off nicely. I would highly recommend these robes as a gift for anyone.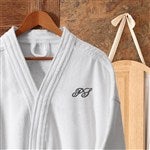 Great wedding gift
By
F Parker K.

(Canada) - August 1, 2012 (
See all reviews by this customer
)
Ordered these as a wedding gift for friends and was totally impressed with the quality of the robes and the stitching, definitely would recommend this item, and it's nice to personalize a wedding gift and make it so special.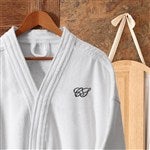 A great robe
By
Shopper

(Phoenix, AZ) - May 19, 2012
Got this for my Mom on Mothers Day because I bought one for my husband for his birthday and he loved it.
A Great quality robe!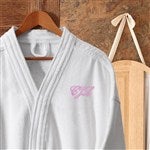 Mother's Day gift
By
Shopper

(Ft. Wayne, IN) - April 30, 2012
This was the perfect gift for Mother's Day! It looks beautiful! Looks very expensive and the robe/slippers combination gift would be a great idea!

Spa Robe
By
Donna M.

(South Dennis, MA) - April 23, 2012 (
See all reviews by this customer
)
Excellent quality. Bought two and had each embroidered with their first names as a wedding shower gift for my daughter. I bought the matching slippers too and had them initialed.

Spa Worthy!
By
Shopper

(Whittier, CA) - April 14, 2012
Ordered this robe as a gift for my husband and he loved it! He travels a lot for work and after staying in 5 star hotels he became a robe snob, so when this robe past the test I knew I had to come on and share and order myself one! Thinking I might order these next Christmas as gifts for my family :-)

Great Gift
By
Norma B.

(Canada) - April 11, 2012 (
See all reviews by this customer
)
I have so far given 3 sets of these for wedding gifts. All 3 couples had been living together and had almost everything they "needed" already, so this was very different and well received by all. They have all told me they took them on their honeymoons with them. I have just been invited to another 2 weddings, so guess what they are all getting?? They are very luxurious for the price too!

Best gift ever!
By
Harriet A.

(Cary, NC) - March 6, 2012 (
See all reviews by this customer
)
I ordered this robe for my 82-year old mother. All five of her grandkids call her "Mam-mam" so that's what I had engraved on the robe...and in the color representing her green Irish heritage too! I couldn't be happier with the robe or with the service. It was so fast and so easy to track.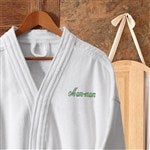 Amazing
By
Shopper

(Gibsonton, FL) - February 21, 2012
We recieved the robe right on Valentines day. I was really excited to see my husbands reaction to something he has been wanting for a long time. When we both opened the package, it was perfect. It fit him perfectly, only one problem, HE DOESNT TAKE IT OFF...He thinks he can just wear it all day.. LOL.. I will definetly buy again from this site. I LOVE IT.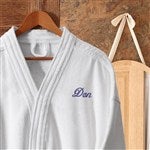 Perfect Christmas gift
By
Valerie G.

(Riverside, CA) - December 26, 2011 (
See all reviews by this customer
)
ordered this for my daughter for a Christmas gift. Beautiful robe, it would easily go fo over $100 dollars. Thick and plush, the lettering was big and beautiful. A bargain if you ask me, everyone was asking me where it came from. The shipping was also very fast.

Excellent quality and service
By
Shopper

(south jordan , UT) - December 10, 2011
Beautiful, excellent quality, speedy service and very affordable.
This was purchased as a gift. The quality is perfect. They are beautiful. The cost was minimual compared to other sites I checked. It took a third the time to recieve this purchase from personalization mall compared to another site I was doing business with. I was kept informed the entire way by email. You cannot go wrong with this company or this purchase.

Love it
By
Julie M.

(Lakeville, MN) - October 31, 2011 (
See all reviews by this customer
)
The robe was a little bigger than I expected, but it had the right sleeve length and kimono style. It's fun to have my name on it. All in all I thought it was a good value.

Affordable Luxury
By
Denise G.

(Lewisburg, WV) - October 25, 2011 (
See all reviews by this customer
)
Purchased these for my daughter (and soon-to-be-husband) with their names monogrammed for her bridal shower gift. The material is soft & not too light, not too thick, just right. Our five-star hotel here in town uses similar robes in their spa! Very pleased with the embroidery too, the thread color is a brilliant hue. Definitely recommend these for someone special on your gift-giving list!

Velour Spa Robe
By
Shopper

(San Jose, CA) - October 10, 2011
I purchased two for an anniversary gift. The recipients said that the quality was excellent.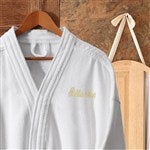 Velour Spa Robe
By
Charlotte T.

(Alpine, TX) - September 25, 2011 (
See all reviews by this customer
)
The robe is beautiful. Not too lightweight or too heavy - just right. The robe is well made and the monogram is well done. My husband is very happy with it.

Always a Great Gift!
By
Jean D.

(Kennewick , WA) - September 19, 2011 (
See all reviews by this customer
)
Once again, I am so pleased with my purchase. I know our son and his girlfriend will love their personalized bathrobes when we visit them next month. Whenever I am looking for "something special" I go to Personalization Mall.com. Thank you for great products, excellent service and consistent quality!

Comfortable, soft, excellent quality, wish they had smaller sizes
By
Shopper

(Hillsboro, OR) - September 17, 2011
The robe is beautiful, soft, and excellent quality. The embroidering is perfect. I wish they had a smaller size for petite individuals, we are looking into alterations.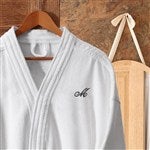 Just as advertised
By
Shopper

(Kemp, TX) - August 30, 2011
I bought these for 50th wedding anniversary gifts, I am sure they will love them! I want one now!

Velour Spa Robe
By
Shopper

(CHARLOTTE, NC) - August 1, 2011
I ordered 2 robes as bridesmaid gifts. Very nice item! The robe is plush without being too voluminous. The stitching is a nice size and easy to read the name. I am very happy with these items!

Fantastic!
By
Shopper

(Dunwoody, GA) - August 1, 2011
Great job with embroidery and quality of product.

LOVE these robes!
By
Erin B.

(King George, VA) - July 6, 2011 (
See all reviews by this customer
)
Ordered 2 of these robes for me and my husband for our anniversary - had them delivered to the spa where we were staying. They wanted 250.00 for 2 robes. I'm SO glad I got them from personalizationmall.com!! They are soft, fit great, and the embroidery looks fabulous. I've washed and dried them and they held up GREAT! Can't wait to take them on our next spa vacation!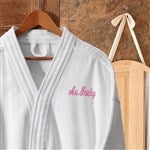 Super Cozy
By
Shopper

(Germantown, WI) - June 13, 2011
This robe is super soft and cozy. It is just what I was looking for and I was amazed at how quickly I received it.

The perfect "spa" robe
By
Joseph Angelo D.

(Amsterdam , NY) - March 14, 2011 (
See all reviews by this customer
)
I was recently in a car accident and ended up with a fractured tailbone and damage to my discs in my neck.

My sister suggested I use her outdoor hot tub for some relief. Living in New York state the temperatures are still rather cold and wanted a robe to put on when I get out of the spa that would keep me warm and dry.

I could not find a robe of this kind anywhere's at the stores in the shopping malls. I went online and found this one. I am very pleased with it and love the idea that it was designed for using for the spa, and is not a regular indoor robe.

I would definitely recommend this robe.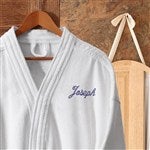 Great Robe
By
Susan K.

(Dubuque, IA) - January 3, 2011 (
See all reviews by this customer
)
Great Robe! Lush, great personalized touch. I was concerned about the "one size fits all" since I'm 5'3 and 120lbs. The robe is big on me, but as a "spa" type robe it's fine. It actually allows for more of a "cuddle" feel since it's so big. My husband and I both love ours, I'm so glad I thought of it!

A fantastic surprise
By
Hannah A.

(Dublin, OH) - December 21, 2010 (
See all reviews by this customer
)
I bought two of these to see if they were of high enough quality to give as presents to my bridesmaids. After receiving the product, I immediately went back to get the other three. I was very surprised to see that material is thick but not scratchy and it was a heavy enough weight to be of high quality. After I surprise my bridesmaids, this is going to become the go-to gift for my hard-to-buy-for friends.