EXCELLENT
By
Shopper

(Mansfield, GA) - November 20, 2013
I have ordered several things from you and never, ever been disappointed. I ordered this for my best friend of 42 years and she cried at her surprise party. I ordered one of these for my husband for our anniversary several years ago and I was pleased to see that the quality of the product was still excellent. The order was processed with no problem, quick delivery, and everything perfect. Thank you so much. She loved it and showed it to everyone at the party. Knowing it made her happy made this shopping experience even better. Thank you for helping me make her happy.

A Heart felt Gift.
To me it's a forever gift to someone that touches the heart.
In this way, I love to let a special person know how important they
are and the positive changes the have made in my life!

Perfect gift for remembrance
By
Eric M.

(Niagara Falls, NY) - October 14, 2013 (
See all reviews by this customer
)
A family dog passed away, and my wife had written down things that the dog had taught us. I put one of those "lessons" on this beautiful piece, and it is now a beautiful, touching remembrance of the puppy.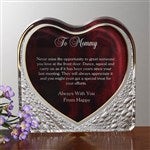 Letter to my Parents
By
Shopper

(Apple Valley, CA) - September 22, 2013
This is a beautiful, quality piece for any occasion. It is the perfect size for any decor and looks much more expensive than it is. I wrote a letter to my parents for the extraordinary milestone of their 70th anniversary. The letter came out exactly as I had written it and was easy to read. What a perfect gift for someone special in your life...to be able to compose your own letter and have it forever memorialized on this heart is unique and wonderful. They truly loved it as they read it through tears of joy. A special gift for a special occasion.

Personalized Glass Sculpture
By
Marie M.

(Corona, NY) - September 9, 2013 (
See all reviews by this customer
)
I am very pleased with the way the heart-shaped glass printed my poem! The writing is clear and the script font stands out well. This will make a memorable wedding gift that is truly unique.

Heart Felt
By
myra M.

(brooklyn, NY) - August 28, 2013 (
See all reviews by this customer
)
I purchase this plaque for my son that was going away to college. I decided to give it to him because he is a part of my whole heart. As much as he tried not to tear up because I gave it to him while we were going to his college. He was choke up as well as I was.
I order many things off of this website.

Elegant way to convey a message
By
Saty S.

(Bakersfield, CA) - August 15, 2013 (
See all reviews by this customer
)
I got my delivery on the day it was to be delivered and when I opened it up I was very pleased with the product. It is light weight but not too light that it feels cheap. The inscriptions were beautifully done. This is a way to send that little extra in a message; as opposed to just giving a card to that special someone or on a special day. I highly recommend it and I know for sure I will probably order it again for another special day/ special person.

Tears to her eyes
By
Josh D.

(Oconomowoc, WI) - August 13, 2013 (
See all reviews by this customer
)
This gift was perfect to give to my wife on our wedding day. It brought tears to her eyes as well as amazed her bridesmaids.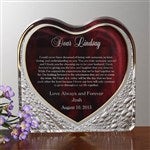 very nice!
By
Shopper

(Miami, FL) - April 10, 2013
fit all i wanted to, looked very nice, very well done. I do however wish it stood up on its own a bit better. will perhaps make a stand of some sort for it. good quality!

Great Gift For My Man
By
Shopper

(Medford, OR) - April 7, 2013
I had only been dating my boyfriend for a few weeks and made this for his Valentine's gift. It turned out perfect! He loves it and has it sitting out for all to see.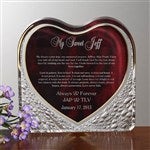 My review
By
Shopper

(Astoria, NY) - April 2, 2013
A very great item, and a perfect gift.

My boyfriend's birthday gift
By
Juanita B.

(Camden, NJ) - March 31, 2013 (
See all reviews by this customer
)
This gift was very personal and romantic... Its definately a keepsake that we can look back on as our relationship grows as the years go by. He was very pleased and the smile it put on his face let me know that I made the right choice... I would recommend this gift for any and all occassions

Great gift idea!
By
Shopper

(Elizabeth City , NC) - March 18, 2013
This was an awesome personalized romantic gift. It was so unique. The price was such a great value too.

Great gift
By
Shopper

(Willisburg, KY) - February 24, 2013
This was a great gift perfect. Would not change a thing. Great service.

Valentine's Day 2013
By
Shopper

(Ellenwood, GA) - February 23, 2013
My wife absolutely loved this item! It was the icing on the cake. I sent her flowers two days before Valentine's day and had more items waiting for her on Valentine's day morning. I had this item shipped to her Mother's house and when we arrived there it was waiting for her. When she opened the box and read the message she cried and hugged me for at least 15 minutes. She tells me everyday how much she loves it.

great
By
Shopper

(Kennedale, TX) - February 22, 2013
I ordered this for my husband for valentines day and it arrived right in time and the quality was great. He absolutely loved it.

Very pretty
By
Shopper

(Clyde, NC) - February 20, 2013
I was very pleased with this. Prettier than the picture shows.

She Loved it!
By
Shopper

(Orland Park, IL) - February 18, 2013
This made for a perfect Valentine's gift. I did this instead of a card, because cards so often just get tossed aside and I wanted our first Valentine's day to be special and to be remembered. She absolutely loved this :-)

The Fonts are great, nice and easy to read. It looks very nice set on a desk or table.

Simply Beautiful
By
Shopper

(Mililani, HI) - February 17, 2013
My wife really loved it, elegant yet simple...this is not my first purchase here and I will continue to shop and let people know of the guality products sold here.

Great gift!
By
Shopper

(Newport News, VA) - February 16, 2013
I ordered this for my boyfriend for his Valentine's Day gift and it looked exactly as it did on the website! It was well packaged to avoid any type of possible damages. Great gift that will last a lifetime!

Once Again I am amazed !!!
By
Wendy G.

(Portage, WI) - February 13, 2013 (
See all reviews by this customer
)
Just received my order Monday night and it is beautiful as usual, this is my second order I have place from you and I am very impressed.

She loved it
By
Shopper

(Charlotte, NC) - February 12, 2013
I was skeptical at first because my girlfriend is not a very emotional person, except when it comes to me. Also, I read a few 1 star reviews and began to panic at the last minute. To my great pleasure and surprise, my girl loved it, and thank me over and over for her long distance gift!

Amazing
By
Aya I.

(Sweden) - February 12, 2013 (
See all reviews by this customer
)
Im really happy about my order thanke you very much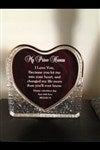 Great Personalization
By
William C.

(Lansing, IL) - February 9, 2013 (
See all reviews by this customer
)
Item was shipped very quickly and arrived in excellent shape.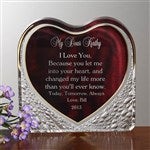 Wonderful!!
By
Shopper

(Covington, LA) - February 4, 2013
The Item was wonderful!! More than expected!! FAST shipping as well!!

Adorable!
By
Shopper

(Secaucus, NJ) - February 3, 2013
It was the perfect gift I could imagine and give my husband on our second anniversary.I used verses of my own and the finish was just adorable. I loved everything from the glass to finish to the verse style. Perfect for the perfect one I love:):):)

Dear Dad Poem
By
Marjorie G.

(Downs, IL) - January 20, 2013 (
See all reviews by this customer
)
I ordered two of these for my boys who lost their Dad. It was a poem my oldest son read at his funeral. It was easy to insert the poem into the space provided on their website and upon receiving it, it arrived scratched. They replaced it free of charge. It was beautifully done and a vivid reminder of this tremendous loss and a keepsake of what he meant to us! I would order from them again and recommend them to my friends and family.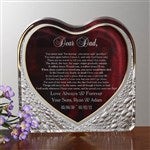 amazing gift
By
mason R.

(cedar rapids, IA) - December 18, 2012 (
See all reviews by this customer
)
an amazing gift, was completely satisfied with it, very romantic

Great
By
Shopper

(Weatherford, TX) - October 30, 2012
Exactly as described. Many options, quick service. Order processes and shipped very quick. Thank you

Personalized Bridal Shower Gift
By
Ashley M.

(Springfield, IL) - October 12, 2012 (
See all reviews by this customer
)
I love you guys! I get a lot of presents for people off here and people are always wondering where did you get that? Thats amazing! I spread the word on this wedsite and that I always get good prices on items. Sometimes I want to keep it to myself so everyone will talk about the awesome gift I got them.
Thanks for everything!
Oh and your shipping is super fast...always get it a head of schedule! Thank you for that!
You guys must have an awesome team!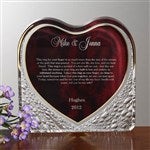 Ideal Gift item
By
Michael T.

(Tallahassee, FL) - September 1, 2012 (
See all reviews by this customer
)
This is a tremendous gift item!!! A real life saver!! If there's something special you wanna say, say it with this!!! (guys, you'll never have to try & impress her again..lol)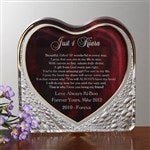 sjstafford, tx
By
Sherrie J.

(Stafford, TX) - August 26, 2012 (
See all reviews by this customer
)
Purchased for my precious grandniece. Exceeded my expectations. Just the right size for this sculpture.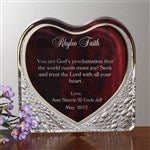 Top Notch product and service
By
Jim B.

(Blaine, MN) - August 22, 2012 (
See all reviews by this customer
)
My wife received this today. It was amazing and had the impact I was hoping for. Thank you for meeting and exceeding my expectations in this process. It was easy to pick and customize this item. You have a fantastic website.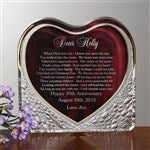 AWESOME
By
KERRYANN L.

(NEWPORT NEWS, VA) - August 10, 2012 (
See all reviews by this customer
)
The product is great, and it's worth the price. I will most definitely recommend this site to my friends!

nice quality
By
tony B.

(chicago, IL) - May 15, 2012 (
See all reviews by this customer
)
I bought this for my daughter's 30th birthday /1st mother's day....she loved it! Also it came in 3 days.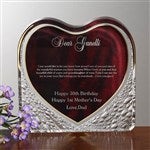 Great Christmas Gift!!
By
Alicia K.

(Columbia, SC) - May 7, 2012 (
See all reviews by this customer
)
I ordered this to give to my boyfriend as one of his Christmas gifts and he loved it!!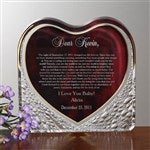 Beautiful product
By
Shopper

(Burlington, IA) - April 30, 2012
The item was beautiful, and arrived quicker than I had anticipated. I have been happy each time that I have ordered from the Personalzation mall.

my queen kee
By
TERRILL R.

(MILWAUKEE, WI) - April 18, 2012 (
See all reviews by this customer
)
thank you for a nice mother's day gift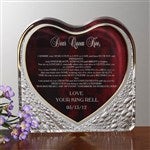 Whats not to like!
By
Tacy A.

(Lake Wales, FL) - April 15, 2012 (
See all reviews by this customer
)
This heart was much prettier in person!!!! It is a beautiful peice to give someone very special to you!!!!

Just great!
By
Leonor A.

(Miami, FL) - April 4, 2012 (
See all reviews by this customer
)
I got this for my parents on their silver anniversary back in 2009. My parents loooooooved it! Would highly recommend it! Came out great, shipping was fast as well. Was my first order with personalization mall and since then it's my #1 personalized gift go to. Thanks!!