Very satisfied
By
Ryan R.

(Charleston, SC) - September 13, 2014 (
See all reviews by this customer
)
Great quality and it is like I expected. Shipped quick and a great value. Thanks!

Beautiful
By
Shopper

(Anderson, IN) - August 29, 2014
As always I ordered and received exactly what I wanted. I ordered 2 canvas pictures from my wedding and they came exactly as how I wanted. I couldn't be happier!

Very Pleased!
By
Lecye D.

(Oklahoma City, OK) - August 25, 2014 (
See all reviews by this customer
)
This was the 3rd time that I have ordered a canvas print from Personalization Mall. Every time I have been tickled pink with the result. Thanks!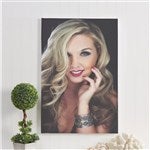 I Love it!!
By
Raymond B.

(Holiday, FL) - August 11, 2014 (
See all reviews by this customer
)
I received our canvas print and it was beyond mt expectations!! The colors are great and the quality is excellent! I couldn't be happier with our purchase.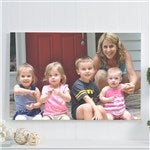 Significant Birthday Gift
By
Shopper

(Sarasota, FL) - August 5, 2014
I purchased this as a gift for a 30th birthday, and I have purchased several canvas prints from PM with excellent success. The challenge was using a newspaper photo. Though the photo was old, it came out very well. PM is my go-to place for quality gifts with a personal touch!

Amazing Photo!!!
By
Shopper

(Roseland, NJ) - August 1, 2014
I was so pleased to show my husband the beautiful canvas photo of our newborn baby girl. It was so nicely done. We are so happy. Thank you

Very Nice Canvas
By
Shopper

(Omaha, NE) - July 22, 2014
Considering the picture I had was not the best, this canvas picture came out very nice. It was not quite as thick, and maybe not as heavy duty, as canvas portraits I have purchased from a different site but still very nice. The price was very fair and delivery was quick, which earns it 5 stars.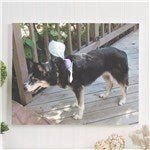 WONDERFUL!
By
Hannah A.

(White House , TN) - July 12, 2014 (
See all reviews by this customer
)
I bought two canvas' and they both turned out absolutely amazing! I can't wait till they go on sale again, because I have two more I need to purchase as gifts!

Perfection at it's finest
By
Shopper

(Clermont, FL) - July 11, 2014
Ordered canvas for my husbands birthday of our 3 daughters, taken with my iPhone = perfection!! The site is by far the #1 best ever for personal touches! Worth ever penny!! :)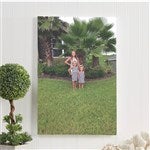 Photo Canvas Awesomeness
By
Jessie J.

(San Antonio, TX) - June 24, 2014 (
See all reviews by this customer
)
This product was delightful. The website made it very easy to upload, crop and change the colors of the picture, and allowed me to view it before it was created. The canvas was the second I've bought, and I will purchase more since they make such great pieces of art. The shipping was promised before Father's Day, and it arrived 3 days in advance.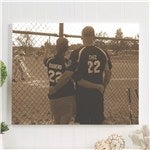 Perfect Size
By
Shopper

(Carrollton, TX) - June 17, 2014
I ordered this canvas of a picture I took of the beach resort we were staying at. It was the ocean view from our hotel room. Palm trees, beach and water. Picture turned out great and the size was perfect. Good quality! My kids jack & jill bathroom is beach theme and that's where I put the canvas.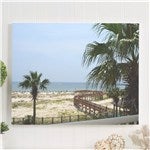 Great Product!
By
Cherilyn C.

(Cedar Grove, NJ) - June 17, 2014 (
See all reviews by this customer
)
Really great quality and price was better than anywhere else. Product came within a few days.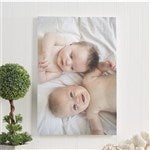 Photo Memories
By
Shopper

(Manalapan, NJ) - June 3, 2014
I ordered a 16x24 black & white family photo for my mom. It came out perfect & my mom absolutely loves it!

Amazing Gift
By
Laura R.

(Glenville, WV) - April 22, 2014 (
See all reviews by this customer
)
Highly recommend!! This was a gift for new parents of two foster children. I wondered how well a 4x6 picture would upload into a 16x24 canvas. No quality lost at all. Everyone loved it... Big Hit!!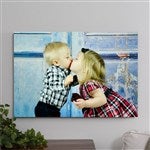 Mother's Day GIft
By
Carol B.

(Hopewell Junction, NY) - April 7, 2014 (
See all reviews by this customer
)
I was very pleased with the Canvas Print that Personalization mall did for me from a picture take with my i-phone. It's exactly what I was looking for as a Mother's day gift. Thank you so much

Exceptional
By
Diane W.

(Arlington, VA) - April 5, 2014 (
See all reviews by this customer
)
Photo canvas was exactly like the preview. Product is perfect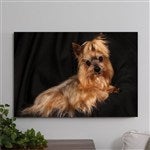 QUICK & EASY
By
RANDY M.

(GREENWOOD, IN) - April 4, 2014 (
See all reviews by this customer
)
Downloaded a 20 megapexil image in for printing a 24 x 36 Canvas photo. Service was quick and easy and the results were great, too.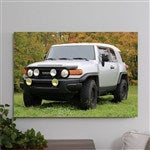 loving moments
By
Laurel L.

(Maple Valley, WA) - March 22, 2014 (
See all reviews by this customer
)
The item came out much better then I could ever dream,and in a timely manner,thanks.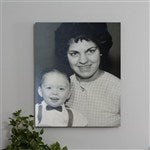 Excellent work
By
Shopper

(colorado springs, CO) - March 11, 2014
I couldn't be happier with the quality of my photo canvas. I was concerned about the sharpness since I was ordering the 24 x 36 size, but it came out beautifully, and the color is great.

Gift for my sister
By
Shopper

(Plainview, MN) - February 20, 2014
I took a picture of my pregnant sister with her boyfriend and had it enlarged and then used this canvas choice. It turned out perfect. I'm going to do another one after their baby is born so they can hang them side by side. They loved the picture.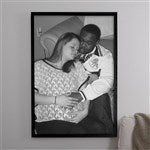 Extrememly Happy With This Item
By
Shopper

(Carrollton, TX) - January 31, 2014
The size was perfect, they even designed a picture on the back of the canvas where the teeth hanger goes so I didn't have to measure to find the middle! Super happy with this product. I HIGHLY recommend this canvas to anyone. We did a picture of each of our children, it was a close up of them and I stand in our hallway and look at the canvas pictures every time I walk by. Personalization Mall.com did an AMAZING job on this.

Loved it!!!
By
Misty W.

(Carencro, LA) - January 31, 2014 (
See all reviews by this customer
)
The canvas came out beautiful!! Loved it!!

Love it!
By
Shopper

(Storm Lake, IA) - January 24, 2014
Thus is the perfect sized canvas and even better deal when they have it 25-30% off!!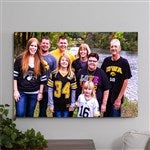 A breathtaking picture came to life.
By
Carol H.

(Hendersonvillle, TN) - January 19, 2014 (
See all reviews by this customer
)
My husband took a breathtaking picture of a morning sun dawning through winter tree branches on his little cell phone. For his Christmas present I had Personalization.com make it into a 2x3 canvas. It is amazing! They even captured the brilliant prisms. They worked with me on the pixels and getting it just right. I have used this company for several years on several other fine gifts and will continue to use them. I am always delighted at how quickly my order arrives.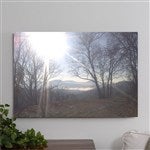 Great Experience and Product
By
Dawn R.

(Gering, NE) - January 10, 2014 (
See all reviews by this customer
)
I had ordered this item a couple of years ago and my sister was so impressed that she wanted one. I was sure that I would have to upload my picture but, Voila, it was still available for reorder! WOW! That in itself guarantees me as a return customer -- not to mention that the shipping was VERY fast and the product was perfect. My sister could not be more pleased nor could I as the benefactor of this wonderful personalized gift.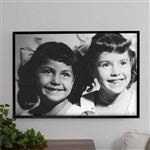 Great gift!
By
Kristen W.

(Ashdown, AR) - December 29, 2013 (
See all reviews by this customer
)
Was very pleased with the finish product and packaging. I got this for my mom for Christmas!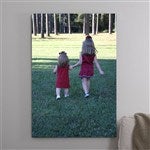 Family canvas photo
By
Shopper

(Janesville, WI) - December 28, 2013
LOVE how it turned out! I wasn't sure the quality of product but I was very pleased when it arrived! The picture is clear and not grainy and can't wait to hang the 2 pictures I got. Loved them so much I ordered another one! Loved the sale price I received before the holidays as well!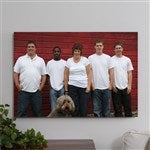 portrait canvas
By
Shopper

(tallula, IL) - December 26, 2013
I ordered abd received within a few days a beautiful memory for my family..

Canvas print
By
Shopper

(Cheyenne Wells, CO) - December 23, 2013
It came quick and was exactly as I ordered. Love it!

Tulsa
By
Shopper

(Tulsa, OK) - December 23, 2013
The item was perfect! Just what I expect from Personalizationmall.com! It arrived quickly and was packaged to arrive in one piece, which is more than I can say for some other items I have received (not from this site).

Beautiful
By
Carol S.

(Port Charlotte, FL) - December 21, 2013 (
See all reviews by this customer
)
Bought this for my boss for Christmas, and they loved it

Beyond Satisfied!!!!
By
Cindy W.

(Sheridan, IL) - December 17, 2013 (
See all reviews by this customer
)
I have ordered from Personalization Mall several times and have always been more than satisfied with my orders....however my last order was a canvas print for my son and it was a little dark. I was a little disappointed and felt that I had made a mistake in my picture selection. I chatted with a rep on line and she told me to take a pic and email it to her. Within 24 hours they emailed me and said that a new one was on its way @ n/c and I received it a couple of days later and it was PERFECT!!! Thank you Personalization Mall!!! YOU ROCK!

Excellent Quality
By
Shopper

(Oneida, NY) - December 14, 2013
I have purchased many canvases over the past year from several different companies. I am very impressed with the quality. I had two companies who did not pull the canvas tight enough - this company made them perfectly. I was pleased that they were done quickly and shipped quickly. I have returned and ordered more since this purchase and would recommend you all to my friends and family! Thank you.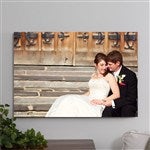 Wiola
By
Shopper

(Warren, NJ) - December 13, 2013
Perfect gift.....i love it!

Love love love
By
Bruce J.

(Salem, OR) - December 12, 2013 (
See all reviews by this customer
)
I love these canvas prints! I've ordered 3 over the last year and think they are one of the best values I have found. They are very nice, make AWESOME gifts, and make me look good as the gift giver. I'm about to order a few more. Thanks!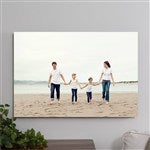 GREAT PRODUCT
By
Shopper

(KANSAS CITY, MO) - December 12, 2013
Wonderful quality, quick service. I have already ordered again!

Just a great item for a gift
By
Shopper

(THE COLONY, TX) - December 12, 2013
This item is a christmas gift for a family member and it looks just great, I opted for the light toned frame to give the canvas piece a nicer finish. i have had over a dozen canvas art pieces completed from the PM and they all come out very nice. Some have become keepsakes for the families that received them as the parents passed away shortly after receiving them. I shop the specials at the PM and this makes these purchases stay within my budget.

Alaska
By
Barbara N.

(Huntsville, AL) - December 10, 2013 (
See all reviews by this customer
)
I took pictures when I was in Alaska and really wanted to put some on canvas. I saw this offer and tried it out. My picture is beautiful it looks like you could step right into it. I will be returning and having more canvases done in the future.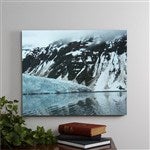 Beautiful
By
Shopper

(Dublin, CA) - November 30, 2013
I used a picture of my newborn baby on this canvas and it looks amazing.

Always fantastic quality
By
Gwynneth B.

(Castle Rock, CO) - November 26, 2013 (
See all reviews by this customer
)
I have ordered canvas' for my office in the past and this is the first time I have done something personal. The quality of the product is always wonderful and it is so easy to do. And I have always received the product very quickly!!