Elegant
By
Shopper

(Mahanoy City, PA) - September 19, 2014
Purchased this for my niece's 16th birthday. It is a very pretty, elegant gift. She loved it.

Amazingly perfect
By
Shopper

(Worth, IL) - September 5, 2014
I already bought two of these for my two best friends, and the shipping is fast, the quality is great and the name engraved makes it a bit more special!

friends forever
By Shopper (Henderson, NV) - September 1, 2014
Coleen Terri Tracy

Used for as a memorial case
By
Cynthia M.

(Orrville, OH) - August 4, 2014 (
See all reviews by this customer
)
I used this as a memorial case to store the bullet from my Dad's military funeral service and some coins he gave me years ago. I wanted something nice to store these items in so I had "Daddy" engraved on it and lined the bottom with blue felt. It looks very nice.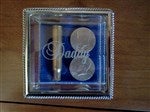 Great little treasure box!
By
Shopper

(Oldsmar, FL) - July 22, 2014
This is going to make a perfect wedding gift for a perfect wedding helper... She will love it! Thanks!!!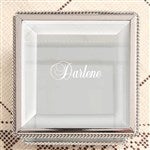 A Beautiful Gift
By
Shopper

(Morrisville, PA) - June 17, 2014
Purchased this beautiful little box as an eighth grade graduation gift for my niece. It was really nicely done and very pretty. My niece loved it! My niece loved seeing her name on top of the box. Well worth the price and fast shipping.

Love it!
By
Lizette S.

(Cape Coral , FL) - May 30, 2014 (
See all reviews by this customer
)
This jewelry box is beautiful! It is very elegant and well made! I loved it and so did my dear friend I gave it too. I love this site & your products. This is not my first time ordering here, and it won't be the last.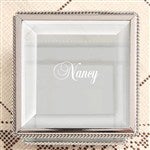 jewelry box
By
Shopper

(Weymouth, MA) - May 11, 2014
The box and personalization were just as displayed. My granddaughter will love it.

LOVE IT
By
ALMA B.

(VANCOUVER, WA) - May 5, 2014 (
See all reviews by this customer
)
I purchased one for my mom and one for my boyfriends mom for Mothers Day and I have to admit they are beautiful. My mom is here visiting from Mexico and I know she is traveling light and wanted something small enough for her to be able to take with her. I know they will both love these.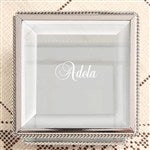 For My Sister's 80th Birthday
By
Shopper

(Kingwood, TX) - April 13, 2014
This was purchased as a gift for my sister's 80th birthday. I plan to put a strand of pink pearls in it for her. The party will not be until July, 2014, but I was very pleased when I received the item, and I know she will adore it.

Beautiful Reflections Personalized Jewelry Box
By
Elizabeth D.

(Henderson, NV) - April 8, 2014 (
See all reviews by this customer
)
Shipping was quick and secure. This was a "Maid of Honor" gift and the recipient adored the gift. Thank you so much!!!

Birthday Gifts
By
Gloria C.

(San Jose, CA) - February 24, 2014 (
See all reviews by this customer
)
I have bought several of these over the years and everyone is always happy to receive them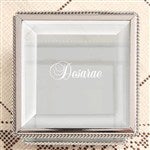 If you're buying this for your girlfriend, don't think, just do it!
By
Shopper

(Woodridge, IL) - February 18, 2014
I bought this based on the fact that it looked nice and the reviews on it were great. Needless to say, it was perfect. Not some cheap-o material. It is made out of nice solid glass, with solid hinges and just a beautiful box all together. My girlfriend loved it and it looks way more expensive than it was for $35 or whatever I paid. Great thing to get for a significant other.

Beautiful
By
Julie M.

(LaGrange Park, IL) - February 8, 2014 (
See all reviews by this customer
)
Gave to my grandaughter for her Sweet 16th Birthday...SHE LOVED IT is all can say...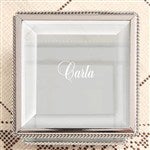 Lovely gift for young and old
By
Carol K.

(Overland, MO) - December 15, 2013 (
See all reviews by this customer
)
Great gift idea. You can easily find matching earrings through the clear glass. Beautiful engraving. Love to see final look prior to purchase. I purchased several. I chose to add full names. When I opened each to check for correctness, I was disappointed that the engraving appeared to be off center. Seems like the first letter of each name is centered (as if it were just an initial) and the rest of the name followed to the right. I thought it was just an optical illusion due to the scroll lines of the capital letter, but after measuring it is definitely off by about a 1/4 inch. All of the boxes are off and it appears fine in the image here.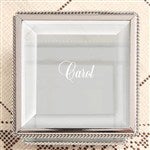 GREAT Girl Friend or Business Associate Present
By
Julien J.

(New Orleans, LA) - November 30, 2013 (
See all reviews by this customer
)
Do you need a present for someone who can literally buy anything they want? Choose this personalized glass jewelry box!! The recipient will think of you every time they open it. It is extremely well made and appears to be crystal. The glass is beveled and the name is incredibly well engraved. Your gift will be used and you will be appreciated for a LONG time.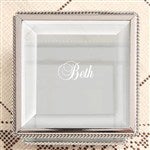 So Beautiful!!!
By
Susan G.

(Torrington, CT) - October 16, 2013 (
See all reviews by this customer
)
I bought this item for my nephew's daughter. Her name is spelled different, so it's very hard to find her name spelled correctly. Thanks to Personalization Mall, I have a wonderful gift to give to her. Thank you.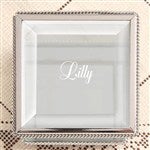 Personalized Jewelry Box
By
Shopper

(Rolling Meadows, IL) - June 30, 2013
I have ordered 7 of these precious jewelry boxes in the last couple years as gifts for family and friends. Each time I have been delighted at the quality of this item as well as the reaction of the person receiving it.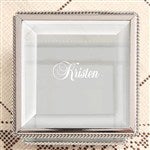 Very pretty box, great gift
By
Patti B.

(Felton, DE) - June 10, 2013 (
See all reviews by this customer
)
This box was a little smaller then I expected, but I really like the craftsmanship. It is a great graduation gift.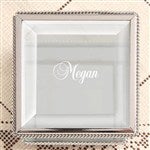 VERY NICE
By
Vanessa B.

(milwaukee, WI) - June 10, 2013 (
See all reviews by this customer
)
I brought this item for My Niece for graduration from 8 grade and she loved it very nice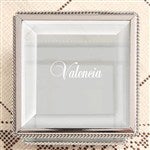 Love them!!
By
Shopper

(Holt, MI) - June 3, 2013
I ordered two of these & am in LOVE!!! Thank you! Not nearly as small as I thought, after reading other reviews. Perfect size & can't wait to give as gifts! Wouldn't be surprised if I order more.

Great gift!
By
Suzanne M.

(Kill Devil Hills , NC) - May 18, 2013 (
See all reviews by this customer
)
My step Mom loved this box.

Jewelry Box
By
Shopper

(Bridge City, LA) - May 8, 2013
I bought this for my Aunt who made 90. She opened it and started crying. She was so pleased to see her name on it. A wonderful gift when you don't know what to get an older relative.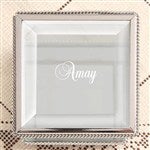 Small but lovely
By
Shopper

(Tamarac, FL) - May 8, 2013
Lovely jewelry box purchased to go with my new vanity tray. Very pretty and delicate. Personalization makes it even nicer.

Looks Very Elegant
By
Shopper

(Middle Village, NY) - May 7, 2013
Got this for a Special Friend for Mother's day.
Beautiful jewelry box with her name engraved. Nice weight too.
I'm sure she will love it and love me (which is of course why I got it for her)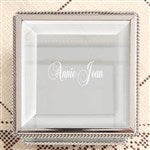 Beautiful Keepsake for a Beautiful Young Lady
By
Shopper

(Wharton, TX) - May 6, 2013
This lovely jewelry box is just the perfect gift for our granddaughter's graduation from high school! She'll be able to keep special things in it for many years to come.

Graduation gift
By
Angela H.

(Ozark, MO) - May 3, 2013 (
See all reviews by this customer
)
Very beautiful. I couldn't be more pleased.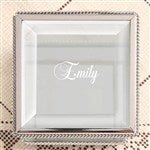 Gift
By
Alen P.

(Carrizo Springs, TX) - April 2, 2013 (
See all reviews by this customer
)
This is very well built

Extra special gift
By
Sandra A.

(Tucson, AZ) - February 13, 2013 (
See all reviews by this customer
)
A beautiful, timeless jewelry box that our daughter loved.She felt extra special because we had her nickname engraved on it. And we felt that our love and pride for her was expressed well through this heirloom quality gift.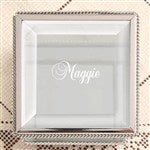 Tresure Box
By
Shopper

(Downing, WI) - December 11, 2012
Nice jewerly box for my 9 yr. old granddaughter. Children love to see their name on something. Turned out very nice.

Beautiful
By
Shopper

(Hamilton, IL) - December 1, 2012
Very nice, good quality. This is a beautiful item! Highly recommended.

Another Great Gift.
By
Shopper

(vass, NC) - October 27, 2012
This is really quite beautiful and the engraving is exquisite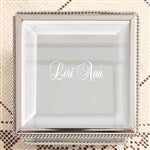 Just right for the young girls in my wedding
By
Jerrel M.

(Atlanta, GA) - October 25, 2012 (
See all reviews by this customer
)
I got this jewelry box for both of my nieces as thank you gifts for being in my wedding. One was a flower girl and the other was a junior bridesmaid. It's a perfect gift for a young girl under the age of 13. They both loved it, and so did their mothers, because it is a place they can keep their jewelry.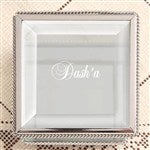 Well Pleased
By
Shopper

(Westbury, NY) - September 26, 2012
Items were purchased as a gift for 10 years of dedicated service. The recipients were very happy with their gift.

Personalized Jewelry Box
By
Shopper

(Hyde Park, NY) - September 25, 2012
This will be a Christmas gift for a teenager with an unusual spelling of her name. I just know she will love it! Quite the value for the price and any girl would adore this gift!

LOVELY
By
Shopper

(Columbia, SC) - September 8, 2012
MY DAUGHTER LOVED THIS BOX. THANK YOU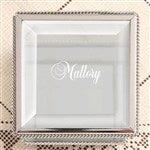 Wonderful to work with
By
Sharon R.

(Portland, OR) - August 1, 2012 (
See all reviews by this customer
)
They are a wonderful company to work with----they stand behind their product 100% and have wonderful products for all occasions to pick from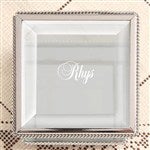 Love these Jewelry Boxes
By
Shopper

(Traverse City, MI) - August 1, 2012
well...I'm back again...bought 2 more jewelry boxes (that makes 7 in all). These r a great hit for graduation gifts for my nieces and close friends. They absolutely love them. I even bought one for my niece who doesn't graduate for 2 years....I was afraid they wouldn't be available then, and I know she will be looking for it!! (Hopefully I won't forget where I put it 2 years from now.. lol)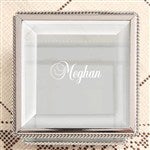 Dainty and beautiful
By
Kathee A.

(New Orleans, LA) - June 18, 2012 (
See all reviews by this customer
)
First I must say thank you because I needed this personalized gift for a Sweet Sixteen Party (and it was a big shabang!) and the diamond necklace that I had ordered from a jewelry store was out of stock so that intended gift was on backorder. I placed the order for the personalized box on a Tuesday night and received the package on a Thursday. Of course, I had to pay the huge shipping price but I was still sturprised to have the gift less than 48 hours later. The box is beautiful. Classy and rich looking. The bday girl is going to use the box for the diamond sweet sixteen dog tag necklace that just arrived a few days ago (a week after the event); but, she had the box for the night of the party and she thought it was gorgeous especially since the spelling of her name is very strange -- Abagayle. Thanks so much, your company rules!!!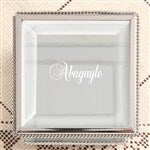 Beautiful box
By
Shopper

(River Ridge, LA) - May 26, 2012
I've ordered several Jewelry boxes and they all are exquisite!