Perfect Memorial Gift
By
Rosalie B.

(Columbus, OH) - March 11, 2013 (
See all reviews by this customer
)
My beautician's husband passed and I ordered this beautiful throw. I order many of them because of the
raving responses that I have received. My beautician posted a picture of the throw on her face book with it on the back of her green couch. Wow!! It looked so beautiful. She dearly loves it.


bought has a rememberance
By
Kristin G.

(Akron, OH) - February 9, 2013 (
See all reviews by this customer
)
I usually never like to chance ordering things on line, however I took the chance in ordering this throw as a gift for a very good friend of mine whos mother had just passed from cancer. When the package arrived I was very much pleased with the quality of the stitching and of the throw, it was quite beautiful. My friend loved it and will always cherish it. If I ever need anything else personalized I would definately come back to your company. In such a dark time in someone life you brighten it. Thank you so much for such a wonderful product.

Memorial gift
By
Shopper

(Richview, IL) - December 11, 2012
This item is just what I was looking for. A special friend's mother died and I wanted something special to give her as a memorial gift. We were both so pleased with the quality and design of the afghan. I would definitely recommend this to anyone wanting to give that "special gift".

MEMORIAL AFGHAN
By
TERESA P.

(Roanoke, VA) - December 9, 2012 (
See all reviews by this customer
)
My sister-in-law will enjoy this! This has been tough year of losses for for our family!! Beautiful, she will be able to cherish this for years.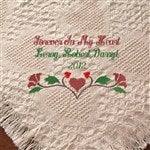 Forever In Heart Afghan
By
Shopper

(Roanoke, VA) - December 9, 2012
These afghans are beautiful! They make great gifts of comfort for those that have lost loved ones.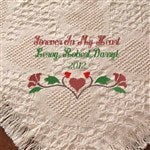 Classy and delicate
By
Susan B.

(New Port Richey, FL) - September 17, 2012 (
See all reviews by this customer
)
this item is perfect for a personalized gift, the gentleman we gave this to in honor of his wife's death eight years ago, was so visibly touched and a gift his grandchildren will injoy and remember his wife for years to come. It was lovely. Thank you so much, the box and tissue wrapping was a great plus.

Absolutely Beautiful!
By
Jean D.

(Grapevine, TX) - August 4, 2012 (
See all reviews by this customer
)
Wonderful gift and Family really loved it. High quality and will order again. Personalization Mall you have done a good thing again!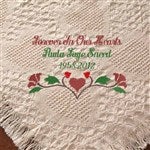 this afgan is absolutely beautiful
By
sandy K.

(trenton, OH) - August 13, 2011 (
See all reviews by this customer
)
the afgan is beautiful - only disappointment was not being able to print full name on it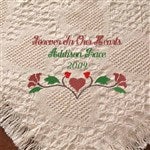 Very Thoughtful Gift
By
Lori G.

(Jonesborough, TN) - November 17, 2010 (
See all reviews by this customer
)
I have bought about 10 of these afghan's for my friends who have lossed a loved one. Every person has loved this gift and were very touched by the thoughtfullness. I cannot recommend this gift enough.

Forever in Our Hearts Personalized Afghan
By
Constance M.

(Canada) - September 22, 2010 (
See all reviews by this customer
)
An excellent choice! This sympathy gift was extremely well received and I'm sure will be treasured for years to come!


GREAT MEMORIAL GIFT!!!!
By
Phyllis C.

(Mount Washington, KY) - August 24, 2010 (
See all reviews by this customer
)
I have sent these as sympathy gifts to two different people. Both have really liked them!!!! Great way to memorialize a loved one!

Perfect sympathy gift for loved ones
By
Mary W.

(La Grange Park, IL) - June 21, 2010 (
See all reviews by this customer
)
I can not express enough how happy I was with my order for the personalized afgan. After searching countless websites for just the right memorial gift when my sister lost her son, I finally found something thoughtful and unique at Personalization Mall.com. I ordered it on a Saturday, it was shipped out on Monday and my sister received it on Thursday. That was amazing!! She loved it and assured me it was even more beautiful in person. I am thrilled and will be a future customer for sure!

Sincerely,
Mary W.

Personalized Afghan
By
Virgil B.

(Mesa, AZ) - April 6, 2010 (
See all reviews by this customer
)
We recently purchased a personalized afghan for our best friends in the loss of her mother. Our friend sent us an email picture of the afghan and it was absolutely just beautiful. She said it is so plush and full and everyone that sees it displayed on her sofa says it is just beautiful. What a great way to have a lasting memorial for a loved one. We'll be ordering again for a wedding gift.

I was excited to give this gift
By
KIMBERLY A.

(HANOVER, PA) - February 17, 2010 (
See all reviews by this customer
)
I gave this afghan as a memorial to a friend's mother. When it came in the mail I couldn't wait to give it to her. I was very pleased with the quality of the material and workmanship of the lettering.

Great Product
By
Betty Jane H.

(West Deptford, NJ) - October 19, 2009 (
See all reviews by this customer
)
I bought this for a friend who lost someone near and dear to her.

She loves it so much, she had always loved the one I had received from a co-worker when my son died three years ago.

Thanks for providing a beautiful lasting memory of our loved ones.

Comfort in a time of great loss.
By
Sheryl B.

(Erlanger, KY) - October 8, 2009 (
See all reviews by this customer
)
Since I sent the afghan as a sympathy gift I didn't see or feel the quality of the product personally. But, the recipients expressed great approval of the afghan in memory of the loss of their twins. I actually sent two of these, one to the Grandparents and one to the parents. Both, even though emotions were overwhelming due to the nature of the loss, expressed great gratitude for the remembrance gift. I had purchased both Afghans at the same time, but one was never received. Delivery records showed both were delivered, but the parents never got theirs. I immediately called Personalization and they, without question, sent another Personalized Afghan out without any additional charges. The missing afghan never has turned up. In a time of heartache, Personalization and their beautiful gift helped my family give a close friends grieving family a treasured keepsake of their newborn twin girls. Thank you, for proving to be a superior company having quality products along with exceptional customer service.