GREAT T-SHIRT
By
Shopper

(las vegas, NV) - December 7, 2012
I WISH THESE SHIRTS CAME IN MORE COLORS

GREAT T-SHIRT
By
Shopper

(las vegas, NV) - November 13, 2012
I ORDERED THIS FOR MY GRANDSON FOR XMAS. CAN'T WAIT FOR HIM TO SEE IT. IT'S SO NICE TO BE ABLE TO CUSTOMIZED SHIRTS FOR MY FAMILY. I'VE ORDERED 8 SHIRTS IN ABOUT 2 WEEKS TIME. GREAT STORE TO DO BUSINESS WITH!!!

GREAT T-SHIRT
By
Shopper

(las vegas, NV) - November 13, 2012
THIS IS A XMAS GIFT FOR MY LITTLE GRANDSON. I THOUGHT IT WAS GOING TO BE TOO SMALL, SO I ORDERED ANOTHER 1 2 SIZES BIGGER BUT WHEN I TRIED IT ON HIM, THE 1ST 1 FIT HIM PERFECTLY. THAT'S OK NOW I HAVE 1 FOR HIM WHEN HE GETS OLDER. LOVE THE SHIRT!!!!

Loved my purchases!
By
Rachel H.

(Troy, MO) - June 30, 2012 (
See all reviews by this customer
)
The picture turned out great & both people I gave these to LOVED them. I would recommend this item & site to anyone!

T Shirts
By
Shopper

(Buffalo Grove, IL) - June 26, 2012
Everything turned out great. The shipping was painful because I forgot to order one and to pay twice, the second time more for just one shirt.

I loved it!
By
Monica S.

(hillside, NJ) - May 12, 2012 (
See all reviews by this customer
)
I loved it! Thank you guys are amazing!!

Excellent work!
By
Shopper

(Woburn, MA) - April 13, 2012
First time buyer, and the quality of work was excellent! Will buy again.

Lasting product.
By
Sonia Lynn M.

(San Diego, CA) - December 27, 2011 (
See all reviews by this customer
)
This is the second time I purchase shirts from personalization mall. Although there was a small smudge on the red lettering, I was still satisfied with the product. My six year old daughter was in a Christmas program this year. Her dad is in Afghanistan and not able to be with her that special night. I thought it would be a good idea for her to wear a shirt with her daddy on it. She wore her shirt proudly that night and now she wears the shirt to sleep at night. The shirt is a thick cotton material and as long as you follow the washing instructions, it will last a long time. I would definitely recommend the "Picture Perfect" shirts.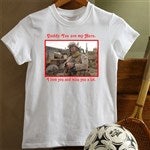 Awesome quality
By
Sarah Z.

(Charlestown, MA) - December 17, 2011 (
See all reviews by this customer
)
I needed a gift for my little son's friend, who is moving. We had a cute photo put on a youth tee. Not only is the tee exceptional quality (thickness and weight), the photo and caption turned out bright and clear. It made the perfect gift! BONUS- it arrived within days of ordering, and I did not even expedite shipping.

**Quick and easy** UPDATED
By
Shopper

(Springfield, VA) - December 5, 2011
Received an email from customer relations after I left my earlier review. I mentioned the picture on my shirt was a little crooked. They are sending a new shirt ASAP. Great customer service and they really do care about putting out a great product and keeping their customers satisfied.

Great Job !
By
Shopper

(Woodbridge, VA) - November 21, 2011
I love the hooded sweatshirt with a picture of my Granddaughter's dog printed on it. The sweatshirt is good quality & the picture turned out beautifully & very clear...looks as good as the one I provided.


cutest tshirt
By
Shopper

(Wantagh, NY) - October 4, 2011
I gave this tshirt to my daughter of her and her pet hamster who recently passed away. She was very sad not to see her hamster, so to cheer her up, I had a collage of pictures of her and her hamster put on it. She loves it so much and wears it to bed whenever possible.

Picture perfect t's
By
Shopper

(China Grove, NC) - August 26, 2011
I was super pleased with my kids shirts! They are printed on high quality shirts and look fabulous! Definately recommend!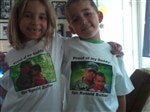 Hit of the Party
By
Shopper

(Adrian, MI) - July 19, 2011
We ordered this shirt with an adorable picture for my 3-year-old granddaughter. It was so cute!! Be advised that the toddler shirts run on the bigger size. I ordered a 2-4 and it was mostly on the 4 side. But....she'll be able to wear it longer, so it was perfect!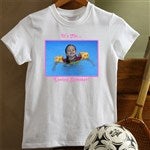 A Percious Moment Captured
By
AMINA A.

(BROOKLYN, NY) - July 5, 2011 (
See all reviews by this customer
)
Words can not begin to express the amount of emotional feelings that I felt when I saw how you were able to capture my baby's picture next to my late grandmother. My family was giving a 4th of July cookout on behave of my grandmother in which everyone was suppose to wear red & white, so when my daughter & I showed up with our photo t-shirts everyones facial expressions was priceless. So, from the bottom of my heart I thank you sooooo much for allowing my grandmother to live on for my baby girl through your t-shirt. Its something that she & I will have to treasure forever. Thank you....

Picture Perfect Shirt
By
Brooke T.

(Millville, NJ) - June 23, 2011 (
See all reviews by this customer
)
I got a shirt made for my neice for her 5th birthday, she loved it. It came out just the way it appears online. Great price, good quality! I would just recommend using a colored picture, because the black in white picture that I used is a little dark and hard to see.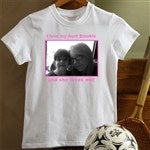 Love them!
By
Shopper

(Jacksonville, FL) - June 17, 2011
They turned out amazing. They are being worn today. They look just like the preview picture you see before you purchase them. I will definitley use them again.

Great Quality
By
Athena M.

(Plymouth, MA) - June 17, 2011 (
See all reviews by this customer
)
The picture quality came out great. The shirt is a nice cotton Hanes shirt. My son is 18 mos. and I bought my son the 24 mos. shirt, glad I did because they seem to run small. He could have probably even fit in a size 2.

Great gift for a best friend
By
Shopper

(Wood River, IL) - June 4, 2011
Very fast transaction. Great Product too. Would recommend to a friend.

Children's tshirt review
By
Andra P.

(Milwaukee, WI) - July 19, 2010 (
See all reviews by this customer
)
We loved our tshirts! I have already washed one of them and the picture remained just as colorful. The tshirt is also thick and has a better quality than other photo shirts I have ordered. It also arrived in a timely fashion. I would definitely order from this company again.

Loved it!
By
MaryAnne A.

(Cicero, NY) - May 23, 2010 (
See all reviews by this customer
)
We order this shirt for my son and it had a picture of his triplet sisters on it for their first birthday! My husband and I had the adult version and they were all great quality! The picture looked great! Great product and shipping was so fast!! Thank you for making our daughters first birthday extra special!!

Great shirts
By
Frank S.

(Lago Vista, TX) - April 30, 2010 (
See all reviews by this customer
)
Loved these shirts!

G-R-E-A-T !!!!!
By
crystal W.

(amenia, NY) - April 21, 2010 (
See all reviews by this customer
)
This is my second purchase and I was very happy with each one...I love this site and i'm sure I will be making more purchases in the future ..this is the place to buy that special gift !

great shirt, great service
By
Joan B.

(Wixom, MI) - February 28, 2010 (
See all reviews by this customer
)
We created photo tee shirts to send to the two children we are adopting from overseas. It was very easy to do, the shirts came very quickly, and the quality was excellent! I would definitely recommend this product and I will use this site again!

personalized bib
By
Mary Ann N.

(Whitestone, NY) - January 21, 2010 (
See all reviews by this customer
)
It is precious! Just perfect!

My Mommom & My Mommy are my Angels!!
By
Cynthia W.

(Saint Cloud, FL) - December 22, 2009 (
See all reviews by this customer
)
What a nice keepsake the baby will have of his Mommom!! She will live in his heart forever!! Well worth the purchase!! My Daughter is going to cry some very happy tears when she sees it!!

I give it 5 *'s
Everything was easy to use, I just wished I could see what the shirt looked like before I checked out.