Great quality!
By
Shopper

(Okemos, MI) - February 24, 2014
Love this cookie! Purchase for hubby. Super fast shipping! Love your services :)

Perfect Gift
By
Jody R.

(Grand Jct, CO) - February 18, 2014 (
See all reviews by this customer
)
The perfect gift for a man or woman. The special fortune in the cookie could be longer, but it's still really cool. This is great if you aren't sure what to get someone who has everything :) I gave it to my husband for Valentine's Day and he loved it!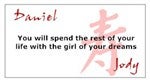 Unique and Personal
By
Patricia L.

(Central Islip, NY) - July 8, 2013 (
See all reviews by this customer
)
Just what I was looking for! The quality of the product and the packaging were perfect.

Very pretty cookie!
By
Dorothy C.

(Philadelphia, PA) - June 1, 2013 (
See all reviews by this customer
)
I ordered this as a high school grad gift- thought it would be a cute package for a gift card or cash. I was so impressed by the very pretty, amply sized silver cookie and the very thoughtful packaging! It came in a little Chinese food box with a little bit of red paper- very nicely done! The fortune inside the cookie was done correctly and looked nice too! I was super satisfied with the item and the transaction with this company. I would definitely order from them again!

Original, Beautiful
By
Shopper

(Oak Harbor, WA) - April 2, 2013
Got this for my mom from my son. She loved how creative the idea was!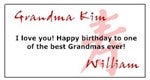 very cute gift
By
Shopper

(New York, CA) - February 8, 2013
Gave this to my boyfriend for his birthday, as we always eat chinese food and love opening our fortune cookies together. It's very cute and well-made, you can open the cookie and place the fortune inside or put it through the hole at one end to display the message as shown in the pictures. Do be conscious that the "cookie" is only slightly larger than an actual fortune cookie, as some of the pictures made it seem almost as large as the box- this is not the case. I was actually relieved it was not larger because it made it more realistic and easier to store.

Perfect Gift
By
Shopper

(SAN LEANDRO, CA) - February 3, 2013
This is my third time giving this as a gift! Everytime it was the hit of the ocassion. The clever packaging along with the personal greeting is just outrageous. I promise that receiver will be elated!

Birthday present
By
Diane M.

(Woodside, CA) - May 14, 2012 (
See all reviews by this customer
)
My aunt loved her fortune cookie. She is 89 years old.

excellent quality
By
Shopper

(LOS ANGELES, CA) - May 11, 2012
item's quality was more than I expected.

Fortunes of Longevity Silver Fortune Cookie
By
Nadia M.

(Bronx, NY) - March 3, 2012 (
See all reviews by this customer
)
This gift is awesomeeeeeeeeeeeeeeeeeeeee. She really enjoyed it.. I will glady do business again. For my personal gifts, I always shop here. They are so professional and the shipping is outstanding..

Great retirement gift.
By
Laura L.

(Portland, IN) - February 12, 2012 (
See all reviews by this customer
)
Gave this as a retirement gift and we made the fortune to fit how we felt. The recipient was thrilled and stated it would sit on her coffee table. Very touching and clever we thought. I would recommend this item for a special occasion to anyone.

Fun to Write Your Fortune
By
Richard G.

(Boca Raton, FL) - September 29, 2010 (
See all reviews by this customer
)
This was one of two gifts, I got my Son for his birthday (engraved jewelry box) I was pleasantly suprised to see how big and solid the silver coated fortune cookie was. Those who saw it along with the personalized fortune all thought that this was a very neat gift.

Hubby Luv it!
By
Maria N.

(Inverness , FL) - July 20, 2010 (
See all reviews by this customer
)
I gave this to my Hubby on our 2nd wedding anniversary and He said WOW..it's an amzing gift and he like it.One thing i didn't like is only two lines for the message,hope you will add more lines so we can write a longer message..overall, it's a perfect gift.

A Great Gift!
By
Cecilia L.

(Duncanville, TX) - July 14, 2010 (
See all reviews by this customer
)
A Perfect Gift For A Person Who Loves Chinese Food!!!

very pleased with this purchase!
By
Lori A.

(Kansas City, MO) - June 18, 2010 (
See all reviews by this customer
)
this is a fun, very nice product. it's going to be a fun gift! and the quick turn around and delivery was awesome! will definitely purchase from this company again!

A hit - for a 90 yr old!
By
Heather S.

(Wexford, PA) - June 15, 2010 (
See all reviews by this customer
)
Having not a clue as to what to get someone who's 90 (!) I turned to this website and searched and came upon this item.
I could fill in my own "fortune" and it was a hit!

It brought tears (of joy) to the 90 yr old man reading his "fortune" of having his great grandchildren to enjoy his life with.

The "cookie" is top quality and "authentically" stamped -made in china ;)



GIFT FOR A BEST FRIEND
By
Sheryl B.

(Yorktown Heights, NY) - April 12, 2010 (
See all reviews by this customer
)
MY BEST FRIEND HAS BEEN FIGHTING LEUKEMIA,AND EVERY SINCE I FOUND OUT,I HAVE BEEN CONSTANTLY BUYING HER SPECIAL GIFTS FROM THE PERSONALIZATION MALL. I SAW THIS FORTUNE COOKIE WHICH MEANT LONGEVITY AND I KNEW I HAD TO GET IT FOR HER WHICH ALSO INCLUDES A SPECIAL FORTUNE FROM ME. WHEN YOU WANT A SPECIAL GIFT THIS STORE IS THE ONLY PLACE TO GO.

Excellent Product
By
Stephanie D.

(Milwaukee, WI) - March 5, 2010 (
See all reviews by this customer
)
This product was perfect...it came packaged in a cute Chinese takeout container, and the personalized fortune was done VERY nicely. The only recommendation I would have is that the paper for the fortune could have been a little lighter. It was a heavy cardstock which made folding it to place it in the fortune cookie a little awkward. I would definitely recommend this product!

Rave reviews!
By
Corrine P.

(Tewksbury, MA) - March 2, 2010 (
See all reviews by this customer
)
This is a great gift with multiple uses. I gave it for a 70th birthday gift and everyone thought it was wonderful especially the recipient!