Portfolio
By
Shopper

(Galesburg, IL) - August 31, 2014
The monogrammed portfolio is a high quality product with very professional lettering.

A special touch!
By
Shopper

(Bronx, NY) - June 9, 2014
I purchased this gift for my co-worker who will be interviewing for a new position soon. I wanted to give her something special and this was a great choice. Exceeded my expectations,great buy!

Perfect
By
Shopper

(Mesa, AZ) - May 19, 2014
So beautiful and such an impressive gift. Service was lightning fast and the quality spectacular. First purchase from personalizationmall.com but not my last.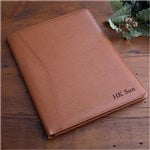 For College Grad
By
Cyndy B.

(Mendon, MA) - May 18, 2014 (
See all reviews by this customer
)
I have purchased these portfolios for nieces, nephews& friends for their college graduation, great item to have for those upcoming job interviews!!

Grad gift
By
Marisa A.

(Uvalde, TX) - May 7, 2014 (
See all reviews by this customer
)
I bought this for a recent college graduate. Very beautiful monogrammed initials. Looks very professional and durable. Delivery was very quick.

Portfolio Meets Expectations
By
Kathy & Michael D.

(Burlington, WI) - March 8, 2014 (
See all reviews by this customer
)
We have a daughter who is in the Business School at her university. She's just started interviewing and this personalized leather portfolio is visually impressive and met our expectations. The name imprint could be a tad larger, but that's SO subjective and doesn't actually take away from the overall look and feel of it.

Great gift for my husband
By
Shopper

(ATHENS, GA) - February 16, 2014
This is a great product, and was exactly as described on the website. The color and personalization was a hit with my husband!

Perfect gift
By
lisa S.

(bellerose, NY) - January 25, 2014 (
See all reviews by this customer
)
Bought this as a gift..just beautiful. Lovely way to recognize an accomplishment.

A good Business Gift
By
Shopper

(Orlando, FL) - December 22, 2013
This is a very attractive gift. Nobody throws away something with their name on it so you gift of an item like this lives on forever.

Beautiful, professional and well-made
By
DEANNA B.

(Albemarle, NC) - December 18, 2013 (
See all reviews by this customer
)
From the presentation box to the smooth leather and laser lettering, I was very happy and impressed! I was surprised at how quickly I received it, as well. I know my daughter will be equally pleased.

Classic
By
Kimberly D.

(Fairlawn, OH) - November 17, 2013 (
See all reviews by this customer
)
I purchased this for my brother's Christmas gift. He is going to be interviewing for jobs and I know this will be a great gift to keep him organized. Additionally, it's very attractive looking and will match with both blue, grey, and black suits. Thanks for the fast shipping!

Just right!
By
Shopper

(Columbus, NC) - November 16, 2013
This was the perfect gift, tan one, for a 30 year old new lawyer. The quality of the leather was excellent; the name looked great; and the price was right. I liked it so much I ordered two more for Christmas gifts for hard-to-buy-for men!

Great quality, looks professional
By
Sarah B.

(Washington, DC) - November 15, 2013 (
See all reviews by this customer
)
I bought this to carry to interviews so I could bring a hard copy of my resume and take a few notes as needed. A pen easily fits in to the binding so you can still close it completely. Leather feels and looks great. Initials are well done as well.

SUPERB QUALITY/EXCELLENT SERVICE
By
Deborah J.

(Peralta, NM) - October 21, 2013 (
See all reviews by this customer
)
I purchased this portfolio for a staff member, who was moving on to a LARGE corporation. From the moment I opened the original box packaging and saw the gift-box I was sold. I then opened the gift box and was even more delighted to see that the portfolio was also wrapped elegantly in tissue. The engraved personalization was perfect and well done. Inside there was plenty of room for business cards, notes, pen, etc. I would have loved the gift to come in black, but the tan is a lovely change. As a team we gave her the gift and she LOVED it, immediately.

Very pleased
By
Shopper

(Richmond, TX) - October 20, 2013
I ordered this for a friend who just passed boards for FNP. She really liked it! I'm very pleased with this purchase, especially given the price. Think I'll get one for myself when I pass.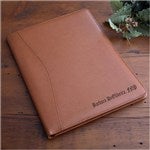 Realy great folio
By
Shopper

(Charlotte, NC) - October 4, 2013
This is the third folio I have ordered from Personalization Mall. Each time the recipient of the folio has loved the gift. The quality is excellent. It comes in a matter of days and ready to give.

Great Portfolio
By
Terry S.

(Hillsborough, NC) - August 11, 2013 (
See all reviews by this customer
)
Top quality and very professional looking. Definitely met my expectations!

Fantastic portfolio
By
Alexia H.

(Santa Monica, CA) - July 26, 2013 (
See all reviews by this customer
)
Gorgeous, slim portfolio. I liked the style of this portfolio over other portfolios on the market because a. It was leather b. it was not too bulky and c. Convenient compartments for papers and biz cards. The only downside is that I do not think they're was a pen holder.. Correct me if I'm wrong. I gave this product as a gift, but also want to buy for myself. Engraving was beautifully done.

Great gift
By
Shopper

(Slidell, LA) - May 30, 2013
This was a birthday gift for a 30 yr old male in Sales. He said the gift was great. The color, quality, and monogram all exceeded expectations.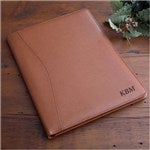 Great College Graduation Gift
By
Cheryl J.

(Elgin, IL) - May 29, 2013 (
See all reviews by this customer
)
This is my 3rd one that I have purchased and will be purchasing another next year. I have been purchasing them for my nieces and nephews for their college graduation. Nieces are getting the tan and the nephews are getting the black ones. All have been perfect. I would recommend this to anyone. 99% of the gifts that I buy from Personalization I have been extremely happy with.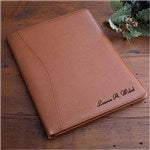 Perfect gift
By
Shopper

(Richardson, TX) - May 18, 2013
I gave this gift to a young man who recently graduated college. I wanted him to have a nice tool to use while interviewing. I didn't get to see the item but was told it was very nice. It arrived just as expected.

Graduation Gift
By
Shopper

(Irmo, SC) - May 13, 2013
We purchased this for our nephew as a graduation gift from College. We loved the quality and it looked wonderful. He is sure to use this and enjoy it in his new job. He also enjoyed taking it on job interviews as it looked very professional.

Love it
By
Shopper

(Brooklyn, NY) - May 7, 2013
I bought this as a gift and it looks beautiful.
It has quality and the engraving was done perfect.
Really happy with the item.
P.s.- I purchased another item that I was really satisfied-
all in all great items and exactly as displayed- keep up the
great work!

Beautiful Portfolio
By
Kay H.

(Charlotte, NC) - May 4, 2013 (
See all reviews by this customer
)
Very pleased with purchase. Personalization sets this apart.

Wonderfully Well Done
By
Shopper

(Williamstown, NJ) - April 20, 2013
My daughter in-law passed the BAR and she was totally excited at receiving this wonderfully well made Executive Tan Leather Portfolio with her name on it. The leather material is so soft to the touch, with such durability for handling and everyday use. I was extremely satisfied with the product!

great college gift !!
By
Shopper

(Boling, TX) - April 13, 2013
Very impressive

Great product
By
Shopper

(Houston, TX) - April 5, 2013
I purchased this as a gift for a professor. It looked really nice! The engraving looked so professional and high quality. The only thing is that it has a see through pouch for personal info (in case u lose it I guess) the same type as luggage bags have, which cheapens the look. But overall I was happy with my purchase. The portfolio looked really nice and the recipient loved it. I don't know about durability. The engraving is indented ( burned into the leather?) so no risk of fading which I liked. Would recommend the purchase.

Great Gift for Admin. Prof. Day
By
Jeff P.

(Framingham, MA) - March 31, 2013 (
See all reviews by this customer
)
The quality and personalization of this portfolio will hopefully make an impression on the recipients of next month's Administrative Professionals Day. the portfolio is high quality and makes a practical gift for administrative staff in a health-care setting. I try out new gifts every year and this looks like it will be very unique and personal vs. the standard candy gift baskets and flowers.

Awesome gift !!!
By
stephani N.

(round rock, TX) - March 15, 2013 (
See all reviews by this customer
)
I got this portfolio for my brother in law !!!!! He is going to have a higher position at work and he attends lot of meetings!!! He loved it !!!! The color is great !!! Its worth the price :)))))

Smooth portfolio
By
Shopper

(Union City, NJ) - January 26, 2013
exactly like the picture, i was happy with purchase.

Great experience
By
Shopper

(Charlotte, NC) - December 30, 2012
Great item. It shipped for free and arrived quicker than I thought it would.

very pleased
By
Shopper

(Chicago, IL) - December 29, 2012
My daughter just began a new job, and is very pleased with her portfolio, and pen. She says she looks forward to attending meetings so she can show off her new business portfolio.

Fast and professional in appearance
By
Thomas P.

(Chicago , IL) - December 27, 2012 (
See all reviews by this customer
)
WOW! What a delight. This portfolio was for someone who received a promotion at work and I was looking for something to commemorate the achievement. This was it. Clean, neat, and the shipping was fast. I would definitely shop from this company again. Once again, the portfolio was great. It has the feel of something that cost much much more. Thanks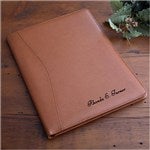 Good product and service
By
Ted D.

(Scottsdale, AZ) - December 22, 2012 (
See all reviews by this customer
)
The online customization and ordering were clear and easy and delivery was as promised. Well done.

Geat "Suck UP" gift
By
Shopper

(Lancaster, NH) - December 19, 2012
I bought 5 of these porfolios in the last few years. I work at a high school and each time we get a new principal - I give the same gift. It's classic and executives can use them forever. Top quaility. Give one a try... Very satisfied..

The Perfect "BOSS" gift
By
Elizabeth S C.

(Yardville, NJ) - December 16, 2012 (
See all reviews by this customer
)
Turned out to be the "Perfect Boss" gift. Was exactly what I wanted.

Wonderful!
By
Katie S.

(Spring, TX) - December 16, 2012 (
See all reviews by this customer
)
Great product. Have not used it yet but seems to be durable.

My mobile office
By
Mark W.

(Maysville, KY) - December 5, 2012 (
See all reviews by this customer
)
The portfolio is stricking in appearance and very well made. It is very functional.The "personaization" is very stylish. I would highly recommend it.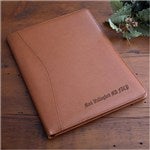 Great College Graduation or Med School Gift
By
RENEA F.

(HOUSTON, TX) - December 1, 2012 (
See all reviews by this customer
)
I gave 4 of these to college graduates last year and they loved it. They all thought it was a great gift for interviewing and new jobs. They look expensive and sturdy and I received them so fast.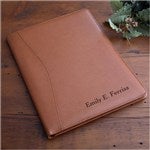 Awesome
By
Shopper

(Harrisburg, PA) - November 13, 2012
Here is my experience;
1- the website was easy to navigate
2- ordering was very easy
3- items were able to be viewed before placing the order, to ensure correct spelling,etc...
4- prices were great
5- items arrived quickly and far exceeded my expectations.
I would highly recommend everyone to visit this site and feel comfortable ordering.