Beautiful
By
Shopper

(Perrysburg, OH) - July 8, 2014
Beautiful product, engraving is nicer than expected. Fast turnaround time.

Graduation gift
By
Irving L.

(Minneola, FL) - April 14, 2014 (
See all reviews by this customer
)
Grandson"s graduation gift for his M.D. degree.He was very pleased with the leather portfolio. IT was very well made and attractive. As the buyer I am pleased with it also.

Excellent
By
Shopper

(San Antonio, TX) - April 5, 2014
These were perfect:professional looking, great color and fast shipping. Couldn't have asked for more.

Leather Portfolio
By
Debra W.

(New Haven , CT) - May 6, 2013 (
See all reviews by this customer
)
I ordered three leather portfolio and can not express how happy I am with them. They are beautiful.

Thank you so much!

Perfect Gift
By
Shopper

(El Paso, TX) - April 26, 2013
This is an excellent quality for such a reasonable price. It's a classic color for a female doctor.

Excellent Value
By
Shopper

(Pembroke, MA) - June 10, 2012
I was so pleased with the quality of the portfolio. I am excited to give it to my son for his graduation from his fellowship program.

Tan Leather Portfolio
By
Theresa D.

(Flushing, NY) - May 11, 2012 (
See all reviews by this customer
)
I was a little hesitant prior to ordering this item secondary to the color. I would have perferred a darker color. I could have ordered black but wanted the insigna on it. When I opened the package it brought a smile to my face. It was lovely even in brown. The quality of the leather is excellent. I know my son will be very proud to carry this around with him. It is a perfect gift for someone graduating from medical school. I know it will bring a smile to his face when he opens it on Gradaution Day

Great Gift
By
Shopper

(Berkley, MA) - May 19, 2011
It's a great gift for a medical graduate. Looks nice. Received quckly.

Graduation Gift
By
Shopper

(Camden, SC) - April 26, 2011
This is a wonderful product - I can't wait to see the look on the recipient's face. Great quality and speedy delivery. thanks!

Excellent quality
By
INGRID G.

(Canada) - April 12, 2011 (
See all reviews by this customer
)
This is the third portfolio I have ordered for gift purposes. Excellent quality and great service.

Col's Review of Medical Notes Tan Leather Portfolio
By
Colin C.

(Australia) - April 10, 2011 (
See all reviews by this customer
)
Excellent Product exactly as described. Shipping was outstanding to OZ in less than one week. UPS tracking - best I've ever seen

Recipiant overjoyed. All up first class effort


Col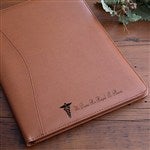 Excellent
By
Shopper

(Palm Harbor, FL) - January 25, 2011
It's an amazing portfolio, excellent leather quality and really neat.

Great product!!
By
Evelyn M.

(Arlington, VA) - June 9, 2010 (
See all reviews by this customer
)
I gave this portfolio to a friend who just graduated from medical school and she loved it! It is a beautiful, high-quality product.

Personalized Medical Portfolio -- Very Nice!!
By
Emilia A.

(West Dundee, IL) - May 31, 2010 (
See all reviews by this customer
)
Thanks again for quality product & service. I purchased this with the engraved rosewood pen. What a nice gift set to give to my nephew who is graduating from medical school on June 4. It will always be a nice keepsake from his ol'Auntie!

Only complaint I have is that's it's on sale today for $44.95 when I purchased is at full price; $59.95. That's not so nice. Shipping costs too are a bit steep (even for ground service).



Extremely pleased with this portfolio
By
Anna D.

(Canada) - May 21, 2010 (
See all reviews by this customer
)
I really wanted to purchase a portfolio with the medical symbol for my sister as a graduation gift, but I was disappoointed to see that this website did not have a black coloured portfolio. I worried that the tan colour might look too orangey or pinky, but I did like the fact that the engraving looked it belonged to the portfolio as opposed to being engraved on a metal plate that gets glued onto the front cover. So I took a chance and ordered it. I must admit that I absolutely love the colour - it is a beautiful tan leather and very neutral looking. I like the fact that it is very simple on the inside with a few necessary compartments, but not too many since they usually end up being useless anyway. The engraving makes it look so natural and very professional. I feel stupid for dwelling on the colour, but sometimes it is hard to tear oneself away from that standard black. I love it and highly recommend it. Additionally, I ordered the engraved rosewood pen set and the two go to together very well. The delivery was very quick (I live in Canada and I got it within a week of ordering). Thanks for the high quality beautiful products that you have available. I will be sure to use this website in the future and to recommend it to all my friends.

Wonderful Graduate Gift
By
jennifer K.

(Winston Salem, NC) - May 20, 2010 (
See all reviews by this customer
)
My husband, a recent PA graduate, was ecstatic with this personalized gift. I ordered on a Thursday and it arrived the following Monday in perfect condition, the presentation box was great as well. This will be a much treasured token for years to come.

Portfolio
By
Derrick K.

(Des Moines, IA) - May 17, 2010 (
See all reviews by this customer
)
I was pleased with this product because it looked exactly like the previewed picture did before purchasing it. So there were no unpleasant surprises and I recieved what I ordered very fast.

Beautiful Gift
By
Kathleen M.

(Blandford, MA) - May 9, 2010 (
See all reviews by this customer
)
This is very nice - makes a lovely gift! Very pleased with the quality!

very nice
By
Elaine Q.

(Floral City , FL) - May 7, 2010 (
See all reviews by this customer
)
Was very pleased with the Leather Portfolio, packaged in a nice blue box and shipment was delivered on schedule -
Elaine Q - Florida

great
By
Marc C.

(Essex Fells, NJ) - April 29, 2010 (
See all reviews by this customer
)
this product was just amazing. i can't wait until i have another present to get for someone because this is the place to do it.

Perfect gift
By
JULIE C.

(MOVILLE, IA) - February 11, 2010 (
See all reviews by this customer
)
This is the second thing I have ordered from Personalization Mall and again I am overwhelmingly pleased with my purchase. The quality of the product and the engraving is wonderful. I will definelty be using them for future items.

Great Product!
By
Rebecca F.

(Daleville, VA) - December 25, 2009 (
See all reviews by this customer
)
The leather is very nice. I gave it as a Christmas gift and the recipient was extremely pleased. Highly recommend this one.