Good quality!
By
Shopper

(Punxsutawney, PA) - August 29, 2014
These bats are perfect for kids. The personalized touch is just what I needed so my newphews can tell them apart. The quality of the bats and the engraving are excellent! I defiantly recommend them as I do everything I have gotten on this website!

Better than expected
By
Jessica H.

(Breaux Bridge, LA) - June 9, 2014 (
See all reviews by this customer
)
This bat is amazing! I was assuming the writing would be "stamped" on, but it is deeply engraved and precise as well! If they decide to play with it, their name is sure to stay!

Amazing Bat!
By
Shopper

(Hacienda Heights, CA) - April 14, 2014
I've been ordering from personalization for a few years now, and, have always been pleased with every single item.
Bat was perfect. Loved the quality, and, engraving was large and legible.

Excellent Quality
By
Kelly H.

(Estill Springs, TN) - December 13, 2013 (
See all reviews by this customer
)
We were VERY pleased with the quality of the personalized bat we ordered. We had thought it would be just slightly engraved into the wood, but the engraving was around 1/4 inch deep which made the name REALLY stand out. WE LOVE IT!!! We would recommend this gift to anyone who is looking for a gift for an avid baseball fan:)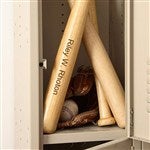 Great product
By
Kathy K.

(Oak Island, NC) - July 27, 2013 (
See all reviews by this customer
)
I was so impressed with the quality of this product! Didn't expect it. Fast shipment also!

First Son on how way!
By
Melissa M.

(Medway, MA) - July 22, 2013 (
See all reviews by this customer
)
This bat is perfect for our new nursery. I love the sports theme but didnt want to hang pictures of teams and logos everywhere so we personalized a bat to mount on the wall w his name on it. The bat is solid quality and the name looks great! It's carved Into the wood not done w stickers like some other companies I saw. It shipped quickly as well. I couldn't be happier

Personalized Baseball Bat
By
Kena H.

(Live Oak, FL) - June 3, 2013 (
See all reviews by this customer
)
Perfect! Exactly what I wanted. Nice, hefty-feeling bat for my grandson.

Great!!!
By
Shopper

(Berkley, MI) - February 25, 2013
Looked exactly as expected. The engraving looks so nice as opposed to stamping with ink. Would recommend for children or adults as a keepsake. Have not tried using it for sports but looks like a good quality brand that will last a long time. Very happy with this purchase.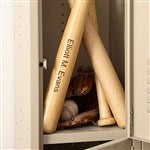 bats
By
David R.

(Bakersfield, CA) - January 18, 2013 (
See all reviews by this customer
)
ordered 3 bats and they were perfect

Excellent quality
By
Shopper

(Houston, TX) - January 1, 2013
Got this for a ten year old boy. He loved it.

Great Ring Bearer Gift
By
Lauren M.

(New Orleans, LA) - November 13, 2012 (
See all reviews by this customer
)
We bought this bat for our ring bearer as a thank you for being in our wedding. He is five-years-old and thought it was really cool! It was the right gift at the right price for us! thank you!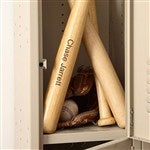 Looks amazing
By
Shopper

(Scottsdale, AZ) - September 21, 2012
I was looking for a gift for my grandson who will be in my wedding as the ring bearer. He is too young for many of the gifts suggested for males in weddings but I wanted it to be something he would treasure and remember the day. The bat looks amazing and I'm sure now that he has learned to spell his name he will be excited to see it engraved on his bat. He is playing his second year of t-ball so it was very age appropriate.

Pefect gift for ring bearer!
By
Briana E.

(Rosemount, MN) - August 6, 2012 (
See all reviews by this customer
)
We purchased these bats for our ring bearers for our wedding. Even the adults wanted one for themselves. They are the perfect gift for little boys who love baseball. Very good quality and the personalized names look great!

Makes perfect gift
By
Jeff H.

(Fremont, NE) - July 25, 2012 (
See all reviews by this customer
)
We gave bat to Nephew for his birthday and his reaction was amazing. So amazing we bought four more as gifts for other family members. The price is fair and ordering/delivery is fast and easy. We'll use PersonalizationMall.com again.

Awesomw
By
Devin K.

(Hilton, NY) - July 3, 2012 (
See all reviews by this customer
)
My sons baseball league didnt supply trophies this year so i wanted to get him something. I found this bat and the smile on my kids face when he opened the package was huge. Great product for a great price!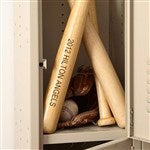 Grandson loved it!
By
Mark A.

(Liverpool, TX) - May 5, 2012 (
See all reviews by this customer
)
My 10-yr-old grandson's birthday had come and gone. I had sent him money, but a USPS employee aparently needed it more. I saw this site after a websearch, so I ordered a bat. My dtr-in-law said he went nuts when he got the bat. She caught him posing in the mirror with it on his shoulder, with his name prominently displayed. He could not thank me enough! Great gift for your little leaguer!!

satisfied
By
Lisa R.

(Quitman, MS) - April 16, 2012 (
See all reviews by this customer
)
We were in sort of a tight squeeze and almost waited to late to order and didn't think we were gonna be able to get them here on time on Tuesday April 10 , but yall were able to get them shipped within 24 hrs and got them to us on the day of and we were able to get with our local UPS office and have them hold them in the local office and we picked them up. Thanks for the swift shipping. All of our boys were very pleased with their gift and so were the parents we will be using you again. Thanks from The Enterprise Baseball Diamond Club Officers and Students.

Great Buy
By
Mary T.

(Alexandria, VA) - March 9, 2012 (
See all reviews by this customer
)
I got this for my nephew's 5th birthday. What a "HIT"!!

AWESOME
By
kelly W.

(bourbon, IN) - December 30, 2011 (
See all reviews by this customer
)
I got these for my boys for Christmas and they thought it was the coolest gift.

Great Gift!!!
By
Shopper

(Chicago, IL) - December 29, 2011
I bought this as a Christmas gift for my 11 year old nephew. He loves sports but I wasn't sure if he would like it. He was thrilled to get it! He couldn't take his eyes off the bat and I'm sure it will be a prominent part of his sports collection. It was a great gift and it came within a few days. Everything I've ever purchased from Personalization Mall.com has been very much to my satisfaction except 1 item that was replaced very easily with just a phone call.

Wonderful Item!
By
Shopper

(Middlebourne, WV) - December 11, 2011
I bought this item for a Christmas gift for my nephew. I think it was a perfect gift! Very nice item and very pleased.

Personalized bat by Rawlings
By
Shopper

(Petaluma, CA) - November 12, 2011
This personalized wooden bat is a great gift for a child old enough to play baseball. The monogram is nicely done.

Personalized Bat
By
LeeAnn V.

(Brick, NJ) - November 6, 2011 (
See all reviews by this customer
)
Had this personalized for the Bride and Groom-he's a professional baseball player-thought it would make a unique gift. I hope they love it as much as I do. Just wish they could have fit the date on it too.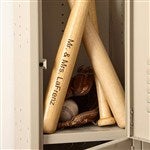 A nice solid bat
By
Shopper

(Edwardsville, IL) - November 4, 2011
The bat is very nice. It seems to be high quality as does the engraving. We bought for a 10 year old for a birthday gift. The price and fast shipping were both an added bonus.

Really pleased..
By
Jared B.

(Lynnfield, MA) - October 3, 2011 (
See all reviews by this customer
)
I am really pleased with the personalized Rawlings bats I ordered for my 2 Sons.. They really exceeded my expectations and the shipping was super fast, I received an email telling me the shipped one day after I placed my order.. Very Happy

Great Gift!
By
Blake S.

(Orange, CA) - September 17, 2011 (
See all reviews by this customer
)
Great price for such nice work. The engraving is very well done not to big nor not to small. It's a great personilized gift.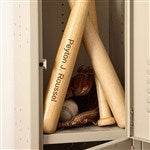 AWESOME
By
Thomasina F.

(New London, WI) - September 3, 2011 (
See all reviews by this customer
)
LOVE IT!


Great Personalized Gift for the Sport in Every Boy......
By
Shopper

(Laverock, PA) - August 7, 2011
I am thrilled with my recent purchase from Personalization Mall. It is sturdy quality wood and the personalization looks great. I puchased it for a gift which I have yet to give; however, I am sure the little guy will be thrilled beyond thrilled as it is an awesome gift that no other kid in the neighborhood will have. Thanks for this fun, quality gift at a great sale price!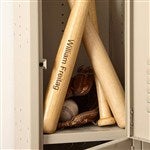 Very Pleased
By
Shopper

(Glen Ellyn , IL) - July 29, 2011
We were very please with this Bat. For my 10 yr old cousin who is the ring bearer in our wedding. The name came out great! Perfect size for him


better than expected
By
Shopper

(yonkers, NY) - July 25, 2011
Wonderful product. Looks way better in person than in the picture. plan on buying one of these for every baseball fan in my family. i love personalizationmall.com always have the best products at the best prices and even better customer service!

High quality
By
Celina A.

(Milwaukee, WI) - July 7, 2011 (
See all reviews by this customer
)
This junior sized bat is great! The personalization is done really well, it looks engraved and kind of burned in. Gives it a really cool look!

Very Happy
By
Shopper

(Aliso Viejo, CA) - April 4, 2011
Ordering was easy and the was delivered on time. I would order from them again.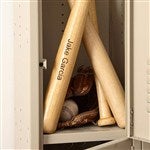 Batter UP!
By
Shopper

(Chatsworth, CA) - February 11, 2011
A must purchase for your baseball enthusiast. Excellent quality. The engraving is deep, clean and a real kid showstopper.

Lovely
By
Jamie A.

(Fond du Lac, WI) - January 28, 2011 (
See all reviews by this customer
)
These bats are so cute!!

GREAT GIFT
By
Bonnie B.

(Bridgeport, CT) - December 19, 2010 (
See all reviews by this customer
)
I have ordered many different items and I'm always pleased with everything! This bat is a Christmas gift for my nephew and I just know he will LOVE it as a keepsake. Solid and sturdy and special.

Love This Bat
By
April A.

(Melbourne, FL) - December 14, 2010 (
See all reviews by this customer
)
I ordered this for my 7 year old son who usually uses a composite bat, but also uses wooden; I was so pleased with how it looked and the fact that it actually can be used to hit a 50+ mile an hour ball was even better....I would highly recommend this product!

Great gift for a young ballplayer!
By
Pam V.

(Ruston, LA) - December 14, 2010 (
See all reviews by this customer
)
I bought this bat for my grandson for a Christmas present. It arrived in just a few days after I ordered it. When I openned it I was surprised to see how nice it was. I can't wait to give it to my grandson when he comes for Christmas. I plan to order two more for my other two grandsons next year.

This is very nice
By
Cassandra T.

(Rigby, ID) - November 18, 2010 (
See all reviews by this customer
)
I got this as a gift for my 10yr old son this christmas. I had to show all the family to see what they thought of it. They all thought it was amazing and well made. When asked how much I paid for it they were blown away thinking it would have cost so much more. Now as for the size reading the last reviews I was expecting to get some real tinny little bat. No this is a child size bat and solid wood. The solid wood would probably the only thing holding a young child back from playing it at there baseball games. Don't think you can use solid wood for the kids. My son plays and has played 5 years now. Anyways this should more be used as a keepsake (maybe hit a cpl balls) :) I am sure he will love it. Now I just wish they had something football more for my 14yr old son lol

Great Item
By
Anabel H.

(Casa Grande , AZ) - November 15, 2010 (
See all reviews by this customer
)
I got this bat for my husband since he is a baseball fanatic and it is a really good bat but not adult size it is for a youthful.

Baseball Fanatic
By
Brenda C.

(White Haven, PA) - August 5, 2010 (
See all reviews by this customer
)
This product is great! Not sure if it's the right size for my nephew, but I'm hoping it's a display item anyway. It's REALLY well made with nice engraving on it. I'm sure he's going to love it!