loved it!
By
Nakesha C.

(Science Hill, KY) - April 6, 2014 (
See all reviews by this customer
)
These turned out awesome! Great buy!

photo coasters
By
Shopper

(Vista, CA) - January 17, 2014
I love these, I have bought several sets for different people. They have all have loved them. I am so glad that you now have a set that you can put one photo on each of the four coasters. The photos turned out great!! I will be buying more.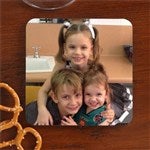 Nicely Done
By
Shopper

(Saint Augustine, FL) - January 2, 2014
The quality of these photo coasters was actually pretty amazing. Great Job.

Beautiful quality Fast shipping!
By
Luke S.

(Grand Forks, ND) - December 19, 2013 (
See all reviews by this customer
)
I ordered personalized coasters and was completely shocked how fast they were delivered! Not only that but the picture quality was excellent. They are a gift to my dad and I can't wait to see him open them up! Thanks sooo much!

Exactly What I Wanted
By
Shopper

(Glendale, AZ) - August 3, 2013
These photo coasters will make wonderful gifts as they capture a scene from our trip to Venice. The website is easy to use, helping me crop my photo to get the perfect picture for my coasters.

Decorative as well as Functional
By
Shopper

(Forney, TX) - June 17, 2013
Created these coasters for my bosses desktop from a postcard he brought back from vacation. The color is vibrant and with the beautiful wooden holder that comes with them, they are a work of art. He loved them.

Exceeded Expectations
By
Shopper

(West Chester, PA) - May 13, 2013
These turned out beautifully and even better than the proof looked. The service was OUTSTANDING! I ordered them on a Wednesday and figured I better 2 day express mail since I needed them within a week. They were shipped the SAME day and received on that Friday. I will be ordering more!

Great 1st Apartment Gift
By
Shopper

(Villa Hills, KY) - April 12, 2013
I ordered these with a college mascot name on them for a student getting their first apartment at college in the fall. I wanted them in time to give them at the end of this school year and they came in SO FAST! They look GREAT and I know they will be a hit. I cannot attest to how well they work, yet, but they look sturdy and seem like they will hold up great. They even came with a little stand!

Awesome quality
By
Shopper

(Fremont, CA) - February 10, 2013
Picture came out as shown in the preview. Will be placing another order soon :)

good quality
By
Shopper

(kansas city, MO) - December 30, 2012
I purchased 2 sets of these coasters. In my opinion, photo with the most color in it made the best coaster. These are great quality and the stand that comes with the coasters is great to display this item.



nice set
By
Ina N.

(Santa Monica, CA) - December 19, 2012 (
See all reviews by this customer
)
I really like the quality, since I didn't expect a lot. The picture came out nice too.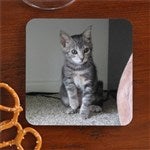 Love the coasters
By
Shopper

(Indialantic, FL) - December 12, 2012
Wish I had ordered 2 sets, so nice and will make perfect addition to our decor. The photo coasters will provide memories all year long. They appear to be rugged and the photo is crisp and clear.

coaster set
By
Terry J.

(Denham Springs, LA) - December 1, 2012 (
See all reviews by this customer
)
I received my coaster set was very impressed at how awesome they looked. They even have a holder for them.

Wonderful!
By
Michelle R.

(Newark, DE) - November 27, 2012 (
See all reviews by this customer
)
I have been looking for a photo coaster for a long time, these exceeded my expectations. The picture is so clear and love that the coasters came with a stand.

Couldn't be happier
By
Shopper

(BROOKLYN, NY) - November 2, 2012
When I decided to affix the image of one of my favorite photos (a Roman statue that I'd artistically altered via photo shop) I was skeptical; it'll probably look chintzy, I thought. So NOT the case. The coasters are a perfect medium for the photo and craftsmanship and detail are wonderful. I've since used Personalization Mall for a variety of other items and have been impressed each time.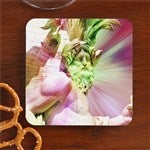 AWESOME JOB!
By
JULIA M.

(WILLIAMSVILLE, IL) - September 14, 2012 (
See all reviews by this customer
)
The item we customized came just like what we wanted - and it was super fast! No need to pay extra for faster delivery!

WOW
By
Shopper

(Columbus, OH) - May 4, 2012
Bought coasters as a gift. Process of customization was easy and straight forward and timely delivery was great. Was a little nervous because it was sent directly to recipient but coasters turned out like preview and my friends couldn't be happier with unique gift.

Wonderful gift!
By
Shopper

(Douglassville, PA) - March 30, 2012
This item looked just as it did in the website. The picture quality is great, it arrived on time and included a little coaster stand that I was unaware was included. This is a great company and I will definitely order from them again.

Perfect hostess gifts
By
Shopper

(Fayetteville, AR) - January 15, 2012
I made 4 sets of coasters and then will give each hostess of the wedding shower a set with 4 different pics. It was so easy to upload and they arrived quickly with regular shipping.

Absolutely thrilled!
By
Mary M.

(Cypress, CA) - December 27, 2011 (
See all reviews by this customer
)
These coasters are absolutely beautiful! I couldn't be happier with my order. I recommend them to anyone looking for that "personal one of a kind" gift.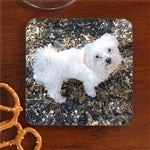 Wonderful gift idea!
By
Shopper

(Nocona, TX) - December 21, 2011
It's a little pricey, but it's soooo worth it! A truly unique gift idea. Turned out super cute with the photo we selected! The recipient is going to absolutely love this gift!

Awesome Website and Product
By
Steve R.

(Columbus, OH) - December 18, 2011 (
See all reviews by this customer
)
I couldn't be happier with my overall experience with this website and the product they sent me. Very easy format to upload any picture from your computer (no real sizing issues, but if the picture was "Too Large", I just opened it in paint and downsized it in half and resaved it). Very fast delivery as well. I bought 2 mousepads, 2 sets of coasters, and a 500+ piece puzzle. The puzzle got here within a week and a half or so, and the other items were at my door 2 days after I purchased them. Great job Personalization Mall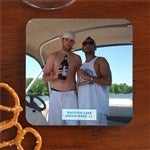 Perfect
By
Mark M.

(Advance, NC) - December 17, 2011 (
See all reviews by this customer
)
I am very happy with the personalized coasters I designed on this website. This company provides excellent products and excellent customer services. Highly recommended.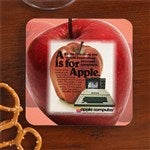 Loved My Photo Coasters!
By
Shopper

(Glendale, AZ) - December 13, 2011
My photo coasters are beautiful, very durable with a hard coating to protect the photo itself. The mahogany stand is very attractive and will compliment espresso furniture in my living room. I ordered another set to send to my daughter!

love my coasters!
By
Shopper

(Toledo, OH) - November 27, 2011
I absolutely love the coasters that I purchased! However, I had a slight problem with my package between fedex and the USPS. When I give my boyfriend these coasters for Christmas he is going to love them for his new house!

LOVE IT!
By
Shopper

(Canada) - November 27, 2011
Such a great product! They turned out just as I had hoped! I definately recommend them and I will be purchasing more in the future!

Very pleased with shipping and quality
By
Laura P.

(King of Prussia, PA) - October 1, 2011 (
See all reviews by this customer
)
I ordered these as a gift and had them sent directly to a friend for her birthday, she loved the coasters and was really excited about how they looked. I was also happy with the speed that they were delivered.

Photo Coasters 7.11
By
Christina B.

(Riverside, CA) - August 2, 2011 (
See all reviews by this customer
)
AMAZING!!! the quality of the photo is super fantastic. it was more than i imagined. i definitely got an incredible deal and i plan to order more.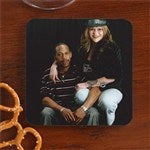 Even nicer than I expected!
By
Shopper

(Ronkonkoma, NY) - July 15, 2011
I bought one of these as a gift & was very impressed at how nice it turned out. Great quality, the coaster is nicely coated to make the picture look really smooth, shiny, & clear. The recipient loved it! I bought 2 more as gifts afterward. All recipients were extrememly pleased. I would definitely recommend this item as a novelty gift. The stand is cute, too, & provides a nice display for the coasters without looking cheesy.

Absolutely Beyond Expectations!!!
By
Taunya S.

(Albany, OR) - June 7, 2011 (
See all reviews by this customer
)
I thought that this would be a great gift for my best friend's bridal shower, using an engagement picture she had emailed me. It was her FAVORITE present from the whole shower, her words!! The picture turned out so incredibly clear and vibrant, way beyond my expectations. I am a printer so I'm pretty particular about images and placement and these guys did a GREAT job! I can't wait until I can use this idea for another gift!

photo coasters
By
Shopper

(Des Moines, IA) - April 22, 2011
I have received many compliments on the coasters. They were easy to design and look very attractive.

Good quality - fast shipment.
By
Stefanie J.

(Gainesville, FL) - April 11, 2011 (
See all reviews by this customer
)
Item as described. Camr fast.

awesome!
By
Linda C.

(Mount Dora, FL) - March 28, 2011 (
See all reviews by this customer
)
As always, your products are fantastic. My coasters are sharp and clear. Thanks!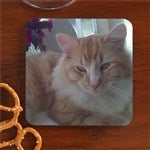 Beautiful image
By
Charlene Y.

(McDonald, PA) - December 30, 2010 (
See all reviews by this customer
)
They turned out wonderfully...the colors were very vibrant and the image was sharp and clear. My mom was thrilled with the gift.

Coasters Were Great :)
By
Misti H.

(Winner, SD) - December 1, 2010 (
See all reviews by this customer
)
The coasters took very little time to ship. When I got them, the picture looked exactly as it had on my computer screen. I'm very satisfied with this product!

Absolutely Beautiful
By
ANN Z.

(Mission Viejo, CA) - November 1, 2010 (
See all reviews by this customer
)
I was in need of an engagement gift and came across this site. I ordered the Personalized Coaster Set hoping it would look good. I was surprised not only to receive the item so quickly but also I was impressed on the quality! My picture on the set was very sharp. The coasters are thick and the wooden holder to display them is very nice. I will be very proud to give this gift.

Thank you very much!

Picture coasters
By
Deborah M.

(Canada) - September 1, 2010 (
See all reviews by this customer
)
Delivery was in five days which is amazing seeing as I live in Canada.
The product is outstanding.
Thank you again P.com for the great service.

The only pet peeve I have is the delivery charges. In the end it cost me twice as much than it would have if I went to a store and purchased the item.

Thanks Deb

Awesome
By
Yolanda S.

(Orange, CA) - June 18, 2010 (
See all reviews by this customer
)
This item turned out so great!!