The perfect gift
By
Shopper

(Plymouth , MA) - August 26, 2014
I got this as a daycare gift to go along with a poem for her daycare provider. I am in love. Not only did it ship really fast but seemed to arrive fast as well. I will definately be ordering other items soon.

GREAT GIFT FOR MY PROFESSOR
By
Shopper

(GARDEN GROVE, CA) - June 18, 2014
It is a beautiful and playful gift for my professors. I am transferring soon so this would remind them about me. The size is smaller than what I expected but the messages are displayed perectly.

Lovely piece
By
Shopper

(Miramar, FL) - June 9, 2014
The teacher loved it a great memory for a special teacher....

Gorgeous
By
Tamika A.

(Suitland, MD) - April 6, 2014 (
See all reviews by this customer
)
It was a little smaller than what I thought but it was very nice and heavy. My Professor LOVED it!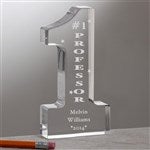 Bosses Day #1
By
Dawn L.

(Amarillo, TX) - October 22, 2013 (
See all reviews by this customer
)
I am fairly happy with the product. It was smaller than I expected (which for that would lose a star) but otherwise it was fabulous. My boss really liked it and that is what was important, (so for that.. it gained a star) :-)

Awesome!
By
Nicole S.

(Moore, OK) - May 15, 2013 (
See all reviews by this customer
)
This was a great item. The teacher loved it and she will now have a lasting memory of my son.

Great Teacher Gift
By
Kathy B.

(Highlands, TX) - March 19, 2013 (
See all reviews by this customer
)
I bought this for my daughters' teacher, and I'm sure he will love it.

Great Gift For Teacher
By
Shopper

(Madison, WI) - March 17, 2013
My teacher was very flattered after receiving this and I could tell that it meant a lot to her. It's a very cool gift that you can personalize anyway you want. If you really want to show someone how much you care about them, something like this may be the thing to buy, especially for its very reasonable price.

coaches award
By
Tami F.

(Syracuse, IN) - November 12, 2012 (
See all reviews by this customer
)
I have bought 2 awards from personalization now and both of them have been excellent quality and I am always extremely pleased with the quality how they look and the price I will continue to purchase things from them in the future and recommend them to others.

Great Gift!
By
Shopper

(Culver City, CA) - June 25, 2012
This is a really nice gift for your child's teacher. The teacher loved it. Great size and it's special because it has their name on it so it shows you put your heart into the gift. I highly recommend.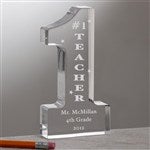 Just the right size for a desk
By
Shopper

(Albuquerque, NM) - May 19, 2012
The teachers loved their sculpture. It made them cry. I loved the size of them. Not to big or not to small. Fits perfectly on their desks. Thanks!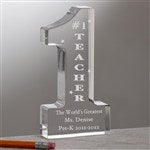 Well worth the money
By
Shopper

(Chesapeake, VA) - May 7, 2012
I brought this gift for my son's teacher for, "Teacher Appreciation Week". Not only did she love it,but it was exactly like the advertisement. Personalization mall.com was very accomdating because I order this gift a week in advance it was placed on the wrong truck. Personalization sent another over night mail, plus I was able to keep my original order. I will definitely shop with Personaliztional mall and would invite anyone else too as well.

Beautiful job...
By
sharon M.

(daly city, CA) - December 30, 2011 (
See all reviews by this customer
)
im very happy with my keepsake, good size and good quality, i wanted something special and different for my boss and this one worked perfect!

gorgeos
By
Shopper

(Los Angeles, CA) - July 2, 2011
this number 1 is really beautiful, i'm so please with this product and my daughter director will really love it.
i'm a permanent customer with you, and i will be keeping buying for you,

He loved the gift of appreciation
By
Chantell J.

(Florissant, MO) - June 6, 2011 (
See all reviews by this customer
)
My daughter's teacher was absolutely estatic about this gift. He is displaying it on his desk. The quality is great and the speed of delivery exceeded my expectation. I am not at all dissatisfied with this order. Another great hit with me and I will most definitely order again!!!!!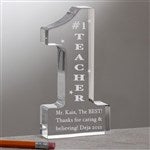 AWESOME!
By
Kathleen V.

(Columbus, OH) - June 4, 2011 (
See all reviews by this customer
)
My first grade granddaughter was very excited to give this to her teacher!
She really thinks the world of Mrs. B. and wanted to give her something special.
Mrs. B. LOVED her gift and it will be something special for her to remember my granddaughter by, years from now.
I was very pleased with the quality, price, and swiftness of service.
This is my second purchase from Personalization, and both experiences have been very Happy!!!

Very nice gift
By
Lynne H.

(Durant, IA) - May 16, 2011 (
See all reviews by this customer
)
Very nice. Good size. Teacher loved it. Arrived very quickly.

Love it!!!!
By
Shopper

(Bellflower, CA) - March 19, 2011
I had purchase this item for my grandson teacher to show her that appreciate her stepping back into his classroom to clean up and help it get back into order. I didn't want to wait for teacher appreciation week to do so. She loves it just like the other items that she had received from me in the last couple of years.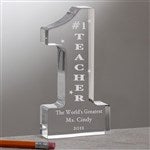 Truly elegant...
By
Moez L.

(Chicago, IL) - August 17, 2010 (
See all reviews by this customer
)
Bought this for my friend who graduated her masters and is bound for a dream job in teaching..wanted something simple yet elegant..and this turned out to be a perfect gift..would shop from this website again..

personalized keepsake
By
sheron G.

(Brooklyn, NY) - July 2, 2010 (
See all reviews by this customer
)
My 9 year old daughter picked out this lovely token for her teacher , she was very happy and chose her own words what she wanted to say. i loved the service and was worried i will not get it in time but it came in 2 days so we happy and the teacher loved it . A HAPPY ENDING FOR ALL

Great teacher's gift!!!
By
Michael T.

(Salisbury, CT) - June 21, 2010 (
See all reviews by this customer
)
When Ana opened her package and saw the gift for her teacher - her eyes lit up as she thought it was awesome!!! Her teacher loved it too! It was by far, a nice touch as an end of the year gift for her teacher! Thank you!!!

Perfect for a teacher
By
darwin W.

(moyie springs, ID) - May 31, 2010 (
See all reviews by this customer
)
This item is perfect for the teachers desk, just the right size and price!! Exremely fast shipping! Would def. buy from here again, Thankyou

Perfect
By
Jessica R.

(New York, NY) - May 19, 2010 (
See all reviews by this customer
)
Its perfect to place on your desk with out having to take up too much space. Its just the right size about 5 inches or so in height.

Loved it
By
Sharon B.

(Murfreesboro, TN) - December 29, 2009 (
See all reviews by this customer
)
We bought it for my daughter as a gift after she completed her Master's Degree. Loved it.

Perfect gift for the who encourage us in life.
By
Tasneem J.

(edison, NJ) - October 9, 2009 (
See all reviews by this customer
)
I have given this to my daughter class teacher who has help my daughter a lot and encourage her in her studies.....and she likes the gift a lot...i recommend this appreciation gift to those who want to share thier love towards thier teacher...