Loved it!
By
Mary C.

(Phoenix, AZ) - March 13, 2013 (
See all reviews by this customer
)
I loved this puzzle, it was perfect for my boyfriend. Also a very sweet present to give you significant other :)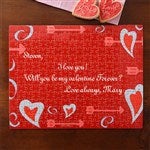 Such a cute idea!
By
Shopper

(Paris, TN) - February 11, 2013
The puzzle was fun, and something different to get for Valentine's Day!! It was a bit challenging with all of the red pieces, but it was fun!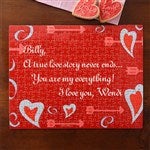 EXCITED!!!!!!
By
Jennifer M.

(Salem, UT) - February 3, 2013 (
See all reviews by this customer
)
I'm so very excited and happy with the puzzle I got for my hubby ! He loves puzzles and its a very cute way to express a message for him. Not only that but very excited to see how long it takes him to put it together ! Plus all the small pieces made an even better hint prior to valentines this year! He has no idea what 252 means oh it's great lol. Thank you for such a great quality gift to get to personalize completely!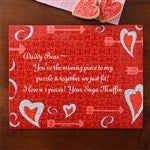 Awesome,as usual.
By
Jennifer C.

(New Castle, DE) - February 2, 2013 (
See all reviews by this customer
)
I have opened the package but not have given it to my boyfriend yet. But in my past experiences with this compnay it has always been A+ so I'm sure this will be the same.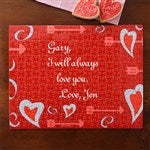 Great gift idea!
By
Jamie S.

(Arlington, TN) - January 14, 2013 (
See all reviews by this customer
)
This was an amazing gift! I purchased it for my husband as an anniversary gift, and he loved it! The personalization was beautiful. I will definitely shop again for some unique and fun gifts. Thank you!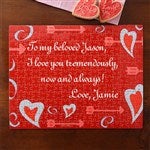 Great anniversary gift
By
Shopper

(New Bedford, MA) - November 2, 2012
This was a great gift for my boyfriend of one year. It was shipped exactly on time that it said. We now have it glued together and framed in a shadow box with a photo from our anniversary trip to New York City.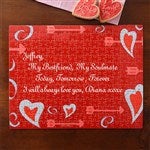 Awesome
By
Shopper

(Zebulon, NC) - March 5, 2012
The puzzle was awesome, he loved it...Would definitely recommend...

Frustratingly Fun!
By
Shopper

(Belleville, IL) - February 24, 2012
This puzzle is a quality product, and the personalization is great. I won't say it's a very easy puzzle, but everyone likes a little challenge! Getting the jist of the puzzle done didn't take too long, but filling in all of the purely red pieces made it a little challenging, though not overly frustrating.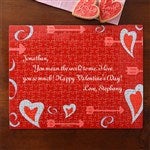 A Special US Valentine
By
Jacqueline H.

(Kingston, WA) - February 15, 2012 (
See all reviews by this customer
)
Our foreign exchange student from Malaysia had only been in the States for 2 weeks when we handed him his special Valentines bag of personal goodies, a family tradition. The personalized puzzle with his name, ours and the name of his American hometown really made him smile. I know it will be put together countless times when he returns home to Malaysia, and can imagine him many years from now showing it to his children,recounting his experiences in Washington State.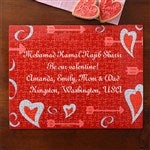 My partner loved it!
By
Brooke M.

(Australia) - February 12, 2012 (
See all reviews by this customer
)
My partner said it was the best most thoughtful present he had ever received. He felt bad because he only got me jewellery. Our Valentines weekend away was amazing!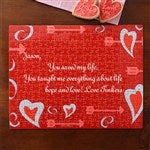 :)
By
Shopper

(San bernardino, CA) - February 12, 2012
Completely satisfied. Fast shipping, excellent condition, great prices. The puzzle us absolutely perfect just as I expected

Fun!
By
Shopper

(Highlands Ranch, CO) - January 31, 2012
Pieces are smaller than actually visualized and will take some patience for a teenager! Still a nice Valentine novelty!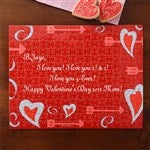 I Have A Newer Idea About This Product!!!
By
Lilia O.

(Miami, FL) - January 1, 2012 (
See all reviews by this customer
)
Even better... I was actually hoping that, even after finishing a very personalized "romantic 252-piece puzzle", she still wouldn't be able to decipher the "secret message" just yet! Because the whole phrase was specifically done with an invisible-magic marker… And she'd have to use a special magic pen (that automatically came with Personalizationmall.com) to reveal the "secret message" by coloring all-over it until she finally sees it. But, wait! Hold on. Still again, she wouldn't be able to decipher the "secret message." Because the VERY CLEAR printed-words (on the puzzle) would still look "WEIRD." I have this newer idea that she'll have to (in addition to completing the whole puzzle and coloring all-over it to make it visible), slowly carry the item underneath it with a typical brown-board, take it to a wide mirror and finally, (with the puzzle facing the mirror and her standing behind it), she'll carefully look into the mirror to see what the puzzle (in front of her) FINALLY SAYS!!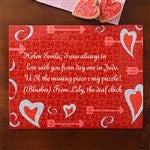 cute orginal and a super hit
By
Shopper

(shawnee, KS) - February 17, 2011
Thought it was very cute and they loved it.
The packing was good and it arrived very fast.
I will definitely order from here again.
-satisfied and happy!