Doggie Doormat
By
Bobby B.

(Lubbock, TX) - September 16, 2014 (
See all reviews by this customer
)
It was perfect. Even thicker material than I thought it was going to be. I gave it to my daughter for her birthday and she loved it!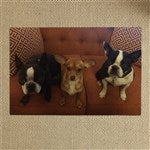 More than I expected for the price
By
richard S.

(fort myers, FL) - August 31, 2014 (
See all reviews by this customer
)
Awesome product, price and delivery time - plus, relatively easy website. Best and easiest purchase I ever made on line - you will not be disappointed.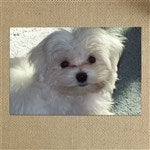 Delightful doormat!
By
Sara D.

(Glen Allen, VA) - April 14, 2014 (
See all reviews by this customer
)
Absolutely love how my doormat turned out - almost too beautiful to stand on! Every time I look at it, I am reminded of the incredible butterflies we saw last summer and I immediately smile. The backing is non-slip and the material of the front is smooth, but not too much so, that it is safe.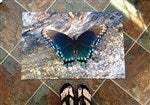 Better than aticipated
By
William L.

(Louisville, KY) - March 29, 2014 (
See all reviews by this customer
)
Clear with professional

purchased to give as a gift
By
Shopper

(Philadelphia, PA) - November 24, 2013
I got this to give as gift for someone. The quality was good. The mat itself is nice. The picture we submitted is exactly what was put on the mat. Very satisfied. My wife liked it so much we're ordering one for ourselves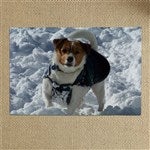 My Dirty Santa Doormat
By
Shopper

(Carriere, MS) - July 25, 2013
I purchased this doormat as a dirty Santa gift for this year's office Christmas party and uploaded a funny picture from last year's event. I am so thrilled with the quality and detail of the picture imprinted on the doormat. The colors so vivid and clear! It is going to be the hit of this years' party! The doormat is a good quality too --- I wouldn't recommend for outside - but would look great in front of a kitchen sink or fireplace.

Loved it!
By
Jaclyn B.

(Trooper, PA) - May 31, 2013 (
See all reviews by this customer
)
Purchased for a friend and she absolutely loved it!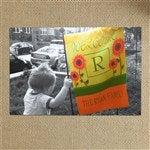 Beautiful!
By
Shopper

(Export, PA) - October 15, 2012
This item came quickly and looked incredible! The photo is very clear. The rug is thin, but does have a rubber back on it.

More a wall hanging than a doormat
By
Tammy H.

(Tillamook, OR) - October 13, 2012 (
See all reviews by this customer
)
This is the third photo mat I've purchased for gifts. The quality is great and no one wants to actually use it as a doormat. It's nice being able to personalize with your favorite pet or place.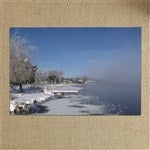 Big hit as presents!
By
Shopper

(Irvine, CA) - May 14, 2012
I ordered 3 doormats and they all came out beautifully. The customer service was excellent with online chat answering a couple questions for me during the ordering process. These were ordered as presents and everyone just LOVED them. Would recommend this as a creative and thoughful present (including a present for yourself!).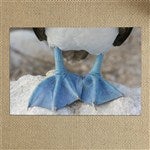 Nice Quality Product!!!
By
Dana R.

(Warren, OH) - May 4, 2012 (
See all reviews by this customer
)
The shipping was fast as usual, the quality of the picture I uploaded was awesome!! Very nice product! My mom loved it!!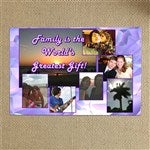 Great Product!
By
Shopper

(oklahoma city, OK) - March 30, 2012
Was a birthday present and was delivered fast. It was wonderful! Thanks for making it to what I wanted.

perfect
By
Shopper

(Downers Grove, IL) - February 11, 2012
i must admit that when i placed the order for the door mat i was not sure how it would turn out, but when i received the mat i was extreemly impressed. it came out bueatiful. the quality, speed and ease of setting up the order was great. the steps for ordering were clear and concise. being able to personalize gifts for everyone in my life has made shopping for gifts for a special day a breeze. i will be coming back often.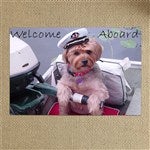 Perfect Personalization
By
Shopper

(Nitro, WV) - January 1, 2012
The rug was adorable and perfect! Great quality and exactly as pictured in the preview! The rug came with a small border around it which looked great! I used a picture that I had photo-shopped to add "BlessThis Home" for the rug, and it looked perfect. The writing was clear and easy to read. Fast shipping!

LOVE IT
By
Shopper

(Wickliffe, OH) - December 29, 2011
the personalized doormat exceeded my expectations size of the mat was big & photo quality excellent shipping was super fast highly recommend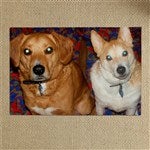 picture doormat
By
Shopper

(bend, OR) - December 20, 2011
Absolutely love it! The picture quality was amazing and the colors brilliant. Shipping was fast. Would definitely buy again.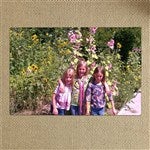 Very Please with the item, a little confused about the order process.
By
BOBBIE T.

(FLOWER MOUND, TX) - December 15, 2011 (
See all reviews by this customer
)
I'm giving the product itself five stars. Mainly because I know the resolution of the picture was smaller than I intended it to be when I sent it off. But, much to my pleasant surprise, the floor mat, (20 x 27") was not affected one bit. I don't know how they got it that big, but I was very glad to see it. My only complaint was that, when I ordered the mat, I thought I would be able to add text to it, (like the family name, or Welcome, or whatever...) but I couldn't. The mat that had text capability, appears to have been only certain, pre-printed scenes. But I am happy with the purchase, and I definitely will shop this company again, if I need another gift of this type.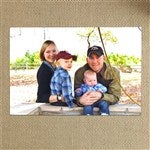 The Perfect Thank You!
By
Shopper

(Baltimore, MD) - November 13, 2011
After a wonderful weekend at our friends' beach house, we wanted that "special something" to express our gratitude for our friends' hospitality. This door mat said it all! It captured the beauty of the weekend and was very personal, because it's the scene our friends gave to us to enjoy. I can't think of a better way to say thank you than to give a personal gift from Personalization Mall! We have given multiple gifts from door mats to ties to Christmas ornaments! The gifts are ALWAYS sent on time and are completed beautifully each time. We will continue to order from Personalization Mall.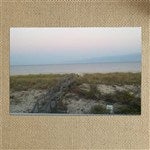 Beautiful personalized welcome mat!
By
Erin P.

(Port Orange, FL) - September 9, 2011 (
See all reviews by this customer
)
Made this as a gift for our new pastor and his family. It wasn't a traditional picture but a Psalm and a pretty graphical design. It looked awesome. Just like it did on my computer. Might be a little pricey, but it definitely delivers on the results. For those wondering about the quality of their picture...On the scale they use, my picture rated the one under the best one, which I think was excellent ( based on the size ( pixels) of your picture).

Doormat
By
Karla T.

(Lafayette, LA) - August 22, 2011 (
See all reviews by this customer
)
I bought this for my sister in laws birthday. I loved it and so did she! It was everything I expected and more. I thought it was a unique way to display a great picture.

What a great way to display memories outside
By
Hiedi S.

(Oak Lawn, IL) - June 3, 2011 (
See all reviews by this customer
)
We have had vacation pictures put on these matts for several yrs.. We use them to display on the walls of our upstairs sun deck. It is such a happy place we love to sit there and feel like we are on the islands. We do have to replace them every yr. due to sun fading the matts. But that is easy enough through this web site.
We get new pictures on the walls every year so it's nice to mix the old vacations with the new ones. Everyone goes crazy over the matts thinks what a wonderful Idea.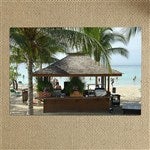 Back scenery
By
Debbie B.

(El Cajon, CA) - March 19, 2011 (
See all reviews by this customer
)
Purchased this backyard scenery door mat for my mother in law's birthday present. My personalization door mats have always been 5 star plus quality. We had it delivered to her address directly. When she received it she called. She was so excited that the picture was of deers was so close and clear(because she has 6 deer that she feeds each evening on her ranch property). But then she realized, it was a picture of her deer. I thought she was going to have an heart attack on the phone she was so excited and thankful. I can't think of a better gift so someone that has everything. And everybody can use a door mat. Thanks


Excellent Product
By
Linda R.

(Redondo Beach, CA) - December 19, 2010 (
See all reviews by this customer
)
I was extremely pleased with this doormat! I had looked at several websites and decided to go with Personalizationmall because of the promised quality of the doormat and I was not disappointed. The picture turned out beautifully, bright and vibrant colors that encompassed the entire doormat. Thank you for providing me with this unique gift! I will definitely purchase from this website again. :)

Better than expected
By
Mary K.

(Cincinnati, OH) - December 11, 2010 (
See all reviews by this customer
)
Typically, I don't review items but this item turned out great! The quality is better than I expected it would be (come on, for that price...) and they shipped my items really fast.

Great gifts -- completely satisfied!
By
Katrina W.

(Nashville, TN) - November 29, 2010 (
See all reviews by this customer
)
The doormats were much higher quality than I expected. I purchased them for gifts thinking they'd be more of a novelty item, but once I received them, I was convinced that these can actually be used and the appearance will be maintained. Definitely worth it!

Custom Door Mat
By
Ernest M.

(Peoria, AZ) - November 15, 2010 (
See all reviews by this customer
)
Wife wanted a chicken welcome mat for the house, after searching the net I couldn't find one I liked until I found this site with it's custom picture option.
WOW
It took a bit of work adjusting the picture size to get the
fit that the mat needed, but it wasn't all that hard and kind of fun at that. the product was created and shipped quite quickly and we are extremely pleased with it.
Will be comming back here for many more products.
good work people!!!!

Butterfly Door Mat
By
DEBRA B.

(El Cajon, CA) - May 27, 2010 (
See all reviews by this customer
)
Each time I order a door mat, they are better than the last
one. Thanks,
Debbie
El Cajon, CA

Awesome
By
Aimee W.

(Lafayette, LA) - May 14, 2010 (
See all reviews by this customer
)
Great product!!! Quality of item is great and it was made and shipped the same day I ordered, which is awesome!!

Outstanding!
By
Brenda T.

(Norman, OK) - January 15, 2010 (
See all reviews by this customer
)
Picture quality was exactly the same as the photo submitted. Mat was a birthday gift for my daughter. Picture was of her with her daughters in her kitchen with some pies she had just made. Used Picasa to create a title on the picture before submitting, that said "Diane's Kitchen". She LOVED it!!!!!

Even better than expected
By
Chris G.

(Union, NJ) - January 4, 2010 (
See all reviews by this customer
)
I sent in an image with a log and some text that I created in Photoshop. The quality of the printing is much better than I expected it to even be and the letters look really sharp.

DoorMat
By
Gretchen S.

(Fleming Island, FL) - December 30, 2009 (
See all reviews by this customer
)
This was a gift for my father, I designed a picture of his corvette right before Christmas as a last minute gift idea, and to my surprise this company met my expectations, I placed the order on a Saturday and received my item on Wednesday, no express mail...and it was perfect! My father loved it...except he says he cant walk on it!

Really Cute
By
Jamie M.

(Waterford, NY) - December 21, 2009 (
See all reviews by this customer
)
This is really cute...a bit thin but very cute. It came very quickly and the color and picture quality is really good. I would recommend this to anyone...

photo floor mat
By
Jan W.

(Arlington Hts, IL) - December 5, 2009 (
See all reviews by this customer
)
I love the floor mats and plan to order more. they are so life like

Excelent quality
By
Dalexis A.

(Miami, FL) - November 16, 2009 (
See all reviews by this customer
)
I was surprise by the quality of this doormat. The colors are very bright and intense. The picture looks perfect, just like the original. If you want to give something different this is a very nice option. The thing is you won't want to step on such a beautiful doormat!

Exceeded Expectations
By
Mary M.

(St. Louis, MO) - November 13, 2009 (
See all reviews by this customer
)
This placemat is the cutest thing! I bought it for a client gift and can't wait to present it to her. At first, I was intimidated by the ordering process because it was my first time uploading an image, but the extremely user friendly ordering system made it a snap. The placement quality is fantastic. Great product!

Great quality, very fast
By
Jill P.

(Lake Forest, IL) - November 4, 2009 (
See all reviews by this customer
)
It took less than 1 week for my order to arrive. We're very please with the quality of the 3 Megapix picture. The company did a better job of cropping it than I did.

Awesome!
By
Julie O.

(De Pere, WI) - October 9, 2009 (
See all reviews by this customer
)
My husband and I were completely surprised with how nice this came out. It receives lots of compliments and the always familiar, "where'd you get that?" The price is a bonus too! Would definitely order again!

Good Quality, Good Price
By
Joshua U.

(Dearing, GA) - October 1, 2009 (
See all reviews by this customer
)
I was actually surprised by how nice the quality was of this doormat. I uploaded a picture that was of the highest quality on this site, and it stretches it out pretty well. I wouldn't recommend using anything less than the best quality picture in order to have the best looking doormat. Good product, good quality, good price.