BD gift
By
Joan P.

(Saint Clair Shores, MI) - August 10, 2014 (
See all reviews by this customer
)
I purchased this for my friend's granddaughter. When I received it, the attachment for the umbrella kept slipping and the umbrella would fall forward or backwards. I called and within 2 or 3 days I had a replacement! It's perfect...and it's adorable!! I've ordered many things through this company and if there is ever a problem they replace it without question. Their items are excellent quality and this is a great place to do business with! Thank you to personalization mall for replacing my item so quickly! I can't wait for my friend to see it! I will continue to do business with you for a long, long time!

Very cute
By
Shopper

(Bellingham, WA) - July 21, 2014
I bought this for my granddaughter and it is adorable. She is only 1 so a little young but it fits her. She can easily get in and out but if its not in sand we need to hold it for her to make sure it doesn't tip. I am sure as she ages this will change.
Received if very quickly as well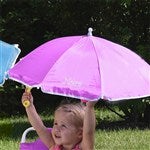 Great summer gift
By
Shopper

(Los Angeles, CA) - July 21, 2014
If u are looking for summer gift, this is the one. I bought it for my niece on her birthday, but I also added the personalized beach towel and personalized beach toys bag. My little niece is 3 years old and she loved it. She can't wait for the weekends to come so her parents can take her to the beach!

So Cute!
By
Teresa C.

(Bensalem, PA) - July 7, 2014 (
See all reviews by this customer
)
Very good quality chair!!!!!. Easy to fold and store!!!!
1st bday gift ! Hit of the party.??

Very cute product
By
Shopper

(Clarendon Hills, IL) - July 7, 2014
I bought this item in pink for a 2 year old's birthday party, and she and her parents love the gift. And several people have asked me where I bought this gift so it was a hit. I may buy one for my own son when he is older and can sit still for more than 5 seconds.

Loved it!
By
Shopper

(Florence, AL) - June 21, 2014
Got this for my future niece for her 4th birthday gift. She loved it! It seems to be good quality & the embroidery looked great. Thank you!

Beach Chair-Great Gift idea for youngsters
By
Shopper

(Rochester, MI) - May 20, 2014
LOVE this chair/umbrella set! It was a big hit at the 2 year old's bday party.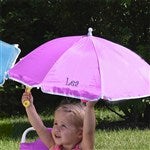 Very happy
By
Shopper

(Redding, CA) - April 26, 2014
Always happy with the quality of the products you sell. This was a gift for my nephew and he absolutely loved it.

Adorable
By
Shopper

(San Francisco, CA) - April 25, 2014
My granddaughter loves her special chair and umbrella. It's a perfect mini for the beach or concerts in the park with the family. The umbrella protects her delicate skin from the sun. Great item!

Beach personalized umbrella chair
By
Terri K.

(Clermont, IN) - April 14, 2014 (
See all reviews by this customer
)
I loved the chair. I bought it for our granddaughter. She likes her and her mommy and daddy love it! I would definitely purchase this item again.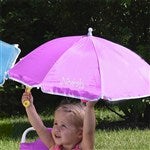 Perfect by the pool!
By
Melissa M.

(Katy, TX) - April 5, 2014 (
See all reviews by this customer
)
Love it! Folds up nicely and good quality!!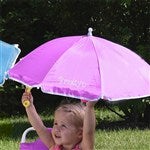 Love these chairs
By
christine V.

(WHITE PLAINS, NY) - March 28, 2014 (
See all reviews by this customer
)
I get these chairs often for gifts . They are useful and so adorable . The personalization makes it extra special . Love this site!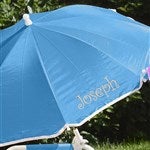 Beach chair & umbrella set
By
Shopper

(Dryden, MI) - March 11, 2014
The chair arrived on time and in great condition. I'm sure my grandson will enjoy it.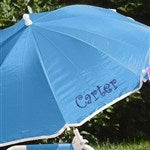 Gift for niece
By
Melissa B.

(Fort Lauderdale, FL) - February 23, 2014 (
See all reviews by this customer
)
Although we haven't used it yet, so far, so good.... It arrived on time, the color is bright and gorgeous and the embroidery looks great... I can't comment on it's stability yet; but, it seems pretty solid... I am not at all disappointed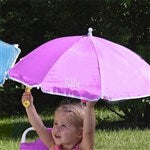 Darling
By
Colleen G.

(Des Plaines, IL) - September 6, 2013 (
See all reviews by this customer
)
This is actually going to be a Christmas Gift, so although it looks absolutely adorable I cannot yet say how it will hold up!!! SO CUTE though!!!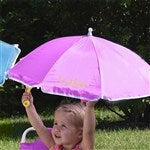 Compact and Perfect
By
Shopper

(crystal lake, IL) - August 19, 2013
Perfect Size for kids to sit and enjoy the outdoors with the sun shining.
This product is compact with the umbrella that folds behind the chair.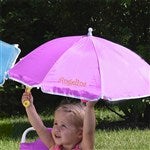 great 2 yr old gift
By
Sheryl F.

(Sarasota, FL) - July 30, 2013 (
See all reviews by this customer
)
This was a gift for my niece and she loves it.. Its her special chair that.travels to...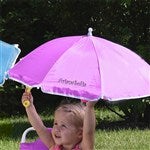 Happy Shopper
By
Theresa V.

(Mays Landing, NJ) - July 12, 2013 (
See all reviews by this customer
)
My granddaughter loved her umbrella chair. Everything I order from Personalization Mall is good quality. I will always buy from them.

perfect little beach chair
By
Ashley C.

(Aurora, MO) - July 4, 2013 (
See all reviews by this customer
)
My 3yr old daughter fell in love with this chair as soon as she took it out of the box! We are going to the beach for the 1st time this summer and can't wait to use it! She has been sitting in it around the house! The pink is perfect! We got it with white lettering and it goes together really well!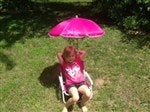 Precious
By
Shopper

(Marietta, GA) - June 30, 2013
I love personalized anything! This set is absolutely adorable and will be an awesome addition to my grand daughters collection:)

Wonderful gift for the beachgoer!
By
Shopper

(Seekonk, MA) - June 9, 2013
Darling set! Not only is it adorable but it's practical too! It is sure to please.

Adorable
By
Shopper

(Williston Park, NY) - June 4, 2013
I just brought this for my friends Granddaughter.
My sister brought it for mine. I thought it was so cute and
perfect for them to sit outside in the sun without having the
sun directly shining on them.

Beach chair & umbrella
By
Shopper

(Medina, TN) - May 21, 2013
Very cute for my daughter. I got it in the mail in less than a week!!!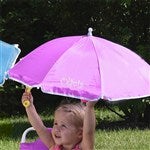 First bday gift
By
Michela G.

(New Market, AL) - April 11, 2013 (
See all reviews by this customer
)
Very pleased with the gift! Didn't see it in person, but the photo looks cute & the recipient seemed very happy!

Cute chair
By
Barbara B.

(Stoughton, WI) - April 6, 2013 (
See all reviews by this customer
)
Quick shipment and a very cute chair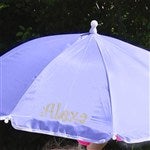 Grandaughter's Easter Surprise
By
Joyce I.

(Harvey, LA) - April 1, 2013 (
See all reviews by this customer
)
This little chair was so cute. She ran over and sat down immediately. Her mother liked the fact that she can't fold it up herself, it has a safety feature on it. Great gift for the beach.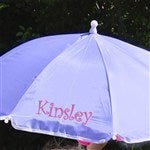 Great chair
By
Shopper

(Interlachen, FL) - March 3, 2013
I got this chair for my 15 month old cause she's too short to sit in the "grown up" chairs. She loves this lil chair and it weighs a lb or less so she's able to move it from one room to the next all by herself. She absolutely loves it. The umberella stays in place with a lock thing located behind the chair. Great chair but it was a lil costly. Guess anything you get personalized will cost a little more.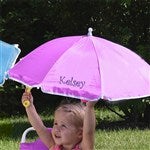 Great Gift for a Toddler!
By
Shopper

(West Hempstead, NY) - February 22, 2013
I bought this gift for my 2 year old cousin. He spends his summer at the beach and his great-grandmother has a pool and he spends a ton of time with her too. I love the color and chose white writing so that it can "pop" off the color and match the trim, which it does. I also chose all caps for the name because he is learning to recognize his name and everything is an opportunity to learn. It is tiny, great quality and his parents LOVE it! Thanks for another great item at a great price due to coupons!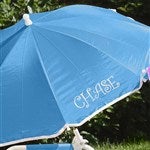 Beach Chair & Unbrella Set
By
Stephanie M.

(Mahomet, IL) - December 19, 2012 (
See all reviews by this customer
)
AWESOME, I ordered these for my granddaughtes for Christmas this year, when they arrived everyone at the office was just as impressed as I was. I have ordered many items from this site and have been 100% satisfied with all the proeucts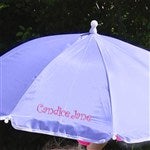 So cute!
By
Kristin Y.

(Scottsdale, AZ) - December 5, 2012 (
See all reviews by this customer
)
I ordered these for my twin niece and nephew for Christmas and when they arrived, I opened them to make sure they were cute and would be okay for them (they will be 2 in January)and they are adorable! Perfect size for them and I would imagine they will be able to use them for a good few years before outgrowing them!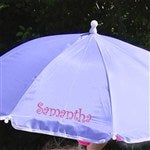 Infant birthdy gift
By
Daniel W.

(Indian River, MI) - August 17, 2012 (
See all reviews by this customer
)
Well received by my grand daughters parents as well as towel and beach toys. I purchased this set after seeing my niece enjoying the same gift.

Loved it
By
Jacqueline J.

(Chandler, AZ) - August 15, 2012 (
See all reviews by this customer
)
Just beautiful, sturdy, the color is vibrant and I love how they make shipping so quick and easy.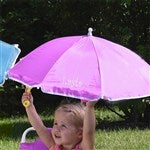 My cousin loved it!
By
nicholas B.

(port st lucie, FL) - August 11, 2012 (
See all reviews by this customer
)
I got a call from my cousin her daughter loves the chair! Awesome gift idea!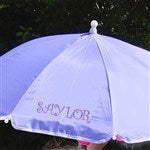 Very good
By
Shopper

(OVERLAND PARK, KS) - August 1, 2012
I sent it as a gift to my friend's daughter in another state I could only see the picture of it !! I liked it .. The kid is 2 years old and it seemed it fitted her age very well ! So nice! I loved the color .. It was more brighter than the one in the picture.. My friend liked it a lot !

Awesome chair. Perfect present!!
By
Alicia R.

(West Jordan, UT) - June 29, 2012 (
See all reviews by this customer
)
I bought this chair for my nephew's 1st birthday. It was such a huge hit!!! His dad loved it to take fishing with them, and mom loved the umbrella to keep the sun off of him. I bought a beach towel and sand toys to go with it. It looked so darling!! My nephew sat in the chair the whole time he opened his presents. I would definitly reccomend this chair and umbrella combo!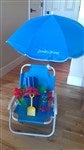 FUN IN THE SUN
By
Martha W.

(Chesapeake, VA) - May 4, 2012 (
See all reviews by this customer
)
I ordered two of these in purple. The color is deep and vibrant, prettier than in the photo. I selected white stitching to compliment the trim on the umbrella. As usual, the embroidery was impeccable. These chairs have not been used yet, as they are for bithday gifts later this month; however, they feel very sturdy. I like that they have a locking mechanism to secure the seat in position. The umbrella also appears to be pretty securely in place. I am pleased with the purchase, and they arrived lightning fast. Great job, thank you!

children's beach chair
By
Nancy H.

(Medford, NJ) - April 30, 2012 (
See all reviews by this customer
)
a wonderful item for the small "beach goer"...sturdy, colorful, and good quality. has safety features to prevent pinched fingers. i ordered 2 chairs in the purple and had the names printed on the umbrella in white to match the trim on the chair & they look fantastic! my granddaughter is one years old and sits in hers as much as possible - beach weather is a few weeks away and she wants to be in her chair now and not wait. a very nice gift idea ~ bringing the second chair to a birthday party for another little girl next month!

PERFECT FOR THE BEACH
By
Vicki P.

(Eddyville, KY) - April 28, 2012 (
See all reviews by this customer
)
Had previously purchased 2 of these chairs for my granddaughters. They loved them. Good quality and really cute. Wonderful for the beach.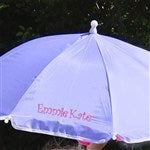 adorable
By
Shopper

(Rockton, IL) - April 5, 2012
I bought this for my Granddaughter, her favorite color is purple, she was thrilled. The umbrella is perfect, to protect young skin from the sun. She loves having her name on the umbrella, everyone knows it's hers.

Great Service
By
Shopper

(Hatfield , PA) - December 27, 2011
I ordered many items from you this year. All arrived in mint condition except one. When I called , there was immediate satisfaction and every effort was made to correct it before Christmas which you did. People were excited by the personalized items which made me happy. Uniqueness is your specialty! My pleasure in dealing with your company is well known among my family and friends. Now they too can see why. Thank you.