Awesome frame
By
Shopper

(SOMERSET, WI) - July 22, 2014
This is very beautiful, I would highly recommend this frame to anyone, I have never seen anything like it anywhere, I would buy this again in a heartbeat, I will for sure return to your site in the future for gifts. Very impressed.

Love It!!!
By
Samshun H.

(Manteca, CA) - May 25, 2014 (
See all reviews by this customer
)
I ordered this for my son's high school graduation. It's a really sentimental gift. He loves it! Definately will order from this site again.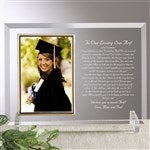 Reflection Frame
By
Ahmed B.

(lauderhill, FL) - May 23, 2014 (
See all reviews by this customer
)
Beautifull product! The glass frame is amazing and priced very nicely. Beat thing I've order here! Only $30 I believe and fits pictures perfectly. The personalition poem fit and was nicely workers and looks amazing in person. Highly recommended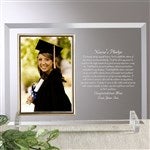 Graduation poem
By
Shopper

(Palm Harbor, FL) - May 19, 2014
Love the frame just a little hard to read because it's clear but overall I'm extremely satisfied!!

Wonderful expression of love
By
Amirah S.

(Houston, TX) - May 16, 2014 (
See all reviews by this customer
)
My daughter graduated from college and I put her photo in cap & gown and one of her favorite quotes about success - she loves it. Quality and design are beautiful.

EXCELLENT
By
Linda A.

(Richmond, TX) - May 15, 2014 (
See all reviews by this customer
)
EXCELLENT QUALITY, SERVICE AND SHIPPING. THANK YOU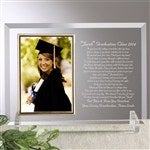 Love It!!!!
By
Samshun H.

(Manteca, CA) - May 10, 2014 (
See all reviews by this customer
)
I ordered this for my niece for her graduation. I know she's going to love it. It's a very sentimental gift. Would definately order from this site again! Thank you very much!!!!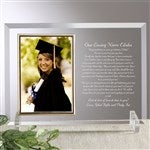 Pleased Beyond!!
By
Mark V.

(Scottsdale, AZ) - April 27, 2014 (
See all reviews by this customer
)
I ordered two separate frames, with. special poems for each of our granddaughters.We were so pleased when they arrived! Also very fast too! We love them, & can not wait to give them to our two ganddaughters, who are both graduating from high school! Thank you, & we will order from you again!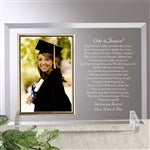 2014 Graduate
By
Shopper

(Liberty, TX) - April 15, 2014
I purchased this item for my Goddaughter as her graduation gift. I love the way it came out. I ordered a frame previously from this company, and I would do so again. I used a Marilyn Monroe quote and a few words of inspiration on this frame.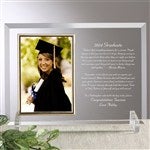 Great product
By
Amaris A.

(Austin, TX) - March 2, 2014 (
See all reviews by this customer
)
I used this gift as a gift for my grandparents at my wedding instead of for a graduation. I found a grandparents poem to engrave on the frame. It looks even better than the picture in person. I will definitely order from this site again.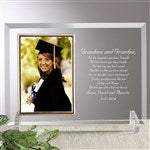 Lovely frame
By
Dannielle D.

(Brooklyn, NY) - December 28, 2013 (
See all reviews by this customer
)
You don't necessarily need to use this frame for a graduation photo. I wanted to type my own poem so this frame allowed me more space and characters. Everything came out very well. I was pleased with everything that I ordered and would definitely purchase from this site in the future.

graduation frame
By
Shopper

(Boise, ID) - December 27, 2013
it was really nice and my husband loved it. i wrote a poem on it for his college graduation called "If You Believe" the only thing was the letters where a bit difficult to read as they where engraved on the glass, other than that it was perfect. this is my fifth time ordering from this site and i am completely happy with the product!

Second One & Still Pleased!
By
Jeremy O.

(HERRIMAN, UT) - December 16, 2013 (
See all reviews by this customer
)
This is the second one of these I've ordered from this company and I would order a third, fourth, etc. A+

Beautiful Gift and Wonderful Company!
By
Shopper

(FRANKFORT, KY) - December 15, 2013
What a great experience! The frame is beautiful and my daughter was so happy when she opened it following her college graduation and proudly displayed it to her guests! The ordering process was very easy since I could preview the "poem" and edit with ease until I had it perfect. I did have to work with customer service but it was a great experience! Somehow, the wrong frame was shipped. The customer service representative was wonderful! She immediately corrected the problem and was a delightful person! I received both the original and replacement orders in about 3 or 4 days after ordering which was much sooner than the stated shipping time. I highly recommend this product and company!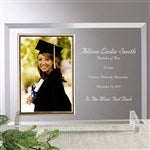 I HAVEN'T SEE IT YET, BUT MY SISTER LOVED IT! IT WAS THE SPECIAL ITEM I NEED IT!
By
Shopper

(SAN DIEGO, CA) - October 21, 2013
I CAN'T SAY MUCH, CUZ I HAVEN'T SEE THE ITEM YET. I CAN ONLY GO WITH WHAT MY SISTER TOLD ME. SHE SAYS THAT SHE LOVES IT VERY MUCH AND THAT IT'S BEAUTIFUL.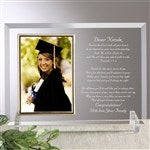 Graduation Frame with poem
By
Shopper

(Covington, GA) - August 24, 2013
The frame arrived quickly and looks very nice with the clean and clear writing. I would definitely recommend this item.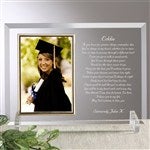 Great graduation present
By
Shopper

(Miami, FL) - July 10, 2013
I gave this to my brother on his college graduation. I loved that I was able to write my own "poem" - I actually switched it to a Bible verse. Most everything on the frame is customizable, so it made it a wonderful and personal gift.

AMAZING!!!
By
Shopper

(West Orange, NJ) - July 5, 2013
This is a great heirloom item. It is truly my family's all time 100% absolute favorite item to gift to family members & friends upon completion of any level of education. Each plaque is personalized with not only the recipient's name, school and year of graduation, we also add the recipient's motto that they live by along with a personal salutation of our name & "Proud (Fellow) Villagers". In 2009 we placed our first order and have done so thru 2013 so far. And yes, we will continue to do so again & again. Simply, we love this plaque and hope to see its continued availability!!!

Beautiful!
By
Gloria L.

(Riverside, CA) - June 20, 2013 (
See all reviews by this customer
)
My niece loved this frame. I had it engraved with the words on her college graduation announcement. A forever keepsake. Fantastic, heavy frame. Also great as a wedding gift with the invitation engraved on it. Most great gifts I give come from Personalization Mall. Everyone loves them!

Beautiful!
By
Gloria L.

(Riverside, CA) - June 17, 2013 (
See all reviews by this customer
)
The graduates loved their frames! I had their graduation announcement reproduced word for word. Now they'll always have a great keepsake of a special day. The frame is a nice, heavy glass. Beautifully engraved. I was extremely pleased.

Great product
By
Shopper

(Hallandale, FL) - April 27, 2013
I loved it. Very well presented and job well done with the engraving.

Quality & Beautiful
By
Shopper

(Van Horne, IA) - April 1, 2013
I ordered these engraved frames for Confirmation presents. They look fabulous and are a high quality product. It looks and feels like thick glass and the engraving is easy to read. The young people (and their parents) loved them. I've given engraved frames in the past from a mall kiosk and paid over $50 each because of the engraving cost, and getting only a portion of their confirmation verse. With this frame, I was able to put their name, the entire verse, and the year - all at no extra cost. I ordered on a Tuesday night, paid for fast shipping (not next day), and they were delivered to my house on Thursday afternoon. I am very pleased with the frame, with the price, with the shipping, and with the company. I will be ordering this same item every year for each of our confirmands.

very special !
By
John D.

(Tarboro, NC) - March 15, 2013 (
See all reviews by this customer
)
This is a very beautiful and special frame. Very pleased with the personalized writing.

Great product
By
adriana G.

(spring, TX) - March 1, 2013 (
See all reviews by this customer
)
I love this product great quality

for my manager
By
Huda R.

(Canada) - August 19, 2012 (
See all reviews by this customer
)
Even tho the frame was meant to be for graduates, I used it as a thank you present for my manager. It was beautiful as always... hope my manager likes it =)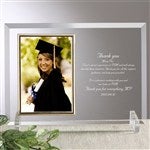 Beautiful
By
Amy N.

(Lakewood, CA) - June 9, 2012 (
See all reviews by this customer
)
This item came out better than the pictrure. The font was perfect and easy to read. One thing you should add for this item is a stand for it so it can be displayed on a table and have different color fonts to choose from. Otherwise, it was perfect. I love it !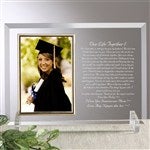 excellent
By
Madalina Anca M.

(Chicago, IL) - June 9, 2012 (
See all reviews by this customer
)
very nice gift

Graduate Gift
By
Kimberly B.

(Dallas, TX) - May 14, 2012 (
See all reviews by this customer
)
Frame was excellent.

Graduation Present
By
Shopper

(Rio Rancho , NM) - May 9, 2012
I bought this for my daughter who is a 2012 HS grad. I really liked how I was able to personalize the top line, choose from several different poems and sayings and add my own little touch for the ending sentiments. The only thing that is off is the space for the picture is larger than a 4x6, but I'll just add a colored background behind the picture. Otherwise I'm extremely satisfied with the gift and I know she will be too!!!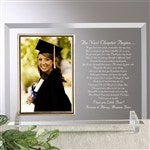 perfect grad gift
By
Shopper

(TORRANCE, CA) - January 22, 2012
this is the perfect graduation gift. looks better than i imagined.

reflections frame
By
Shopper

(Minneapolis, MN) - December 15, 2011
Product came very quickly...in plenty of time for my daughter's graduation...and my sentiment was executed beautifully!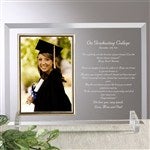 Graduation Poem Reflections frame
By
Arlene T.

(Raleigh, NC) - November 30, 2011 (
See all reviews by this customer
)
I purchased this frame to give to my daughter as a personalized momento for her college graduation. My husband and I composed our own poem to make it more personal and special. The directions to do that were simple and clear. We were v ery pleased with the results. It also came in a timely manner and we had the option of purchasing the gift box as well. The price was reasonable, compared to the price of a deploma frame with her school insignia which cost over $100. I'm sure my daughted will be delited with this frame.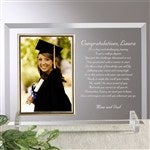 Beautiful Gift
By
Shopper

(Baltimore, MD) - October 30, 2011
This is a beautiful gift for anyone for different occasions. It is a meaningful, touching personal poem or letter to give to someone you care for. I highly recommend this stunning glass photo frame if you are looking for the perfect gift!!

A Grad Gift
By
W. Michael H.

(Higdon, AL) - September 30, 2011 (
See all reviews by this customer
)
This is such a wonderful company! The gift arrived right on time, and my son loved the gift. He had just earned his Bachelor's in Nursing Management. Thank you very much for the type of gifts you carry and the great service you provide.

Perfect
By
Shopper

(Upper Marlboro, MD) - September 19, 2011
This item was in the day they told me on the website. I did next day air because I needed this item right away and the item came right away, it looked great the people really liked this gift

Beautiful frame and engraving
By
Shopper

(West Palm Beach, FL) - August 15, 2011
Fast, economical, beautiful. I definetly recommend.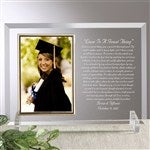 perfect gift for parents as well
By
Shopper

(rialto, CA) - June 13, 2011
iloved it was looking for something for my parents and i found this they loved it

great graduation gift
By
Shopper

(Eagle, CO) - May 12, 2011
I was able to add a poem that was very meaningful. Fits a lot of words for the size. Very nice quality

Excellent gift
By
Shopper

(Rockledge, FL) - April 23, 2011
This is an excellent gift. Quality is good. I especially like how you can put your own title and words. The only downfall is that the print looks a little small on the frame. Whilst the words can be read, there was space to make the fonts bigger to make it look more easy to the eye. Unfortunately there is no option to increase the font size but I think that where there is space, the font size should be increased by the design team

Beautiful Personlized Picture frame!
By
Shopper

(North Haven, CT) - April 19, 2011
I just received the glass picture frame that I ordered for a friend of mine who is finishing college after so many years of going to night school. It is awesome!!! I was able to add a personal message to make the frame a perfect keepsake...all we have to do is add the picture from graduation day! Thank you so much!!