Wonderful!
By
gail L.

(sterling, AK) - January 13, 2014 (
See all reviews by this customer
)
Great gift for my boyfriend, great quality! Well made and I will definitely order again from Personalzation.com!!!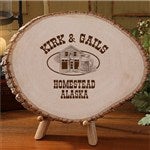 Please correct obvious errors!
By Shopper (Mililani, HI) - December 13, 2013
I am writing this review hoping the actual vendor will read this before making my order! I thought I saw it correct when ordering, but put the word "to" twice. I would really really appreciate a correction because it is an obvious mistake! I will update this review after receiving a response or the product with the correction!!!!! Please!?!?! Thank you!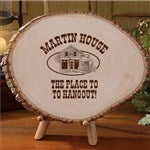 husband's birthday
By
Lisa P.

(Lafayette, LA) - June 14, 2013 (
See all reviews by this customer
)
My husband is talking about making a bar and this will go perfectly. I think it will inspire him to take the bar from the planning stage to the actual building of it. The quality is great and gives a nice rustic look.

A cowboys home. LOL!!!!!
By
Michael L.

(Norwood, MA) - January 15, 2013 (
See all reviews by this customer
)
This is a GREAT little plaque. That was the most surprising thing I guess. They don't tell you how big or small the plaque is. It is smaller than I expected. But, quality is really good. Even tho it is small, it is worth the price. It goes perfectly in my man-cave.

Good purchase
By
Shopper

(Reynoldsburg, OH) - December 21, 2012
This is really nice. It is a little smaller and lighter than I had imagined but I still love it. It is a great gift for someone with a home bar. I know my sister and her husband are going to love it!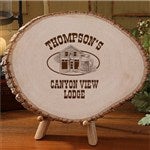 Great Product
By
Mary S.

(Portland, ME) - November 16, 2012 (
See all reviews by this customer
)
This came a little bit bigger than expected, which was great. The quality is amazing and the detail is wonderful. I know my dad will love this!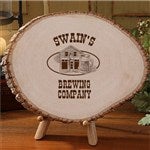 Features I love about this
By
Shopper

(Beech Grove, IN) - October 9, 2012
I saw this online and fell in love with it. My husband and I bought a house back in May 2012 and this just fits perfectly in our 1970's Lounge. Great quality and it looks better than the picture you see online. However, the lettering is a lighter brown than the picture. But it is worth the money and the memories we are starting to create in our new home with this plaque.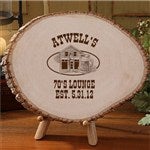 Real wood.
By
Shopper

(Curtice, OH) - January 5, 2012
Wasn't sure if this was going to be simulated plastic wood product, but it is a slice of wood approx. 9" x 7". It is good quality and husband loves the "man cave" vibe.

Wow
By
Shopper

(alderson, OK) - December 11, 2011
Loved it!!!!

I always use this site
By
Samantha H.

(Albuquerque, NM) - June 18, 2011 (
See all reviews by this customer
)
I have been using this site for about 2 years and have never bought a bad product. Everything is always great in quality and ships really quickly. I definitely recommend this site to everyone! This is a great site for gifts that come from the heart!

Shipped very quickly and great quality
By
Tiffany R.

(Edmond, OK) - February 16, 2011 (
See all reviews by this customer
)
I got this for my husband's Man Room and he loves it. The quality was amazing and shipping was amazingly fast.

Great gift!!
By
Elizabeth F.

(Fayetteville, NC) - July 5, 2010 (
See all reviews by this customer
)
I was trying to come up with a traditional gift for my husband for our 5 year anniversary, and the traditional gift is wood. We always talk about building a bar in our basement and I figured a wooden sign would be perfect to go with it! He loved it!! I will definitely buy from here again

Great experience
By
Audrey C.

(Toledo, OH) - June 11, 2010 (
See all reviews by this customer
)
I was very happy with my experience ordering from personalization mall for the first time. My order arrived days sooner than I expected it and it was packaged very carefully. The item looked better in person than I thought it would, too. I'll definitely be ordering again, as there are so many unique items, which is especially good for those 'hard to shop for people' that already have everything. Thanks!

This is the best site I have found.
By
Victoria S.

(Piscataway, NJ) - December 29, 2009 (
See all reviews by this customer
)
This has to be the best site I have found. the customer service is great very nice and helpful. I cannot say enough about it.
My husband loved this..
I have been refering family and friends to ur site. Excellent

I use to buy my ornaments at the mall they use marker for the names her they engrave they last forever for the same price. Very fast shipping too.