Perfect Gift
By
Beverly M.

(Farmington, CT) - March 10, 2014 (
See all reviews by this customer
)
I just received the personalized slumber party signature pillowcase and it exceeded my expectations. The quality of the material and the vibrant colors are sure to please the recipient.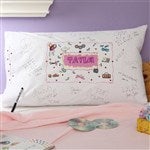 Huge hit at 9th Birthday Sleepover!
By
Shopper

(Beverly Hills, CA) - August 12, 2013
Yes, this is a basic pillowcase (not super soft, not high thread count), but that's not what this is about. The pillowcase personalization looked great. My daughter and her friends LOVED it. I wasn't expecting it, but this turned out to be one of the most fun sleepover party activities. The girls really took time and had fun with it. We added a variety of other colored sharpies to make the activity more creative. Also, recommend putting a piece of foam core cut to size behind the pillowcase so the signatures don't "bleed through" - we used binder clips to hold it in place and it made signatures easier too. Huge hit! Thanks!!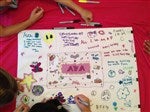 Granddaughter's 13th Birthday
By
Shopper

(Philomath, OR) - February 8, 2013
My granddaughter was having a slumber party for her 13th B-day and this was the perfect gift for her and her friends to autograph and to have something to remember this special day and friends. The pillowcase was so cute with her name. The fabric, design and color was excellent! Was a hit with all the kids.

Slumber party pillow case
By
Christine B.

(Meadville, PA) - February 1, 2013 (
See all reviews by this customer
)
My granddaughter loves it all her friends signed it and she sleeps on it everynight

WE ALL LOVE IT!!!
By
Carmen M.

(Union, NJ) - November 7, 2012 (
See all reviews by this customer
)
I got the pillow for my daugther 5TH birthday!! Kids went crazy about it....
Very good quality.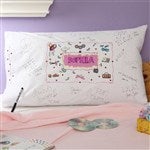 Slumber Party Hit
By
Shopper

(Ocean City, NJ) - August 27, 2012
This was a gift from my daughter to one of her friends who had a sleepover party. The kids all had fun signing it and the little girl now has her name on her pillow with all her friends surrounding it. I thought the pillow case was well made and was impressed that it came with its own sharpie...complete package.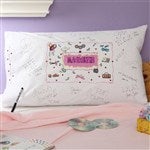 What a beautiful momento!
By
Rebecca V.

(Warren, OH) - July 2, 2012 (
See all reviews by this customer
)
I can't say enough about how pleased I am with the personalized slumber party pillowcase we ordered! It arrived very quickly and was PERFECT! It came with a black marker, but I went out and purchased a variety pack of colors so the girls could really make their mark on the pillowcase! It will be something my daughter will have for years to come that will help her remember her special party! Thank you for this great quality product and your amazing quick service!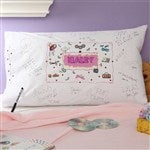 Loved It!!!
By
shanel W.

(philadelphia, PA) - March 21, 2012 (
See all reviews by this customer
)
Everyone loved the pillow case!!! Nice quality and fast delivery. I will most definitely order from here again!!

Great Birthday Gift!
By
Susan R.

(Byron, IL) - January 27, 2012 (
See all reviews by this customer
)
This autograph pillowcase will make a super gift for my grandaughter's slumber party This colorful, high quality pillowcase arrived in plenty of time for her birthday. Even includes marker! I'm sure she will love it!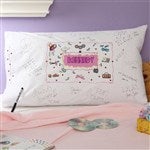 What A Great Gift for a Ten Year Old Girl
By
Judy G.

(Porter, TX) - November 20, 2011 (
See all reviews by this customer
)
I purchased this pillowcase for my ten-year old niece on her birthday. She had a slumber party and all her friends anxiously awaited their turn to write good wishes on her pillowcase. She will always remeber her 10th birthday party and who helped her celebrate. How many of you remember your 10th?

pillow
By
Shopper

(McKinney, TX) - July 10, 2011
cute as can be

Cute and original gift idea
By
kimberly R.

(Wesley Chapel, FL) - May 24, 2011 (
See all reviews by this customer
)
I thought this was a very cute gift idea for a birthday slumber party. What a great momento for the birthday girl! Great quality! My only suggestion would be a colored permanent marker to go along with it, as opposed to the black sharpie.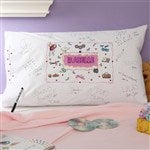 Great Item
By
LUDWINA F.

(United Kingdom) - February 28, 2011 (
See all reviews by this customer
)
Ordered this item for a Slumber Party and my girls loved them. The ability to personalize each pillow case and the other items made it something special for everyone.

Slumber Party Pillow
By
Amy M S.

(Dewy Rose, GA) - December 31, 2010 (
See all reviews by this customer
)
My granddaughter has friends over all the time, so I am sure she will enjoy using her new pillowcase. The quality was excellent and the shipping was outstanding. Will be using your site again.

5 stars from an 8yr old/38yr old/ 66 yr old!
By
Anne C.

(Peoria, IL) - June 22, 2010 (
See all reviews by this customer
)
I've ordered MANY gifts from PersonalizationMall because I can depend on its quality, uniqueness, oustanding customer service. This cheery,colorful pillowcase was one of the gifts I gave my granddaughter for her 8th bday. She was thrilled, immediately signed her little 4yr old cousin's name.Her mother put my granddaughter's pic on FaceBook proudly holding her personnalized pillow case, & within minutes, had a request from a friend of her sister-in-law wanting to know where she could get one cuz her daughter loves to have sleep-overs! This is a fun fun gift to give & receive!

Slumber Party Perfect
By
Crystal G.

(Beaumont, TX) - March 30, 2010 (
See all reviews by this customer
)
I ordered this for my daughter's birthday slumber party! She absolutely loves it! Great idea for a party!

Slumber party pillow case
By
Elizabeth C.

(Fort Worth, TX) - December 14, 2009 (
See all reviews by this customer
)
Purchased 3 of these for my teen-age nieces for Christmas. They are so cute and well made. I know the girls are going to love them!

Perfect for a young girl and teenager
By
Natty D.

(tannersville, NY) - October 1, 2009 (
See all reviews by this customer
)
Its nice and fun for the fact that you can write on it.