Calendar mouse pads
By
Carolyn D.

(Elko, NV) - February 8, 2014 (
See all reviews by this customer
)
I liove these mouse pads. Big enough to see dates, handy right there by my computer and phone. Plus a little inspiration to read when you look at the pad.

Happy, yet disappointed
By
Shopper

(Canada) - January 11, 2014
I ordered this for Christmas give-aways to friends for holiday 2013. I placed my order just in time before Christmas, knowing how hectic it could be at the post office during the Holidays. It arrived on time, which is very good. The product was of good quality and my personalization was spot on. But lo and behold, one of the 5 mouse pads I ordered was not for me. It was for someone else. I perfectly understood this. It probably got mixed up with a lot of orders coming in. But where it went totally wrong was when I called customer service and I told her what happened, she is the one sounding annoyed. I asked if she can have my missing item sent right away, she said, "sorry we do not expedite international shipping." Hello - it was your mistake, why can't you consider expediting this one little item.This conservation with your CS happened on Dec 16, 2013. Until now I haven't seen the shadow of that one mouse pad and today is Jan 11, 2014. I emailed for a refund and no one answered my email.

Happy Camper
By
Shopper

(Richmond, IN) - December 27, 2013
Everyone loved this gift.

Personalized mouse pad
By
Shopper

(jackson, NJ) - October 13, 2013
This is our 3rd year ordering this a present. It holds up to continuous daily use and the recipient loves it so much, he asks us to make it a constant present!

Handy
By
Bette Lou C.

(Sarasota, FL) - August 9, 2013 (
See all reviews by this customer
)
These calendar mouse pads are just great - so nice having the date right at your fingertips, plus nice colors, good quality and a nifty saying. Thanks.

Good mousepad
By
Candace B.

(Jacksonville, AL) - June 1, 2013 (
See all reviews by this customer
)
There is nothing wrong with this product, just after purchasing them and then purchasing other mousepads from this site, I would have preferred to purchase a more personalized, (with pic) type mousepad.

Love my calendar mouse pad!
By
Dawn L.

(Jonesboro, AR) - February 26, 2013 (
See all reviews by this customer
)
I do love this customized calendar mouse pad. Loved the options that I had with it and turnaround time was excellent.


Great value and a personal touch
By
Shopper

(Massapequa, NY) - December 6, 2012
Bought a bunch as office staff gifts and they look terrific. Used some stock quotes and some personal qoutes.....will be fun to see the reactions!

A 2 in 1 gift
By
Jacqueline C.

(Jefferson, LA) - September 4, 2012 (
See all reviews by this customer
)
I give my son-in-law a personalized calendar mousepad every year. He likes the convenience of having a calendar always at hand and I always manage to find quotes from his kids to put on it. High quality and a great gift idea.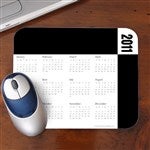 great bunko gift
By
Shopper

(Oxford, MS) - July 31, 2012
I chose this personalization myself....I think my bunko gal-pals are gonna love it.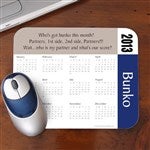 the best gift
By
Shopper

(Redondo Beach, CA) - March 4, 2012
I purchased the pad for my husband as a birthday gift (was looking for something useful, small and personal). He LOVED it! I'll order another one for my girlfriend and probably few more for other friends. Thanks a lot for making my usually nightmarish birthday gift finding process so easy.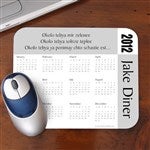 Mouse Pad
By
Anita D.

(Phoenix, AZ) - January 4, 2012 (
See all reviews by this customer
)
I ordered two of these - one for my daughter who is a teacher and one for my son who is an estimator. I have one recommendation: I would have liked to have seen a teacher mouse pad with a calendar (for example, the one that has the "100 years from now...." quote. I tried adding that quote but the quotation field doesn't allow enough characters for several quotes that I tried.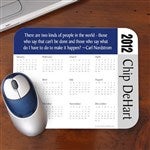 Awesomely unique!
By
Shirley I.

(Henderson, NV) - January 2, 2012 (
See all reviews by this customer
)
The personalized calendar/mousepads I ordered were beautiful and the recipients of these gifts were so impressed and told me it was the best gift they received this Christmas. The quality was great and the printing was clear and very professionally done. I highly recommend this product and all others from Personalization Mall.

A gift that gives all year long!
By
Ronald B.

(Westminster, MD) - December 31, 2011 (
See all reviews by this customer
)
Can't beat a custom gift like this. Plus, they get a daily reminder throughout the year of not only a meaningful quote but of your thoughtful gift. I do recommend a quote that is personal to the recipient.

Annual mouse pad calendars!
By
Shopper

(Woodstock, GA) - December 28, 2011
I give personalized mouse pads to some of my family every year. This year I took a quote from my daughter's outgoing email to personalize hers in her favorite colors. My husband asked for two, one for work and one for his home office. And Santa always brings one for me, of course! It is so convenient to have the whole year right at your fingertips. These are top quality mouse pads and easily survive a year of vigorous use.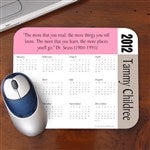 A Calendar with Thought
By
Shopper

(edison, NJ) - December 11, 2011
Have given this as a gift to a secretary who truly appreciates it. She enjoys having the calendar on her mousepad. The quote keeps her "going" on those stressful days.

Unique Gift
By
Nancy W.

(Ft. Washington, MD) - December 6, 2011 (
See all reviews by this customer
)
Extrememly pleased with the two mouse pads that I ordered. Well made and very functional.

Calendar Mouse Pad
By
Shopper

(Bridgeport, WV) - December 6, 2011
I was very pleased with the product. I buy one a year for the handy calendar. It arrived quickly and is just as I ordered. I'll be back next year for a new one!!!

Calendar Mouse Pad
By
Eleanor S.

(Greenfield, IN) - November 19, 2011 (
See all reviews by this customer
)
The Calendar Mouse Pad is an invaluable tool; especially if there is limited office space or wall space.

I have been using a calendar mouse pad for 4 years. The personalization mall offers an excellent product that lasts the whole calendar year...and longer.

Love It!!!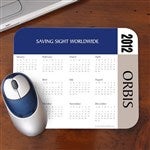 Order it every year!
By
Marietta B.

(Dallas, TX) - November 16, 2011 (
See all reviews by this customer
)
My husband loves this item so much I order one each year as a Christmas present.

cool personalized mouse pad
By
Shopper

(el paso , TX) - November 3, 2011
smooth scrolling surface
great color/clear detailed printing


Mouse Pad Review
By
Donna A.

(Tacoma, WA) - March 8, 2011 (
See all reviews by this customer
)
Thank you for the great service. The online quote (including the proof of my cusomtized request) was so easy. It shipped exactly as stated and arrived just as promised. It was the quality I expected - 1st class, which was important to us.

Great Product
By
Shopper

(PELL CITY, AL) - February 17, 2011
The 35 Quotes Calendar Mouse Pad is of superior quality. Ordered two not knowing what to expect and was very suprised at the great quality of this product. I was also impressed at your prompt delivery. Being an It Tech I will be ordering more.

Impressive Gift
By
Barbara J D.

(Russiaville, IN) - February 8, 2011 (
See all reviews by this customer
)
This calendar mouse pad with the quotation and name does make an impressive gift. I chose one of the suggested 35 quotes that I found very meaningful.

Awesome
By
James T.

(Richmond, TX) - December 29, 2010 (
See all reviews by this customer
)
I ordered a mouse pad wandering if it was really as great as it looked on line. I found out after receiving my pad, that it was really good quality and better than I expected. Matter of fact I am in the process of ordering more of these for not only my wife, but my Pastor and some of my very special friends..
Thank You
jim

NICE!
By
Dalia M.

(West Jordan, UT) - December 14, 2010 (
See all reviews by this customer
)
Great graduation gift for my son.

Just superb!
By
Gayle W.

(Headland, AL) - December 9, 2010 (
See all reviews by this customer
)
I like a pad showing a calendar, and this is just great/ legible, dye does not rub off and very high class appearance. Very pleased with this item.

Very Impressed!
By
Sandra E.

(Midland, TX) - January 7, 2010 (
See all reviews by this customer
)
Item is of execellent qualaity. I hope that my mouse does not wear the imprint off. I purchased one for myself and one as a gift. I Love the item. Colors are great for office.

Great product
By
Kathleen M.

(Shrewsbury, NJ) - December 27, 2009 (
See all reviews by this customer
)
Very practical and impressive. Choice of many quotes available, so this is a perfect gift for anyone and any occasion, especialy at the price.

Just as expected
By
Sara H.

(Gulfport, MS) - December 21, 2009 (
See all reviews by this customer
)
It looks exactly like it does in the photo. I'm happy with it!

Great Job, as always !!
By
Carol K.

(Bishop, GA) - December 12, 2009 (
See all reviews by this customer
)
Great gift for my son's teacher...she will love it !!! I am never ceased to be impressed by PersonalizationMall.com!!!