ornament
By
Sheila W.

(Russell Springs, KY) - July 14, 2014 (
See all reviews by this customer
)
this was perfect! Fast delivery as well!

Photo ornament
By
Shopper

(Suffield, CT) - May 31, 2014
As usual the quality is excellent! All my orders come so quickly ! Thanks

Beautiful
By
Jennifer G.

(Laconia, NH) - April 1, 2014 (
See all reviews by this customer
)
These ornaments will be used as favors for my December wedding and they came out beautiful. The company produces good quality products for a reasonable price and if there's a problem they will promptly and properly take care of it.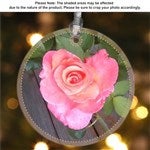 family tree
By
jeanette B.

(staten island, NY) - March 23, 2014 (
See all reviews by this customer
)
I love these and I used them to make a family tree starting with my parents, then my children and then my grandchildren. The colors are bright and the photos are displayed without distraction of a frame.

perfect!
By
Shopper

(Macon, GA) - February 21, 2014
The quality of both the picture and the ornament is great! Will buy again!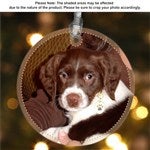 christmas ornament of us
By
Shopper

(fall river, MA) - February 18, 2014
We bought our pet ornament and then us and then one for my boss's mother for her birthday. Haven't gotten that one yet, but the others are so beautiful and we will buy more in the coming years to come. I give this store a 10!!! You won't be disappointed, their wonderful!

Beautiful Ornament
By
Christy B.

(Aurora, IL) - February 2, 2014 (
See all reviews by this customer
)
I love this personalized ornament. I used a picture of my son's first Christmas and the quality of the photo is great. The preview of the image was exactly what I received...I am very happy with this purchase.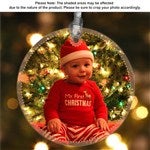 Wonderful
By
Shopper

(Everett, MA) - January 25, 2014
With no prior knowledge of Personalization, I only ordered a few photo ornaments. When it arrived, I was completely thrilled. The ornament, was sent in a lovely velvet pouch. The quality, was amazing. I have since placed several additional orders.

Picture Christmas Ornament
By
Linda R.

(Stamford, CT) - January 15, 2014 (
See all reviews by this customer
)
The ornament came out beautiful. It was extremely easy to order and have the picture put on it. The quality of the ornament is top notch. It made a lovely, thoughtful and meaningful gift to be treasured.

Very Lovely
By
Angela H.

(boomer, WV) - January 14, 2014 (
See all reviews by this customer
)
This was a very nice way to capture the memories of a very special trip to NYC at Christmas with my sister.

ornaments are keepsakes
By
Judith C.

(Union, NJ) - January 13, 2014 (
See all reviews by this customer
)
Everyone in the family has picture perfect ornaments thanks to PMall. Quality is excellent, pictures are clear, price is right. As our family grows, I order more and more ornaments. I am extremely happy with your products and your service.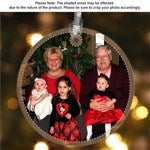 great product!
By
chasity D.

(pensacola, FL) - January 11, 2014 (
See all reviews by this customer
)
I love this ornament! It is beautiful!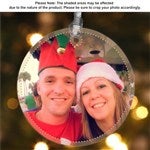 Awesome
By
Shopper

(Gloucester city, NJ) - January 11, 2014
I absolutely love the ornament I purchased

Rosemary's ornaments
By
Rosemary K.

(New York, NY) - January 6, 2014 (
See all reviews by this customer
)
These personalized ornaments were the best I have seen. The whole family loved them. I wish I had known about this when my girls were younger. I would have created an ornament for each year of their life. (I may still do that.) I will be making them every year from now on.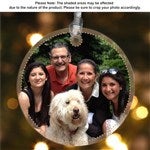 great product!
By
Shopper

(Stony Brook, NY) - January 6, 2014
love this ornament! position your photo so that the hanger does not interfere with the photo

Great Gift :)
By
Shopper

(richland, MO) - January 3, 2014
Great Gift

Excellent gift Idea
By
Shopper

(Batavia, NY) - January 2, 2014
I got a couple of these for Grandparents and they absolutely love them

Last minute gift
By
Arthur M.

(North Brunswick, NJ) - January 1, 2014 (
See all reviews by this customer
)
We had ordered ornaments for the kids earlier in the month. I was so impressed with them that I ordered two more to give to my wife as keepsakes. With the express shipping, they arrived on time and were a great "last minute" gift. Great quality, nicely packaged. A win-win for me. Thank you.

Personalization Easy to Navigate - Great Product Results
By
Shopper

(Detroit, MI) - January 1, 2014
I was able to use Adobe Elements 10 to resize a portrait I wanted to use for the Christmas Photo Memories Personalization Ornament. The hints on using close-up made me realize the type of cropping I would need achieve. I was even able to include type on the photoshop for showing both the year of the gift and the year of the portrait. I received the gift as scheduled. The final product result was even better than the review. It is lightweight for a ceramic ornament, colorful print, with a glossy finish. I will definitely keep Personalization Mall.com in mind for future gifts.

Fantastic!
By
Cindy H.

(Poquoson, VA) - December 31, 2013 (
See all reviews by this customer
)
The ornaments were fantastic! The pictures on the ornaments looked just like they did on line when I ordered them. I received them prompley for Christmas.

Photo is perfect, looks same on ornament
By Shopper (Sun City Center, FL) - December 31, 2013
I was a bit hesitant that uploading a photo would not turn out as clear as the original photo, but I was very surprised that the photo looks exact. Very good size, photo is clear, colors do not bleed and with doing your editing of the photo is easy. Best personalized ornament I ever purchased. A hint to Personalization Mall--I would have paid more for the ornament if I could add the year. Buy this ornament, you won't be disappointed!!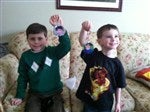 Special gift
By
Kathy S.

(Darlington, SC) - December 29, 2013 (
See all reviews by this customer
)
Gave this to a new mom for Christmas with the stand...she loved it! So beautiful.

great ornament
By
Shopper

(Endwell, NY) - December 27, 2013
I had this ornament made for my husband and he loved it!

Perfect
By
Kathryn D.

(Newbury Park, CA) - December 27, 2013 (
See all reviews by this customer
)
I happened to fall upon this web-site and am thrilled I did. This was the perfect gift and it turned out beautifully. I will keep this company under my favorites and will buy from again. The ornaments I bought are unique and made a very special gift.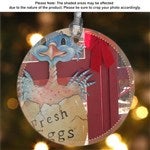 TOGETHER FOREVER
By
KAREN T.

(MIDVALE, UT) - December 26, 2013 (
See all reviews by this customer
)
I couldnt have been happier with the way my ornament turned out. My husbands parents have both passed away and he has no pictures of just the two of them. He only has one picture of the family from 50+ years ago. I took a picture of that picture. Cut out the kids, cropped Mom & Dad together, took a picture of that, did some tweeking and uploaded it to PERSONANALIZATIONMALL.COM. My husband was so surprised and completely blown away and I was totally impressed with the quality and speed in which this happened. THANK YOU!!!

Worth it!
By
barbara M.

(mastic, NY) - December 23, 2013 (
See all reviews by this customer
)
Great gift, affordable...great Quality!

Amazing quality for the price
By
Laura B.

(Windsor Locks, CT 06096, CT) - December 23, 2013 (
See all reviews by this customer
)
I am super happy with the result of my recent purchase. I wasn't expecting much considering how low the price was, and I couldn't have been more wrong. I would have paid twice the cost for what I received. It is solid and beautiful. My mom is going to be thrilled. You now have a repeat customer!

our Christmas tradition
By
LANA J.

(PERU, IA) - December 22, 2013 (
See all reviews by this customer
)
For the last 3 years, I've made a photo ornament for our family. I always choose a photo from our new farm that commemorates the big event of the year.
I've been consistently pleased with each ornament. They are nice and thick. The photo images are always clear with good detail. Having the little bags are great for damage free storage and gift wrapping.
The ornaments from PersonaLization Mall are the best quality I've found anywhere. I plan to do this every year!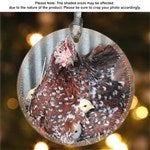 Can't wait every year!!!
By
Shopper

(Gualala, CA) - December 22, 2013
Each year I order ornaments from this site. I watch and gather photos all year long for different friends and family members. They make the most memorable gifts, and are so personalized, the recipients absolutely love them, and I always get the "kudos" for giving them.
Thanks PersonalizationMall.com!!! You make me look so clever.
:) DR in Gualala

For someone who has everything
By
Shopper

(Leechburg, PA) - December 21, 2013
It seems like the older a person gets, the fewer things are suitable as gifts. Who needs another sweater or slippers? Or candy or fruit? Being a senior myself, I know this to be true. The personalized ornaments look lovely on a tree or a little stand, or just hanging together on a wall. This is a good way to preserve special old pictures. They make a person smile every time they look at them. I think this is a great gift and your company is the best.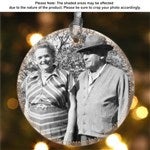 Lovely
By
Regina A.

(Augusta, GA) - December 20, 2013 (
See all reviews by this customer
)
PersaonlizationMall is outstanding.

Beautiful and wonderful ornaments
By
Shopper

(north tonawanda, NY) - December 19, 2013
We recently lost a member of NYSP swat team MRT . My sons brother in blue. So I decided to have an ornament made for Xmas for my son and for us . When I opened the package I was amazed at the beauty and wonder so much so I cried. Thank you for a great job.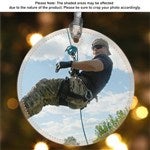 Wonderful gifts!
By
Shopper

(Baltimore, MD) - December 18, 2013
I have purchased many of your items the past few years. I must say that each item has been personalized beautifully & I have never been in the least disappointed. Keep up the great work!

Great product ultimately...even better customer service
By
Shopper

(San Diego, CA) - December 17, 2013
I ordered 3 photo Christmas ornaments for my 3 kids and wives. Two of the three arrived beautifully crafted, but the 3rd had a mar on it. Customer service promised to replace it quickly and they did. Don't order standard delivery expecting 5 days to arrive...it took longer than expected, but the replacement arrived quickly in 3 days. Wonderfully personal and well crafted...a family heirloom for years to come.

Wonderful product
By
Shopper

(Cincinnati, OH) - December 16, 2013
I love these and am sure the recipients will as well. This is going to be my go to spot for fabulous gifts from now on!!!

Photo ornaments
By
Cheryl R.

(Syracuse, NY) - December 15, 2013 (
See all reviews by this customer
)
This is the BEST site ever. This Christmas I have ordered 30 photo ornaments. I had a blast making them and the people who have received these so far LOVED them.Something you will have forever...unless you break it :) The best feature is you can see what they will look like before you have them made up.

Christmas ornament
By
Lorena D.

(Cabot, AR) - December 15, 2013 (
See all reviews by this customer
)
I give my son, daughter-in-law, and grandson an ornament each Christmas, for the past 25 years. This year's ornament for my son was everything I thought it would be, and came out beautifully. It also arrived quickly which I appreciate. This was to commemorate him growing his hair and cutting it as a Civitan project to aid our Club and St. Jude's. Thank you again for your professionalism.


Extensive Variety
By
Suzie D.

(Hobbs, NM) - December 15, 2013 (
See all reviews by this customer
)
The variety of photo ornaments allows me to purchase different styles every year which keeps them fresh and new but still time stamps my family's growth over the years. Superior quality always!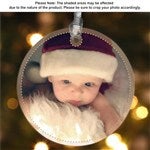 photo ornament
By
Julie D.

(Bellevue, WA) - December 14, 2013 (
See all reviews by this customer
)
The picture came out great and the quality is great of the material the ornament is made out of.

Great quality
By
Shopper

(Williamsville, VT) - December 13, 2013
Love this ornament. I was pleasantly surprised when I received it at the quality of it.